Welcome to Argalax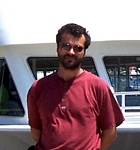 Hi, my name is Alexander and this is my website.
It describes my work, hobbies, various projects, intellectual pursuits, current interests, and whatever else seems important and/or interesting at the moment.
I live in Canada, just east of Toronto, and work as technical team leader in the IT industry.
In spare time I enjoy writing some code, developing web applications, working on my robot, and FreeBSD/Linux projects, reading sci-fi, finance and technical books, building my cabin in the wilderness, travel and sail when I can.
---
Here are some technical news to read...
Technology
Bitcoin chief arrested in Japan
[Sat, 01 Aug 2015 07:27:20 GMT]
The founder of MtGox - once the world's biggest bitcoin exchange - is arrested by Japanese police investigating losses of nearly $400m.
---
Ashley Madison hack aids spammers
[Fri, 31 Jul 2015 11:01:55 GMT]
Spammers are exploiting the Ashley Madison hack by posting links that offer stolen data but lead to booby-trapped web pages and scams.
---
Brain game for schizophrenia patients
[Sun, 02 Aug 2015 23:58:45 GMT]
A computer-based brain training game could improve the daily lives of people with schizophrenia, say University of Cambridge researchers.
---
Facebook's Zuckerberg to have child
[Fri, 31 Jul 2015 21:10:08 GMT]
Facebook Chief Executive Mark Zuckerberg and his wife, Priscilla Chan, are expecting a baby girl.
---
US 'spied on Japan' Wikileaks says
[Fri, 31 Jul 2015 09:29:38 GMT]
The US has been spying on Japanese cabinet officials, banks and companies, including the Mitsubishi group, Wikileaks says.
---
Rise of facial recognition queried
[Fri, 31 Jul 2015 16:54:53 GMT]
A government-related agency in the US has published a report on privacy concerns relating to facial recognition.
---
US man shoots down garden drone
[Fri, 31 Jul 2015 13:28:49 GMT]
A US man has shot down a drone which was hovering over his back garden.
---
Tracking system 'open to attack'
[Fri, 31 Jul 2015 12:30:48 GMT]
A widely used location-tracking system can be intercepted or fooled with fake data, claims a security researcher.
---
Facebook builds drone for net access
[Thu, 30 Jul 2015 21:24:21 GMT]
The social network Facebook announces it has built its own drone to bring internet connectivity to remote parts of the world.
---
Google to defy French privacy ruling
[Thu, 30 Jul 2015 20:32:15 GMT]
Google is to defy a French ruling that the "right to be forgotten" should be applied globally and not just in Europe.
---
Science
Obama to unveil clean energy plan
[Mon, 03 Aug 2015 06:54:43 GMT]
US President Barack Obama is set to unveil what he calls "the biggest, most important step we have ever taken" in tackling climate change.
---
Empire State hosts wildlife display
[Sun, 02 Aug 2015 10:21:17 GMT]
Images of endangered animals are flashed across the Empire State Building in New York to highlight the issue of potential mass extinction.
---
Poll to find UK's favourite insect
[Sun, 02 Aug 2015 02:46:51 GMT]
An online poll is launched by the Royal Society of Biology to find the UK's favourite insect.
---
Zimbabwe seeks second 'lion killer'
[Sun, 02 Aug 2015 19:53:38 GMT]
Zimbabwe says it is seeking a second American over the illegal killing of a lion, as the outcry over the death of famed animal Cecil continues.
---
Earth magnetic shield is much older
[Fri, 31 Jul 2015 11:58:19 GMT]
Researchers have revealed that the Earth's magnetic field is 550 million years older than previously believed.
---
Big year ahead for James Webb telescope
[Fri, 31 Jul 2015 10:24:59 GMT]
It's been a long time coming, but Nasa is now at the business end of building its giant successor to the Hubble Space Telescope.
---
AA joins protest at green changes
[Thu, 30 Jul 2015 23:46:55 GMT]
The AA joins green groups in warning that recent changes in energy policy will harm the climate.
---
Wales surf wave generator starts up
[Fri, 31 Jul 2015 00:06:00 GMT]
The first waves have peeled across an artificial surf lagoon built on the site of an old aluminium works on the edge of the Snowdonia National Park.
---
Comet yields 'rich array' of organics
[Thu, 30 Jul 2015 18:08:13 GMT]
The spacecraft which made a spectacular landing on a comet last year has discovered a rich array of carbon compounds.
---
Robot can leap from water's surface
[Thu, 30 Jul 2015 18:03:55 GMT]
Scientists in South Korea develop a tiny robot - based on the water strider insect - that can jump on water
---
App Development
IT Earnings Way Up at Job Site Elance
[]
Google App Engine, HTML5, search engine optimization and social media marketing are among the fastest movers on Elance's list of hot job opportunities available online.
---
Say What? The Week's Top Five IT Quotes
[]
Google Wave crashes, fighting to keep mainframe skills alive, beware the Outernet and more.
---
GPL Enforcement Notches Another Victory
[]
The license at the heart of many open source projects is amassing a winning record when it comes to successfully pursuing enforcement lawsuits.
---
Microsoft Prepping New Visual Studio Tool
[]
Dubbed "LightSwitch," the new tool will offer developers of varying skill levels ready-made templates to create business applications for different computing environments.
---
Illumos Looks to Reopen Oracle's OpenSolaris
[]
Amid concern throughout the OpenSolaris community about Oracle's plans for the open source operating system, the Illumos project is providing an alternative set of OpenSolaris technologies.
---