Welcome to Argalax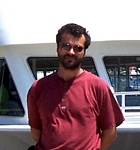 Hi, my name is Alexander and this is my website.
I live in Toronto, Canada, and work as a Senior IT Professional.
In spare time I enjoy writing some code, developing web applications, working on my robot, reading sci-fi, finance and technical books, visiting my cabin in the wilderness and travel when I can.
---
Here are some technical news to read...
Technology
Samsung Galaxy Fold: Broken screens delay launch
[Mon, 22 Apr 2019 17:30:43 GMT]
Samsung delays the release of its foldable smartphone after reviewers report broken screens.
---
TED 2019: How to kill a zombie rumour and fix Facebook
[Mon, 22 Apr 2019 10:13:01 GMT]
How to fix a "broken internet" has been a central question at TED 2019.
---
Millions using 123456 as password, security study finds
[Sat, 20 Apr 2019 23:44:48 GMT]
A list of all-too-predictable choices for breached accounts includes 123456 and "Liverpool".
---
Tesla says investigating car explosion in Shanghai
[Mon, 22 Apr 2019 04:07:29 GMT]
A video circulating on Chinese social media appears to show a parked Tesla car erupting into flames.
---
Asos billionaire loses three children in Sri Lanka attacks
[Mon, 22 Apr 2019 10:19:23 GMT]
Danish billionaire Anders Holch Povlsen and his family were visiting Sri Lanka, where three of his four children died.
---
An alternative way to capture childhood on your phone
[Sun, 21 Apr 2019 23:48:33 GMT]
A simple, but evocative, way to record your children's development without using a camera.
---
Hacking 'hero' Marcus Hutchins pleads guilty to US malware charges
[Fri, 19 Apr 2019 21:45:28 GMT]
Marcus Hutchins said he regrets his actions and accepts "full responsibility for my mistakes".
---
TED 2019: The start-ups launching in space
[Sat, 20 Apr 2019 00:19:51 GMT]
Space is getting busy thanks to a new era of commercialisation.
---
Facebook bans UK far right groups and leaders
[Thu, 18 Apr 2019 11:00:52 GMT]
A dozen named groups and individuals will be purged from the social network, it said.
---
Robot news presenter causes a stir on Russian TV
[Thu, 18 Apr 2019 16:32:18 GMT]
The humanoid, named Alex, causes a stir as he makes his debut on state news channel Rossiya 24.
---
Science
Extinction Rebellion: How might ministers win over the protesters?
[Mon, 22 Apr 2019 23:45:25 GMT]
A closer look at Extinction Rebellion's demands and how the government might try to achieve them.
---
David Attenborough climate change TV show a 'call to arms'
[Fri, 19 Apr 2019 09:27:29 GMT]
The BBC's Climate Change - The Facts, presented by Sir David Attenborough, is praised by TV critics.
---
Britain breaks coal-free power record over Easter weekend
[Mon, 22 Apr 2019 15:37:54 GMT]
UK sees longest continuous period without generating electricity from coal as temperatures soar.
---
Climate change: Sir David Attenborough warns of 'catastrophe'
[Thu, 18 Apr 2019 12:42:27 GMT]
The veteran naturalist's BBC programme on climate change is his strongest warning yet on the threat of rising temperatures.
---
SpaceX capsule suffers 'anomaly' during tests in Florida
[Sun, 21 Apr 2019 06:29:32 GMT]
There are plans to launch a manned mission to the International Space Station later this year.
---
Extinction Rebellion: Climate protests 'diverting' London police
[Thu, 18 Apr 2019 18:18:47 GMT]
Police rest days are cancelled as more than 1,000 officers are deployed in London.
---
'Giant lion' fossil found in Kenya museum drawer
[Thu, 18 Apr 2019 09:42:47 GMT]
The bones of the huge creature belong to a new species which roamed east Africa 20 million years ago.
---
Evidence of rabbits in UK in Roman times, say academics
[Thu, 18 Apr 2019 08:01:00 GMT]
Tests on a bone, found in West Sussex, show for the first time the animal was alive in the first century AD.
---
Pig brains partially revived four hours after death
[Wed, 17 Apr 2019 17:00:27 GMT]
The study could aid medical research and fuel debate about the difference between life and death.
---
Extinction Rebellion London activists chained to Jeremy Corbyn's home
[Wed, 17 Apr 2019 19:51:31 GMT]
Four Extinction Rebellion campaigners glued themselves together outside the Labour leader's home.
---