Welcome to Argalax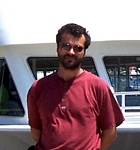 Hi, my name is Alexander and this is my website.
It describes my work, hobbies, various projects, intellectual pursuits, current interests, and whatever else seems important and/or interesting at the moment.
I live in Canada, just east of Toronto, and work as technical team leader in the IT industry.
In spare time I enjoy writing some code, developing web applications, working on my robot, and FreeBSD/Linux projects, reading sci-fi, finance and technical books, building my cabin in the wilderness, travel and sail when I can.
---
Here are some technical news to read...
Technology
Man guilty of fake-girl webcam sex
[Tue, 21 Oct 2014 03:29:45 GMT]
An Australian man is convicted of performing a sex act in front of a webcam "watched by" a computer-generated child he believed was real.
---
Google changes 'to fight piracy'
[Mon, 20 Oct 2014 12:16:27 GMT]
Google announces changes to its search engine in an attempt to curb online piracy.
---
Anonymising router project shut down
[Mon, 20 Oct 2014 10:15:34 GMT]
A plan to raise cash to make a router that hides what people do online has been suspended after questions were raised about the project.
---
Apple's iPhone sales boost earnings
[Mon, 20 Oct 2014 21:32:40 GMT]
Apple reports fourth-quarter earnings of $8.47bn (ÂŁ5.24bn), beating analysts' expectations, helped by sales of its new iPhone models.
---
Peers back revenge porn 'offence'
[Mon, 20 Oct 2014 22:37:24 GMT]
The House of Lords agrees unanimously to make "revenge porn" a criminal offence in England and Wales.
---
Some paedophiles 'won't be charged'
[Mon, 20 Oct 2014 21:12:42 GMT]
Some of the UK's estimated 50,000 paedophiles with images of child abuse will escape prosecution, the head of the National Crime Agency says.
---
IBM pays $1.5bn to offload chip unit
[Mon, 20 Oct 2014 12:26:24 GMT]
IBM is paying $1.5bn to offload its loss-making chip manufacturing division to Abu Dhabi owned GlobalFoundries as it announces a 17% profits fall.
---
Minecraft city built in two years
[Fri, 17 Oct 2014 17:00:42 GMT]
A student from Delaware has spent two years constructing Titan City from 4.5 million Minecraft building blocks.
---
Internet trolls face longer sentences
[Sun, 19 Oct 2014 19:22:17 GMT]
People who post abusive messages online could face up to two years in jail under new laws proposed by Justice Secretary Chris Grayling.
---
BBC to publish 'forgotten' page list
[Fri, 17 Oct 2014 13:25:36 GMT]
The BBC is to publish a continually updated list of its articles removed from Google searches under the controversial "right to be forgotten" rule.
---
Science
African solar plan to power UK homes
[Mon, 20 Oct 2014 06:33:33 GMT]
Investors are seeking funding from the UK government for an ambitious plan to import solar energy generated in North Africa.
---
Europe 'will fail to protect climate'
[Mon, 20 Oct 2014 11:05:35 GMT]
IPCC expert says EU's plan consigns future leaders to "extraordinary and unprecedented" CO2 cuts.
---
Comet Siding Spring skims past Mars
[Sun, 19 Oct 2014 22:10:16 GMT]
A recently discovered comet known as Siding Spring passes Mars, giving scientists a unique chance to study the object.
---
UK city planning advice for China
[Fri, 17 Oct 2014 23:01:51 GMT]
UK planning experts are to advise Chinese mayors on the benefits of building environmentally friendly cities.
---
Mysterious US space plane returns
[Fri, 17 Oct 2014 22:15:42 GMT]
An unmanned US military plane on a secretive two-year mission in space has returned to Earth in California.
---
Solar farms 'blight on landscape'
[Mon, 20 Oct 2014 12:12:00 GMT]
Environment Secretary Liz Truss says large-scale solar farms are "ugly" as she confirms plans to cut a taxpayer subsidy for the schemes.
---
New disease 'killing amphibians'
[Thu, 16 Oct 2014 23:47:06 GMT]
A deadly new disease has emerged in Spain that is wiping out amphibians, scientists report.
---
Carnivores 'help trees shed thorns'
[Thu, 16 Oct 2014 19:23:54 GMT]
The presence of carnivores, which control herbivore numbers, helps plants without thorny defences thrive, a study of life on the savannah reveals.
---
Death Star moon is 'wonky or watery'
[Thu, 16 Oct 2014 18:04:59 GMT]
The internal structure of Saturn's moon Mimas is either irregularly shaped or awash with water, according to a new study of its tell-tale wobbling movements.
---
Name sought for comet landing site
[Fri, 17 Oct 2014 10:27:49 GMT]
The public are being invited to name the site on a comet where a European robot will try to land on 12 November.
---
App Development
IT Earnings Way Up at Job Site Elance
[]
Google App Engine, HTML5, search engine optimization and social media marketing are among the fastest movers on Elance's list of hot job opportunities available online.
---
Say What? The Week's Top Five IT Quotes
[]
Google Wave crashes, fighting to keep mainframe skills alive, beware the Outernet and more.
---
GPL Enforcement Notches Another Victory
[]
The license at the heart of many open source projects is amassing a winning record when it comes to successfully pursuing enforcement lawsuits.
---
Microsoft Prepping New Visual Studio Tool
[]
Dubbed "LightSwitch," the new tool will offer developers of varying skill levels ready-made templates to create business applications for different computing environments.
---
Illumos Looks to Reopen Oracle's OpenSolaris
[]
Amid concern throughout the OpenSolaris community about Oracle's plans for the open source operating system, the Illumos project is providing an alternative set of OpenSolaris technologies.
---