Welcome to Argalax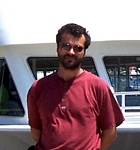 Hi, my name is Alexander and this is my website.
I live in Toronto, Canada, and work as a Senior IT Professional.
In spare time I enjoy writing some code, developing web applications, working on my robot, reading sci-fi, finance and technical books, visiting my cabin in the wilderness and travel when I can.
---
Here are some technical news to read...
Technology
Coronavirus: NHS turns to big tech to tackle Covid-19 hot spots
[Sat, 28 Mar 2020 18:48:37 GMT]
Amazon, Google, Palantir, Microsoft and Faculty AI will help decision-makers better understand the crisis.
---
A 3D-printed ventilator designed for Spain's coronavirus patients
[Sat, 28 Mar 2020 00:03:38 GMT]
A team took a week to design an emergency-use ventilator out of 3D-printed parts
---
Coronavirus: Zoom is in everyone's living room - how safe is it?
[Fri, 27 Mar 2020 13:20:16 GMT]
It may have got everyone chatting but some are talking about whether it is actually safe.
---
Coronavirus: Tesla donates hundreds of ventilators to New York
[Fri, 27 Mar 2020 19:20:50 GMT]
New York has the highest number of coronavirus cases in the US and a shortage of ventilators.
---
Food wholesalers offer online orders to sell stock
[Fri, 27 Mar 2020 16:41:47 GMT]
After trade from business stops, food and drink wholesalers are launching online home deliveries.
---
Coronavirus: NHS uses tech giants to plan crisis response
[Thu, 26 Mar 2020 17:32:04 GMT]
Amazon and Microsoft are among those helping with a dashboard to model where ventilators should go.
---
Coronavirus: Online child abuse warning during lockdown
[Fri, 27 Mar 2020 15:04:26 GMT]
Europol is warning that online child abusers are preparing to take advantage of more unsupervised kids online.
---
Coronavirus: Peak District drone police criticised for 'lockdown shaming'
[Fri, 27 Mar 2020 17:23:55 GMT]
Derbyshire Police is accused of "nanny policing" after sharing aerial shots of Peak District walkers.
---
Coronavirus: Vodafone offers 30 days free mobile data
[Fri, 27 Mar 2020 14:18:26 GMT]
Vodafone is offering half a million pay monthly mobile customers 30 days of free unlimited data.
---
Huawei P40 flagship phones launch amid Covid-19 crisis
[Thu, 26 Mar 2020 13:30:30 GMT]
Experts say demand outside of China is likely to be weak because of the virus pandemic and absent apps.
---
Science
Heirloom plants: Saving the nation's seeds from extinction
[Sat, 28 Mar 2020 07:04:34 GMT]
The incredible history of the UK's heirloom plants and why they're set to make a comeback.
---
Coronavirus: OneWeb blames pandemic for collapse
[Sat, 28 Mar 2020 09:00:27 GMT]
OneWeb, the high-profile London-based satellite start-up, files for bankruptcy protection in the US.
---
Coronavirus: Lockdowns continue to suppress European pollution
[Fri, 27 Mar 2020 16:13:14 GMT]
New data confirms the improvement in air quality over Europe - a by-product of the coronavirus crisis.
---
Plastic: How to predict threats to animals in oceans and rivers
[Fri, 27 Mar 2020 12:04:52 GMT]
Scientists find out more about the threats of plastic to thousands of fish, whales and other aquatic life.
---
Climate change: 'Gob-smacking' vision for future UK transport
[Fri, 27 Mar 2020 11:50:10 GMT]
Public transport and active travel will be the "natural first choice", the Transport Secretary says.
---
Neanderthals ate sharks and dolphins
[Thu, 26 Mar 2020 20:33:27 GMT]
Neanderthals were eating fish, mussels and seals at a site in present-day Portugal, according to a new study.
---
US Space Force launches first mission
[Fri, 27 Mar 2020 01:20:01 GMT]
The newest branch of the US military, established by President Trump, goes into orbit for the first time.
---
Coronavirus: Pangolins found to carry related strains
[Thu, 26 Mar 2020 17:56:53 GMT]
Smuggled pangolins were carrying viruses closely related to the one sweeping the world, say scientists.
---
Help needed to rescue UK's old rainfall records
[Thu, 26 Mar 2020 02:10:31 GMT]
Pre-1960s handwritten rain gauge data can inform drought and flood planning, but only if digitised.
---
Great Barrier Reef suffers third mass bleaching in five years
[Thu, 26 Mar 2020 06:19:41 GMT]
The third such event in five years prompts scientists to renew urgent warnings about climate change.
---