Welcome to Argalax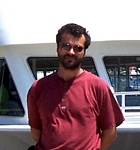 Hi, my name is Alexander and this is my website.
I live in Toronto, Canada, and work as a Senior IT Professional.
In spare time I enjoy writing some code, developing web applications, working on my robot, reading sci-fi, finance and technical books, visiting my cabin in the wilderness and travel when I can.
---
Here are some technical news to read...
Technology
Amazon gets closer to getting Alexa everywhere
[Wed, 20 Nov 2019 00:21:56 GMT]
Alexa chief discusses plans to make the virtual assistant more useful when used outside the home.
---
Arron Banks' private messages leaked by hacker
[Tue, 19 Nov 2019 17:54:02 GMT]
The founder of Leave.EU's Twitter account has been breached and messages spanning years leaked.
---
Can Valve tempt gamers to try virtual reality?
[Tue, 19 Nov 2019 12:57:38 GMT]
The game studio is preparing a prequel to its iconic Half-Life title that will be set entirely in VR.
---
Election debate: Conservatives criticised for renaming Twitter profile 'factcheckUK'
[Wed, 20 Nov 2019 00:45:58 GMT]
Twitter said the stunt was misleading to the public and would not be tolerated in future - but did not take any direct action.
---
Snapchat says it will fact-check political ads
[Tue, 19 Nov 2019 14:08:30 GMT]
The policy distinguishes the platform from other tech giants such as Twitter and Facebook.
---
'Rude' robot able to distract gamers
[Tue, 19 Nov 2019 13:45:18 GMT]
Gamers make fewer rational decisions when faced with insults - even from robots, a study suggests.
---
Thousands flock to Wikipedia founder's 'Facebook rival'
[Mon, 18 Nov 2019 17:28:25 GMT]
Jimmy Wales says his new social network, WT:Social, now has more than 160,000 members.
---
New WhatsApp security concern: India cyber cell advises update
[Tue, 19 Nov 2019 22:57:11 GMT]
In a statement, WhatsApp said that it had no reason to believe that users phones were affected.
---
TSB lacked common sense before IT meltdown, says report
[Tue, 19 Nov 2019 12:24:05 GMT]
Some customers were left without online banking access for several weeks after the problems last year.
---
Why Google Stadia is a 'leap forward' for gaming, according to its boss
[Tue, 19 Nov 2019 00:17:45 GMT]
The tech giant's boss Phil Harrison believes its new service Stadia is a "leap forward" for gaming.
---
Science
Supernova 1987A: 'Blob' hides long-sought remnant from star blast
[Tue, 19 Nov 2019 13:59:03 GMT]
A three-decades-long search may finally have located the hot object left behind by a famous supernova.
---
New hope for one of world's most endangered reptiles
[Tue, 19 Nov 2019 10:29:24 GMT]
The discovery of baby crocodiles in a river in Nepal is raising hopes for the future of the gharial.
---
Attenborough: World 'changing habits' on plastic
[Tue, 19 Nov 2019 00:37:32 GMT]
"I think we're all shifting our behaviour," the BBC broadcaster says as he wins a prestigious award.
---
Brazil's Amazon deforestation highest since 2008, space agency says
[Mon, 18 Nov 2019 15:12:44 GMT]
The rainforest loses 9,762 sq km in 12 months, an increase of nearly 30%, Brazil's space agency says.
---
New hope for trees affected by ash dieback
[Mon, 18 Nov 2019 16:01:30 GMT]
A study identifies the genetics in ash trees that confers resistance to a deadly disease.
---
Geologist blasts society's links with oil firms
[Mon, 18 Nov 2019 17:59:24 GMT]
A leading London scientist quits the Geological Society over its ties with fossil fuel companies.
---
Renewable energy: Rise in global wind speed to boost green power
[Mon, 18 Nov 2019 17:04:21 GMT]
Rising winds could increase energy production from turbines by a third over the next decade.
---
Bloodhound land speed racer blasts to 628mph
[Sat, 16 Nov 2019 10:01:26 GMT]
The British jet-powered car goes faster still during trials on a dried-out lakebed in South Africa.
---
Sentinel for sea-level rise enters testing
[Fri, 15 Nov 2019 16:23:32 GMT]
The satellite that will maintain the "gold standard" measurement of ocean height is nearly complete.
---
'Alarm' over winter flood prospects in England
[Fri, 15 Nov 2019 15:03:11 GMT]
The Environment Agency is worried about further flooding this winter after near-record rainfall.
---