Welcome to Argalax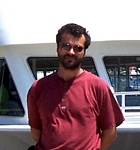 Hi, my name is Alexander and this is my website.
It describes my work, hobbies, various projects, intellectual pursuits, current interests, and whatever else seems important and/or interesting at the moment.
I live in Canada, just east of Toronto, and work as technical team leader in the IT industry.
In spare time I enjoy writing some code, developing web applications, working on my robot, and FreeBSD/Linux projects, reading sci-fi, finance and technical books, building my cabin in the wilderness, travel and sail when I can.
---
Here are some technical news to read...
Technology
Microsoft disrupts ZeroAccess botnet
[Fri, 06 Dec 2013 06:46:56 GMT]
Microsoft and law enforcement agencies disrupt ZeroAccess, one of the world's largest botnets responsible for millions in fraud losses.
---
Samsung reattempts botched update
[Fri, 06 Dec 2013 18:10:23 GMT]
Samsung has started again to roll out an update to its Galaxy S3 smartphone, weeks after a botched attempt angered users.
---
Warning over rare metals in gadgets
[Fri, 06 Dec 2013 13:24:57 GMT]
Modern technology is too reliant on rare materials whose scarcity could drastically set back innovation, a report warns.
---
Android app caught sharing ID data
[Fri, 06 Dec 2013 11:42:21 GMT]
Millions of Android users have been "deceived" by a developer who covertly gathered personal data, says the US Federal Trade Commission.
---
NatWest services hit by cyber attack
[Fri, 06 Dec 2013 14:54:46 GMT]
A deliberate attempt to disrupt services at NatWest left some customers struggling to access online banking on Friday.
---
Bitcoin trade ban for Chinese banks
[Thu, 05 Dec 2013 12:31:21 GMT]
Chinese financial regulators have banned the nation's banks from handling transactions involving the Bitcoin virtual currency.
---
Samsung and Philips raided by EU
[Fri, 06 Dec 2013 15:26:06 GMT]
Samsung and Philips are among several consumer electronics companies raided by the European Commission over suspected breaches of competition rules.
---
NSA 'tracking' millions of mobiles
[Thu, 05 Dec 2013 11:34:13 GMT]
The movements of hundreds of millions of mobile users are being tracked by the NSA every day, reveals the Washington Post.
---
New X-Men film, Apocalypse, for 2016
[Fri, 06 Dec 2013 10:44:24 GMT]
Fox announces that the next film in the franchise will be called Apocalypse and will be released in cinemas in May 2016.
---
UK paves way for driverless cars
[Thu, 05 Dec 2013 12:07:03 GMT]
The UK government wants to make Britain a world leader in developing autonomous vehicles.
---
Science
Roaming sharks go home to give birth
[Fri, 06 Dec 2013 11:41:21 GMT]
Researchers find direct evidence that female lemon sharks go back to their own birthplace to reproduce.
---
Fruit-mad monkeys eat 50 per day
[Fri, 06 Dec 2013 01:35:08 GMT]
New research on South and Central American monkeys suggests that size is a key indicator of diet.
---
Funds for research with other nations
[Thu, 05 Dec 2013 15:15:32 GMT]
The Chancellor George Osborne announces annual funding of £90m over five years for the UK to collaborate with emerging nations.
---
Leg bone gives up oldest human DNA
[Wed, 04 Dec 2013 18:32:47 GMT]
The retrieval of high quality DNA from a 400,000-year-old human has opened up a new frontier in the study of our ancient ancestors.
---
More men chat in girls' 'dialect'
[Fri, 06 Dec 2013 01:37:45 GMT]
More men in California rise in pitch at the end of their sentences when talking, new research shows.
---
Beached whales dead in Florida
[Wed, 04 Dec 2013 21:14:57 GMT]
Ten whales die and as many as 30 more are stranded after a pod beached off Florida's Everglades National Park.
---
'Let me keep my dead husband's sperm'
[Wed, 04 Dec 2013 13:46:48 GMT]
A 28-year-old woman has begun a legal bid to prevent her dead husband's frozen sperm from being destroyed.
---
Big changes for renewable subsidies
[Wed, 04 Dec 2013 18:03:06 GMT]
The government is to make major changes to the way it subsidises renewable energy with more emphasis on offshore wind power, the BBC has learned.
---
US gene testing firm halts marketing
[Tue, 03 Dec 2013 21:46:27 GMT]
Genetic testing firm 23andMe, which is backed by Google, stops marketing its products after a warning from US regulators, a spokeswoman says.
---
Koalas have unique voice organ
[Mon, 02 Dec 2013 18:24:15 GMT]
Koalas have a specialised sound-producing organ that has never before been seen in any other land-dwelling mammal, scientists discover.
---
App Development
IT Earnings Way Up at Job Site Elance
[]
Google App Engine, HTML5, search engine optimization and social media marketing are among the fastest movers on Elance's list of hot job opportunities available online.
---
Say What? The Week's Top Five IT Quotes
[]
Google Wave crashes, fighting to keep mainframe skills alive, beware the Outernet and more.
---
GPL Enforcement Notches Another Victory
[]
The license at the heart of many open source projects is amassing a winning record when it comes to successfully pursuing enforcement lawsuits.
---
Microsoft Prepping New Visual Studio Tool
[]
Dubbed "LightSwitch," the new tool will offer developers of varying skill levels ready-made templates to create business applications for different computing environments.
---
Illumos Looks to Reopen Oracle's OpenSolaris
[]
Amid concern throughout the OpenSolaris community about Oracle's plans for the open source operating system, the Illumos project is providing an alternative set of OpenSolaris technologies.
---