Welcome to Argalax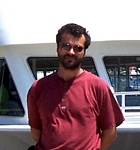 Hi, my name is Alexander and this is my website.
It describes my work, hobbies, various projects, intellectual pursuits, current interests, and whatever else seems important and/or interesting at the moment.
I live in Canada, just east of Toronto, and work as technical team leader in the IT industry.
In spare time I enjoy writing some code, developing web applications, working on my robot, and FreeBSD/Linux projects, reading sci-fi, finance and technical books, building my cabin in the wilderness, travel and sail when I can.
---
Here are some technical news to read...
Technology
Cyber attacks top US threat list
[Fri, 27 Feb 2015 01:07:36 GMT]
A US intelligence assessment of security threats faced by the country highlights cyber attacks from foreign governments and criminals.
---
Google backs down over Blogger porn
[Fri, 27 Feb 2015 13:33:51 GMT]
Google has changed its mind about forcing sexually explicit blogs on its Blogger platform to become private.
---
US-Bangladesh writer hacked to death
[Fri, 27 Feb 2015 15:16:00 GMT]
A US-Bangladeshi blogger whose campaigning for a secular society in Bangladesh angered Islamists is hacked to death on a street in the capital Dhaka.
---
Google buys .app web domain for $25m
[Fri, 27 Feb 2015 12:24:12 GMT]
Google has purchased the website address .app in an auction held by the organisation which assigns web domains.
---
Apple faces iPhone patent lawsuit
[Fri, 27 Feb 2015 13:03:28 GMT]
Apple is being sued by a company two days after it was told to pay the same firm $533m (£344m) for infringing patents.
---
Cut music to 'an hour a day' - WHO
[Fri, 27 Feb 2015 14:27:20 GMT]
People should listen to music for no more than one hour a day to protect their hearing, the World Health Organization suggests.
---
Account data stolen in TalkTalk hack
[Fri, 27 Feb 2015 10:42:13 GMT]
TalkTalk customers are being warned about scammers who managed to steal account numbers and names from the company's computers.
---
Net neutrality rules passed by FCC
[Thu, 26 Feb 2015 18:01:32 GMT]
The US Federal Communications Commission votes in favour of tougher internet regulation, upholding the principle of net neutrality.
---
Lenovo victim of cyber-attack
[Thu, 26 Feb 2015 11:17:54 GMT]
Chinese computer maker Lenovo becomes the victim of a cyber-attack following a warning by the US government about software called Superfish.
---
Samsung hit by latest smart TV issue
[Thu, 26 Feb 2015 14:32:46 GMT]
Many of the firm's smart TVs were unable to connect to servers for two days after a problem emerged as the firm carried out a security update.
---
Science
'Exquisite' gravity probe leaves UK
[Sat, 28 Feb 2015 10:54:23 GMT]
UK industry completes construction of the modules that make up the Lisa Pathfinder satellite - a remarkable probe that will test the key technologies needed to detect gravitational waves in space.
---
Wheat present in UK 'for 8,000 years'
[Fri, 27 Feb 2015 03:23:25 GMT]
Fragments of wheat DNA suggest wheat was present in Britain 8,000 years ago, long before it was grown by British farmers.
---
Killer frog disease hits Madagascar
[Thu, 26 Feb 2015 14:21:22 GMT]
A devastating disease that has wiped out amphibians around the world has been discovered in Madagascar, scientists report.
---
Fungus plays 'biomusic' duet
[Fri, 27 Feb 2015 09:52:58 GMT]
Scientists at Plymouth University play improvised pieces of music with the help of slime mould.
---
Lords call for UK Arctic ambassador
[Fri, 27 Feb 2015 03:15:16 GMT]
The United Kingdom should create an ambassador for the Arctic or risk being pushed out of key decisions for the region, a House of Lords report says.
---
'Concern' over bugs in shop chicken
[Thu, 26 Feb 2015 13:49:05 GMT]
Concerns are growing about antibiotic resistance of bacteria carried by poultry, according to a new report.
---
Giant caiman packed fierce bite
[Thu, 26 Feb 2015 16:24:13 GMT]
A team of Brazilian scientists says they have calculated that the bite of a giant prehistoric caiman was twice has strong as that of a T-Rex.
---
MPs call for reform of GM crop rules
[Thu, 26 Feb 2015 11:15:29 GMT]
Europe's approval system for GM crops is "fundamentally flawed" and should be overhauled, say MPs.
---
Machine learns to play video games
[Wed, 25 Feb 2015 18:00:03 GMT]
A machine inspired by the human brain has learned how to play 49 classic Atari video games - a step towards self-thinking robots, scientists say.
---
Solar loses out in renewables auction
[Thu, 26 Feb 2015 11:24:22 GMT]
The results of the UK government's first auction for renewable energy subsidies are a boost for offshore wind, with solar the biggest loser.
---
App Development
IT Earnings Way Up at Job Site Elance
[]
Google App Engine, HTML5, search engine optimization and social media marketing are among the fastest movers on Elance's list of hot job opportunities available online.
---
Say What? The Week's Top Five IT Quotes
[]
Google Wave crashes, fighting to keep mainframe skills alive, beware the Outernet and more.
---
GPL Enforcement Notches Another Victory
[]
The license at the heart of many open source projects is amassing a winning record when it comes to successfully pursuing enforcement lawsuits.
---
Microsoft Prepping New Visual Studio Tool
[]
Dubbed "LightSwitch," the new tool will offer developers of varying skill levels ready-made templates to create business applications for different computing environments.
---
Illumos Looks to Reopen Oracle's OpenSolaris
[]
Amid concern throughout the OpenSolaris community about Oracle's plans for the open source operating system, the Illumos project is providing an alternative set of OpenSolaris technologies.
---