Welcome to Argalax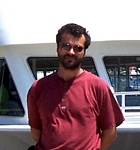 Hi, my name is Alexander and this is my website.
It describes my work, hobbies, various projects, intellectual pursuits, current interests, and whatever else seems important and/or interesting at the moment.
I live in Canada, just east of Toronto, and work as technical team leader in the IT industry.
In spare time I enjoy writing some code, developing web applications, working on my robot, and FreeBSD/Linux projects, reading sci-fi, finance and technical books, building my cabin in the wilderness, travel and sail when I can.
---
Here are some technical news to read...
Technology
Pirate Bay founder faces jail term
[Thu, 30 Oct 2014 16:52:50 GMT]
Pirate Bay co-founder Gottfrid Warg could face a lengthy prison sentence after being found guilty of hacking into Danish computers.
---
Big firms 'must condemn GamerGate'
[Wed, 29 Oct 2014 23:59:47 GMT]
Games publishers must "stand-up and condemn" the movement referred to as "GamerGate", says a developer forced to leave her home due to threats.
---
Hungary shelves toxic internet tax
[Fri, 31 Oct 2014 09:08:38 GMT]
Hungary shelves a proposed tax on internet data traffic after tens of thousands of Hungarians marched against it.
---
Apple chief: 'I'm proud to be gay'
[Thu, 30 Oct 2014 16:24:03 GMT]
Apple chief executive Tim Cook has publicly acknowledged his sexuality, saying he wants to try to help people struggling with their identity.
---
Microsoft unveils fitness band
[Thu, 30 Oct 2014 04:48:23 GMT]
Microsoft unveils a wearable device that can track a user's sleep and exercise as well connect to a fitness tracking service on smartphones.
---
Data retention bill introduced
[Thu, 30 Oct 2014 03:57:21 GMT]
Data about phone and computer use will be kept by telecommunications companies for two years if a bill introduced to the Australian parliament is passed.
---
Lenovo completes Motorola takeover
[Thu, 30 Oct 2014 12:34:40 GMT]
Lenovo completes a $2.9bn takeover of Google's Motorola handset division, which it says makes it the third biggest smartphone maker.
---
Speed boost for 4G in some cities
[Thu, 30 Oct 2014 13:56:46 GMT]
Two of the UK's mobile operators are turning on technology that boosts mobile speeds in a few UK cities.
---
Android smartwatch 'runs for a week'
[Wed, 29 Oct 2014 15:18:46 GMT]
New Android-powered smartwatches should last for a week or longer between charges thanks to their use of both e-ink and LCD screens.
---
Drones buzz French nuclear plants
[Thu, 30 Oct 2014 15:45:15 GMT]
An investigation begins after France's state-owned EDF power company says unidentified drones have flown over seven of its nuclear plants.
---
Science
Newt flesh fungus 'brought by pets'
[Fri, 31 Oct 2014 02:00:27 GMT]
A skin-eating fungus threatens salamanders and newts across Europe, and probably arrived on pet amphibians imported from Asia.
---
WW2 technology 'Plan B' for GPS
[Fri, 31 Oct 2014 01:10:37 GMT]
Technology developed during World War Two is to be used as a back-up for GPS in ports across England and Scotland.
---
IPCC debates 'most important' report
[Thu, 30 Oct 2014 13:34:14 GMT]
Scientists and government officials are meeting in Copenhagen to edit a report on the causes, impact and solutions to global warming.
---
Low oxygen 'delayed life on Earth'
[Thu, 30 Oct 2014 18:04:03 GMT]
Animals took so long to evolve and thrive on Earth because of incredibly low levels of oxygen during a period more than a billion years ago, scientists say.
---
Rocket makers probe US explosion
[Thu, 30 Oct 2014 12:27:46 GMT]
The builders of an unmanned supply rocket which exploded on the way to the International Space Station have vowed to find the cause of the failure.
---
New species of frog in urban jungle
[Thu, 30 Oct 2014 02:36:06 GMT]
Scientists confirm that a frog found living in New York City wetlands is a new species.
---
Koala chlamydia vaccine raises hope
[Wed, 29 Oct 2014 22:59:34 GMT]
Australian scientists say they have successfully tested a vaccine aimed at protecting wild koalas from chlamydia.
---
Key to sounding charismatic revealed
[Wed, 29 Oct 2014 19:09:15 GMT]
An innate ability some people have to manipulate their vocal frequency could be the key to sounding charismatic, according to new research.
---
Salt destroying fertile land - UN
[Wed, 29 Oct 2014 01:05:28 GMT]
About 2,000 hectares of fertile land are lost each day due to damage caused by salt, according to a UN analysis.
---
Giant tortoise 'miraculous' recovery
[Tue, 28 Oct 2014 19:16:16 GMT]
A new study confirms that giant tortoise numbers on one of the Galapagos Islands have bounced back thanks to captive breeding.
---
App Development
IT Earnings Way Up at Job Site Elance
[]
Google App Engine, HTML5, search engine optimization and social media marketing are among the fastest movers on Elance's list of hot job opportunities available online.
---
Say What? The Week's Top Five IT Quotes
[]
Google Wave crashes, fighting to keep mainframe skills alive, beware the Outernet and more.
---
GPL Enforcement Notches Another Victory
[]
The license at the heart of many open source projects is amassing a winning record when it comes to successfully pursuing enforcement lawsuits.
---
Microsoft Prepping New Visual Studio Tool
[]
Dubbed "LightSwitch," the new tool will offer developers of varying skill levels ready-made templates to create business applications for different computing environments.
---
Illumos Looks to Reopen Oracle's OpenSolaris
[]
Amid concern throughout the OpenSolaris community about Oracle's plans for the open source operating system, the Illumos project is providing an alternative set of OpenSolaris technologies.
---