Welcome to Argalax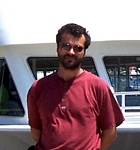 Hi, my name is Alexander and this is my website.
I live in Toronto, Canada, and work as a Senior IT Professional.
In spare time I enjoy writing some code, developing web applications, working on my robot, reading sci-fi, finance and technical books, visiting my cabin in the wilderness and travel when I can.
---
Here are some technical news to read...
Technology
TikTok jumps on online shopping bandwagon
[Wed, 08 Dec 2021 08:01:45 GMT]
Social media app TikTok is producing its first live shopping and entertainment event in the UK.
---
'Euros' is most googled term of 2021 in UK
[Wed, 08 Dec 2021 11:55:12 GMT]
The three most searched for terms on Google UK this year were football-related.
---
UK to phase out 2G and 3G by 2033
[Wed, 08 Dec 2021 17:25:08 GMT]
The UK's five largest mobile networks have agreed to the timeframe, with some aiming to phase out before.
---
Instagram announces changes ahead of political grilling
[Tue, 07 Dec 2021 15:28:31 GMT]
Platform boss unveils new safety features a day before being quizzed by the US Senate.
---
Ubisoft NFTs, called 'Digits', launch for in-game items
[Tue, 07 Dec 2021 17:20:47 GMT]
Game maker Ubisoft is launching its in-game NFT system this week.
---
Bitcoin 'founder' wins right to keep billions of dollars
[Tue, 07 Dec 2021 20:10:41 GMT]
A jury decided Craig Wright, who says he created the cryptocurrency, can retain bitcoin worth billions of dollars.
---
Google sues alleged Russian cyber criminals
[Tue, 07 Dec 2021 18:30:30 GMT]
Hackers behind a malicious "botnet" may have used their network to infect over a million computers.
---
Hacker named Bowser must pay Nintendo in piracy case
[Tue, 07 Dec 2021 18:13:43 GMT]
Gary Bowser admitted to making hacking tools that allowed people to play pirated games.
---
Chinese social media giant Weibo's shares fall in Hong Kong debut
[Wed, 08 Dec 2021 08:27:06 GMT]
Last week, Chinese ride-hailing giant Didi said it will move its listing to Hong Kong from the US.
---
Vishal Garg: US boss fires 900 employees over Zoom
[Tue, 07 Dec 2021 15:00:27 GMT]
"Last time I did this I cried," said the head of the online mortgage lender laying off 15% of his staff.
---
Science
UK chief vet warns avian flu at 'phenomenal level' in UK
[Thu, 09 Dec 2021 00:01:07 GMT]
The risk to humans is low but diseased birds should not be touched, officials say.
---
Fish 'whoops and growls' recorded on restored reef
[Wed, 08 Dec 2021 05:00:03 GMT]
Recordings of fish 'whooping, croaking and growling' reveal reef coming back to life, scientists say.
---
Indonesia's biodiesel drive is leading to deforestation
[Wed, 08 Dec 2021 00:37:31 GMT]
Indonesia aims to use biofuels to cut greenhouse gas emissions, but it may damage its forests in the process.
---
Ariel: Contract signed to build European planet telescope
[Tue, 07 Dec 2021 08:00:51 GMT]
Airbus will lead the construction of the Ariel observatory which will study 1,000 distant worlds.
---
Nasa unveils new class of astronaut candidates
[Mon, 06 Dec 2021 18:48:22 GMT]
The six men and four women could fly to the space station and on future missions to the Moon.
---
Pacific Ocean garbage patch is immense plastic habitat
[Sun, 05 Dec 2021 00:56:58 GMT]
Researchers discover coastal species living on debris miles from their natural surroundings.
---
Climate change: Is 'blue hydrogen' Japan's answer to coal?
[Mon, 06 Dec 2021 01:11:25 GMT]
The Fukushima disaster turned Japan away from nuclear. A new energy source may help it quit coal.
---
Nasa: Belfast mathematician working towards her astronaut dream
[Sun, 05 Dec 2021 06:24:31 GMT]
Dr Caoimhe Rooney, from Belfast, keeps one eye on calculus and the other fixed firmly on the stars.
---
Gene edited sex selection may spare animal suffering
[Fri, 03 Dec 2021 10:01:11 GMT]
A gene editing technique may prevent the slaughter of animals not needed by the livestock industry.
---
COP26: UK 'nowhere near' meeting targets agreed at Glasgow climate summit
[Thu, 02 Dec 2021 07:12:33 GMT]
Ministers are told they must agree tougher policies to get the UK on track to meet goals set at COP26.
---