Welcome to Argalax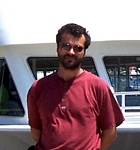 Hi, my name is Alexander and this is my website.
I live in Toronto, Canada, and work as a Senior IT Professional.
In spare time I enjoy writing some code, developing web applications, working on my robot, reading sci-fi, finance and technical books, visiting my cabin in the wilderness and travel when I can.
---
Here are some technical news to read...
Technology
Why is Huawei still in the UK?
[Mon, 17 May 2021 16:43:42 GMT]
Huawei defends its links with British universities, says it admires UK innovation
---
Should encryption be curbed to combat child abuse?
[Mon, 17 May 2021 23:01:20 GMT]
Cyber-security experts, tech firms and lawyers weigh in on the end-to-end encryption debate.
---
Jake Paul investigated over suspected driving on protected turtle beach
[Mon, 17 May 2021 15:58:53 GMT]
Some Puerto Rico beaches are protected as endangered turtles nest in the sand.
---
Bill Gates left Microsoft amid affair investigation
[Mon, 17 May 2021 15:49:53 GMT]
Microsoft has said that it investigated Mr Gates' attempt in 2000 "to initiate an intimate relationship".
---
Waymo self-driving taxi confused by traffic cones flees help
[Mon, 17 May 2021 11:51:47 GMT]
The vehicle became stuck multiple times and repeatedly drove away when roadside assistance approached.
---
AT&T and Discovery to create new streaming giant
[Mon, 17 May 2021 13:19:37 GMT]
The deal will see Harry Potter-maker Warner Bros. and Discovery take on Netflix, Disney+ and Amazon.
---
Mayflower: Ship to sail across Atlantic without a crew
[Mon, 17 May 2021 15:26:23 GMT]
The autonomous craft will travel 3,500 miles (5,630km) from Plymouth, UK to Massachusetts in the US.
---
Israel-Gaza: Why is the region blurry on Google Maps?
[Mon, 17 May 2021 12:04:58 GMT]
High-resolution images of Israel and Gaza are available, so why not via public mapping tools?
---
New emergency text alerts to be trialled
[Mon, 17 May 2021 13:52:28 GMT]
A warning system will tested to advise people in areas affected by floods, fires, terror attacks or industrial incidents.
---
Reminders on rise as WhatsApp update deadline looms
[Thu, 13 May 2021 23:23:09 GMT]
Users yet to accept new terms and conditions will begin to receive "persistent" reminders.
---
Science
Green light for 'net zero' equivalent for nature
[Tue, 18 May 2021 00:05:26 GMT]
The government is expected to announce a legally-binding target for 2030 to halt nature loss.
---
More than a billion sparrows in the world, study finds
[Mon, 17 May 2021 23:59:22 GMT]
At least 50 billion individual wild birds are on the planet, including 1.6 billion house sparrows, scientists say.
---
UK plastic waste being dumped and burned in Turkey, says Greenpeace
[Mon, 17 May 2021 08:15:53 GMT]
Greenpeace says it found plastic waste from UK supermarkets dumped and burned at numerous sites.
---
John Kerry: US climate envoy criticised for optimism on clean tech
[Sun, 16 May 2021 13:06:40 GMT]
John Kerry told the BBC technologies that don't yet exist will play a huge role in stabilising the climate.
---
China lands its Zhurong rover on Mars
[Sat, 15 May 2021 04:05:44 GMT]
The six-wheeled robot has made the hazardous descent to the surface of the Red Planet, China announces.
---
Bloodhound racer displayed at Coventry Transport Museum
[Mon, 17 May 2021 12:05:38 GMT]
The team will use this time to seek investment to help them break the land speed world record.
---
The most plastic-polluted riverbed in the UK
[Fri, 14 May 2021 12:30:27 GMT]
Part of the River Tame in Greater Manchester is the most plastic-polluted riverbed in the UK, scientists say.
---
COP26: Alok Sharma urges nations to banish coal
[Thu, 13 May 2021 23:22:11 GMT]
In a speech ahead of the COP26 event, Alok Sharma will say the coal business is "going up in smoke".
---
Native oysters reintroduced into Firth of Clyde
[Thu, 13 May 2021 16:37:35 GMT]
A total of 1,300 oysters have been suspended in the water as part of a restoration project.
---
Calls for post-Covid 'revolution' in building air quality
[Fri, 14 May 2021 07:01:34 GMT]
Top experts in how diseases spread are calling for massive improvements to the air in buildings.
---