Welcome to Argalax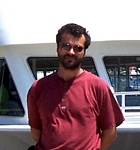 Hi, my name is Alexander and this is my website.
It describes my work, hobbies, various projects, intellectual pursuits, current interests, and whatever else seems important and/or interesting at the moment.
I live in Canada, just east of Toronto, and work as technical team leader in the IT industry.
In spare time I enjoy writing some code, developing web applications, working on my robot, and FreeBSD/Linux projects, reading sci-fi, finance and technical books, building my cabin in the wilderness, travel and sail when I can.
---
Here are some technical news to read...
Technology
Google trials drone deliveries
[Thu, 28 Aug 2014 22:00:23 GMT]
Google reveals it has built and tested its own drones as part of a plan to make automated deliveries to remote homes as well as disaster-hit zones.
---
2.6m historic pictures posted online
[Fri, 29 Aug 2014 08:18:35 GMT]
An academic is posting millions of historic photos and illustrations to Flickr where they can be searched and copied without charge.
---
GCHQ protest over surveillance case
[Fri, 29 Aug 2014 07:54:10 GMT]
The first of three days of protest by online activists is due to take place at the UK Government Communications Headquarters (GCHQ).
---
'Fashionable' smartwatches announced
[Thu, 28 Aug 2014 11:51:08 GMT]
South Korean tech firms LG and Samsung have announced more smartwatches, ahead of a widely anticipated entry to the sector from Apple.
---
Police seize video gamer live on cam
[Thu, 28 Aug 2014 16:06:35 GMT]
Armed police dramatically raid the office of a video gamer near Denver, US - and the incident was broadcast live online.
---
FBI probes JP Morgan 'cyber-attack'
[Thu, 28 Aug 2014 10:40:33 GMT]
The FBI says it is investigating reports in the US media of recent cyber-attacks against several US banks.
---
Call for Facebook beheadings rethink
[Wed, 27 Aug 2014 12:52:16 GMT]
Controversial beheading photo posts from Syria spur one of Facebook's safety advisers to call for pictures to have warnings.
---
Landmark court cases deleted from net
[Wed, 27 Aug 2014 21:41:55 GMT]
Numerous records relating to civil rights cases have disappeared from the US government's online legal archive.
---
Star Trek X Prize finalists named
[Wed, 27 Aug 2014 13:31:12 GMT]
Ten groups have been chosen as finalists in a $10m (£6m) competition to develop a real-life "tricorder" - the medical scanner used in Star Trek.
---
HP recalls million of power cords
[Wed, 27 Aug 2014 17:27:45 GMT]
HP is asking the owners of more than six million power cables to send back the cords to avoid the risk of being burnt by the kit.
---
Science
UN seeks climate change 'Malala'
[Fri, 29 Aug 2014 05:06:59 GMT]
Five hundred people will learn tomorrow if they have won the chance to vent their frustration at world leaders over the global citizens stalemate over climate policy.
---
DNA tells story of Arctic peopling
[Thu, 28 Aug 2014 18:52:20 GMT]
A study of genetic sequences sheds light on the settling of the North American Arctic, from ancient "Paleo-Eskimos" to the modern-day Inuit.
---
Genetic clues to spread of Ebola
[Thu, 28 Aug 2014 18:00:20 GMT]
Scientists have tracked the spread of Ebola in West Africa, revealing genetic clues to the course of the outbreak.
---
Dead stars 'can re-ignite' and blow
[Thu, 28 Aug 2014 15:03:52 GMT]
Astronomers have shown that dead stars known as white dwarfs can re-ignite and explode as supernovas.
---
Iceland examines volcano 'cauldrons'
[Thu, 28 Aug 2014 11:40:59 GMT]
Scientists in Iceland say they are examining several depressions, termed 'cauldrons', near Bardarbunga volcano, which could be a sign of an eruption.
---
Ebola region faces UK travel ban
[Thu, 28 Aug 2014 16:38:20 GMT]
All but essential travel to Sierra Leone, Guinea and Liberia should be avoided, the Foreign and Commonwealth Office warns British nationals.
---
A sheepdog's 'two rules' for success
[Wed, 27 Aug 2014 00:33:00 GMT]
Scientists produce a simple mathematical model that explains how a single sheepdog can herd a large number of sheep.
---
Global coal 'binge' missed in data
[Tue, 26 Aug 2014 18:23:41 GMT]
The climate impacts of the world's fossil-fuelled power plants are being underestimated because of poor accounting, say researchers.
---
Badger cull targets are announced
[Tue, 26 Aug 2014 17:52:41 GMT]
A target number of badgers to be killed in this year's pilot cull to tackle tuberculosis in cattle is announced.
---
World's rarest bird needs new home
[Mon, 25 Aug 2014 23:34:15 GMT]
The last remaining population of the world's rarest bird, the Madagascar pochard, needs a new wetland home if it is to thrive again, a study reveals.
---
App Development
IT Earnings Way Up at Job Site Elance
[]
Google App Engine, HTML5, search engine optimization and social media marketing are among the fastest movers on Elance's list of hot job opportunities available online.
---
Say What? The Week's Top Five IT Quotes
[]
Google Wave crashes, fighting to keep mainframe skills alive, beware the Outernet and more.
---
GPL Enforcement Notches Another Victory
[]
The license at the heart of many open source projects is amassing a winning record when it comes to successfully pursuing enforcement lawsuits.
---
Microsoft Prepping New Visual Studio Tool
[]
Dubbed "LightSwitch," the new tool will offer developers of varying skill levels ready-made templates to create business applications for different computing environments.
---
Illumos Looks to Reopen Oracle's OpenSolaris
[]
Amid concern throughout the OpenSolaris community about Oracle's plans for the open source operating system, the Illumos project is providing an alternative set of OpenSolaris technologies.
---