Welcome to Argalax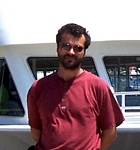 Hi, my name is Alexander and this is my website.
It describes my work, hobbies, various projects, intellectual pursuits, current interests, and whatever else seems important and/or interesting at the moment.
I live in Canada, just east of Toronto, and work as technical team leader in the IT industry.
In spare time I enjoy writing some code, developing web applications, working on my robot, and FreeBSD/Linux projects, reading sci-fi, finance and technical books, building my cabin in the wilderness, travel and sail when I can.
---
Here are some technical news to read...
Technology
Ashley Madison founder steps down
[Fri, 28 Aug 2015 15:41:31 GMT]
The founder and chief executive of the Ashley Madison extra-marital affair website, Noel Biderman, steps down following data hack.
---
Instagram images no longer all square
[Fri, 28 Aug 2015 12:35:51 GMT]
Instagram is allowing its 300 million users to post landscape and portrait videos and pictures, as well as squares, for the first time.
---
Lizard Squad 'copycats': Teens arrested
[Fri, 28 Aug 2015 11:19:47 GMT]
Six teenage boys have been arrested on suspicion of using software from hackers who claim they disrupted Xbox and PlayStation last Christmas.
---
HSBC clears '99%' of delayed payments
[Fri, 28 Aug 2015 20:06:31 GMT]
HSBC says it has processed "99%" of payments affected by an IT glitch, with the remainder due to be completed overnight.
---
Facebook hits billion users in a day
[Thu, 27 Aug 2015 23:47:46 GMT]
Facebook boasts a new record, with more than a billion people using the social network on a single day this week.
---
Woman gets cash for gadget allergy
[Thu, 27 Aug 2015 16:12:03 GMT]
A woman in France has won a disability grant after telling a court she suffers from an allergy to electromagnetic radiation from gadgets.
---
Vine takes on Shazam on music discovery
[Fri, 28 Aug 2015 06:42:50 GMT]
The app says it's focusing more on music with new services that will also make it easier to loop audio.
---
Social media 'must rethink autoplay'
[Thu, 27 Aug 2015 14:36:25 GMT]
After users were exposed to videos of the murders of two journalists, MPs say the sites must make their autoplay functions safer.
---
The digital game that could cure TB
[Thu, 27 Aug 2015 00:16:11 GMT]
A unique collaboration between two Scottish universities has produced a digital game that fights tuberculosis.
---
Google rejects EU's abuse complaint
[Thu, 27 Aug 2015 16:07:41 GMT]
Google formally rejects the EU's allegations that its shopping links service amounts to an abuse of its dominance of search.
---
Science
Satellite image of IS destruction
[Sat, 29 Aug 2015 02:24:12 GMT]
A French satellite system pictures a pile of rubble where the ancient Temple of Baalshamin at Palmyra in Syria used to stand.
---
Year-long 'Mars isolation' begins
[Sat, 29 Aug 2015 03:57:20 GMT]
A team of Nasa recruits begins a year-long isolation in a dome near a barren volcano in Hawaii, to simulate life on Mars.
---
Key Inmarsat rocket flight 'success'
[Sat, 29 Aug 2015 08:03:09 GMT]
A rocket mission to put a new spacecraft in orbit for London-based Inmarsat is declared a success.
---
Badger cull extended into Dorset
[Fri, 28 Aug 2015 12:12:50 GMT]
The badger cull is to be extended into Dorset following pilots in Gloucestershire and Somerset, the government announces.
---
Satellite revisits Hurricane Katrina
[Fri, 28 Aug 2015 18:05:18 GMT]
A UK-built satellite delivered the first orbital picture to US disaster response coordinators following Hurricane Katrina. Ten years on, a British spacecraft has re-imaged the Mississippi Delta.
---
Government plans steep cuts in solar
[Thu, 27 Aug 2015 13:42:44 GMT]
The government says it plans to significantly reduce subsidies paid to small scale green power installations.
---
Knut polar bear death riddle solved
[Thu, 27 Aug 2015 13:02:35 GMT]
Scientists say Knut, the famous polar bear that drowned at Berlin Zoo in 2011, had a type of autoimmune inflammation of the brain that is also recognised in humans.
---
Invasive bug 'could spread in UK'
[Wed, 26 Aug 2015 17:02:10 GMT]
An invasive caterpillar that feeds on hedges is starting to spread from its established base in London across the UK.
---
Aphantasia: A life without mental images
[Tue, 25 Aug 2015 23:00:30 GMT]
Scientists identify the condition aphantasia, in which people cannot create images in their head
---
Hawking: Black holes store information
[Wed, 26 Aug 2015 12:06:47 GMT]
Black holes preserve information about the things that fall into them, according to Prof Stephen Hawking.
---
App Development
IT Earnings Way Up at Job Site Elance
[]
Google App Engine, HTML5, search engine optimization and social media marketing are among the fastest movers on Elance's list of hot job opportunities available online.
---
Say What? The Week's Top Five IT Quotes
[]
Google Wave crashes, fighting to keep mainframe skills alive, beware the Outernet and more.
---
GPL Enforcement Notches Another Victory
[]
The license at the heart of many open source projects is amassing a winning record when it comes to successfully pursuing enforcement lawsuits.
---
Microsoft Prepping New Visual Studio Tool
[]
Dubbed "LightSwitch," the new tool will offer developers of varying skill levels ready-made templates to create business applications for different computing environments.
---
Illumos Looks to Reopen Oracle's OpenSolaris
[]
Amid concern throughout the OpenSolaris community about Oracle's plans for the open source operating system, the Illumos project is providing an alternative set of OpenSolaris technologies.
---