Welcome to Argalax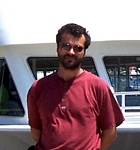 Hi, my name is Alexander and this is my website.
It describes my work, hobbies, various projects, intellectual pursuits, current interests, and whatever else seems important and/or interesting at the moment.
I live in Canada, just east of Toronto. Until recently, I worked as technical team leader in the IT industry. Now I am cruising tropics on a sailing yacht most of the year, spending few months at home.
In spare time I enjoy writing some code, developing web applications, working on my robot, and FreeBSD/Linux projects, reading sci-fi, finance and technical books, building my cabin in the wilderness, travel and sail when I can.
---
Here are some technical news to read...
Technology
Snapchat 'files for stock market float'
[Wed, 16 Nov 2016 00:29:17 GMT]
The parent firm of messaging app Snapchat files to list on the US stock market, reports say, and could be worth $25bn.
---
Nintendo shares rise on Super Mario iPhone game date
[Wed, 16 Nov 2016 05:40:42 GMT]
Nintendo shares rise in Tokyo after it announces its Super Mario iPhone game will launch on 15 December 15, costing $10 (£8).
---
Sony denies PlayStation hack attack following complaints
[Tue, 15 Nov 2016 17:01:46 GMT]
Some PlayStation users say their accounts have been hacked, but Sony denies its network has been compromised.
---
Boy, 17, admits TalkTalk hacking offences
[Tue, 15 Nov 2016 15:49:37 GMT]
A teenager admits hacking offences linked to a data breach at the communications firm TalkTalk.
---
'Simple' phone has complex problems
[Tue, 15 Nov 2016 12:08:17 GMT]
A crowdfunded handset designed to help people disconnect from their smartphones has suffered a series of setbacks.
---
Twitter announces more tools for dealing with abuse
[Tue, 15 Nov 2016 14:04:18 GMT]
Twitter announces new ways for users to tackle abusive messages and hateful content on its platform.
---
Eve Online becomes free for first time
[Tue, 15 Nov 2016 20:18:12 GMT]
For the first time the iconic online game is letting new users get involved for free, although some upgrades will still cost you.
---
US demands electric cars make noise at low speed
[Tue, 15 Nov 2016 11:48:50 GMT]
A US road safety body has demanded that electric cars travelling at low speed make a noise to warn pedestrians.
---
Molecules found on phones reveal lifestyle secrets
[Tue, 15 Nov 2016 00:37:20 GMT]
Molecules found on mobile phones can reveal a lot about the owner's lifestyle, scientists say.
---
NHS send-to-all email causes turmoil
[Mon, 14 Nov 2016 16:33:09 GMT]
An email that was accidentally sent to 840,000 members of the NHS's staff in England causes havoc.
---
Science
Hollande: US 'must respect climate commitments'
[Tue, 15 Nov 2016 18:00:51 GMT]
French president Francois Hollande says that the US must respect their commitments made under the Paris Climate Agreement.
---
Maths zeroes in on perfect cup of coffee
[Tue, 15 Nov 2016 15:03:48 GMT]
Mathematicians are a step closer to understanding what makes a perfect cup of coffee.
---
Database helps plant 'right tree for the right place'
[Tue, 15 Nov 2016 15:03:20 GMT]
German researchers compile a 400-species Citree database to encourage people to plant the "right tree for the right place" in urban areas.
---
Dino-bird fossil had sparkly feathers 'to attract mate '
[Tue, 15 Nov 2016 11:21:52 GMT]
An extinct bird that lived 120 million years ago had iridescent feathers, probably to attract a mate, fossil evidence shows.
---
Dippy dinosaur's national tour stops announced
[Tue, 15 Nov 2016 00:32:09 GMT]
The UK's most famous dinosaur skeleton will start its national tour on England's Jurassic Coast.
---
'Supermoon' wows viewers with closest glimpse since 1948
[Mon, 14 Nov 2016 18:08:32 GMT]
Skywatchers are enjoying the latest "supermoon", after the moon made its closest approach since 1948.
---
2016 'very likely' to be world's warmest year
[Mon, 14 Nov 2016 11:06:56 GMT]
2016 looks poised to be the warmest year on record globally, according to preliminary data.
---
Antarctic quest to find 'oldest ice'
[Mon, 14 Nov 2016 10:01:23 GMT]
European scientists set out for Antarctica this week in a bid to find deeply buried ice that contains an ancient record of Earth's climate.
---
Global carbon growth stalls as US coal continues to slump
[Mon, 14 Nov 2016 02:37:42 GMT]
Declining US coal consumption played a significant role in keeping down global emissions of carbon dioxide, says a report.
---
Beagle 2 'was so close to Mars success'
[Fri, 11 Nov 2016 02:02:01 GMT]
The British Beagle 2 spacecraft may have worked for several months on Mars, new analysis suggests.
---