Welcome to Argalax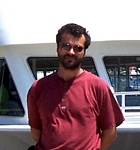 Hi, my name is Alexander and this is my website.
I live in Toronto, Canada, and work as a Senior IT Professional.
In spare time I enjoy writing some code, developing web applications, working on my robot, reading sci-fi, finance and technical books, visiting my cabin in the wilderness and travel when I can.
---
Here are some technical news to read...
Technology
Data breach hits agency overseeing White House communications
[Thu, 20 Feb 2020 20:59:48 GMT]
The personal data of about 200,000 people is exposed in a cyber-attack.
---
Samsung explains mystery alert sent overnight
[Thu, 20 Feb 2020 10:54:36 GMT]
The company says it sent the strange "1" alert to Samsung devices by mistake.
---
MGM hack exposes personal data of 10.6 million guests
[Thu, 20 Feb 2020 03:36:00 GMT]
Celebrities including Justin Bieber were among those whose data was stolen, one report said.
---
Thousands of UK government devices lost or stolen
[Thu, 20 Feb 2020 17:28:43 GMT]
At least 2,004 government mobiles were lost or stolen in a year, more than a third from the MoD.
---
Larry Tesler: Computer scientist behind cut, copy and paste dies aged 74
[Thu, 20 Feb 2020 03:54:07 GMT]
Larry Tesler was responsible for many of the innovations that made personal computing accessible.
---
ISS World hack leaves thousands of employees offline
[Thu, 20 Feb 2020 13:30:00 GMT]
ISS World, a major facilities provider, has been hit by an apparent ransomware attack.
---
UK says Russia's GRU behind massive Georgia cyber-attack
[Thu, 20 Feb 2020 16:12:45 GMT]
The UK Foreign Office said October's attack was designed to undermine Georgia's sovereignty.
---
Skin-detection software could improve smartphone security
[Wed, 19 Feb 2020 20:59:08 GMT]
TrinamiX has developed a facial recognition software that they say could provide better security.
---
Ransomware-hit US gas pipeline shut for two days
[Wed, 19 Feb 2020 17:45:49 GMT]
The entire pipeline was closed after the cyber-security incident.
---
Facebook boss faces 'blow-dried armpit' jibes
[Thu, 20 Feb 2020 01:04:09 GMT]
Mark Zuckerberg faced jibes on social media over a claim that he has staff blow-dry his armpits.
---
Science
'Astonishing' blue whale numbers at South Georgia
[Thu, 20 Feb 2020 03:00:45 GMT]
The biggest animal on Earth is returning to waters where it was nearly driven to extinction.
---
Conservation: New protections for jaguar and Asian elephant
[Thu, 20 Feb 2020 13:04:55 GMT]
New measures to protect migrating species have been agreed at an international summit in India.
---
'Birdgirl' Mya-Rose Craig receives Bristol University honorary doctorate
[Thu, 20 Feb 2020 16:03:23 GMT]
Mya-Rose Craig has been campaigning for equality in the environmental movement since 2015.
---
Heather Couper: Broadcaster and astronomer dies at 70
[Thu, 20 Feb 2020 10:27:51 GMT]
She appeared on TV shows ranging from Blue Peter to The Sky At Night, as well as documentaries.
---
Climate change: Fertiliser could be used to power ocean-going ships
[Wed, 19 Feb 2020 09:13:33 GMT]
Ammonia, the key ingredient of fertiliser, can be burned in ships' engines in place of polluting diesel.
---
Nasa's 2020 rover: Can we finally answer the big question about Mars?
[Tue, 18 Feb 2020 15:00:31 GMT]
The US space agency's next rover will hunt for life's traces among the rocks of the Red Planet.
---
Neanderthal 'skeleton' is first found in a decade
[Tue, 18 Feb 2020 15:21:39 GMT]
Researchers describe the first "articulated" remains of a Neanderthal to be discovered in a decade.
---
British radio antenna arrives at space station
[Tue, 18 Feb 2020 09:11:52 GMT]
The UK's first industrial contribution to the orbiting platform will improve its communication links.
---
Locust swarms: South Sudan latest to be hit by invasion
[Tue, 18 Feb 2020 17:37:09 GMT]
The ravenous pests have devoured crops and pasture threatening a food crisis in East Africa.
---
Coronavirus: Largest study suggests elderly and sick are most at risk
[Tue, 18 Feb 2020 11:20:51 GMT]
The deadliness of the virus advances progressively with the age of the patient, research suggests.
---