Welcome to Argalax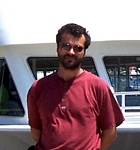 Hi, my name is Alexander and this is my website.
It describes my work, hobbies, various projects, intellectual pursuits, current interests, and whatever else seems important and/or interesting at the moment.
I live in Canada, just east of Toronto. Until recently, I worked as technical team leader in the IT industry. Now I am cruising tropics on a sailing yacht most of the year, spending few months at home.
In spare time I enjoy writing some code, developing web applications, working on my robot, and FreeBSD/Linux projects, reading sci-fi, finance and technical books, building my cabin in the wilderness, travel and sail when I can.
---
Here are some technical news to read...
Technology
VTech 'is responsible' for kids' data
[Thu, 11 Feb 2016 17:15:35 GMT]
The UK's data privacy watchdog confirms that VTech remains responsible for protecting users' data despite changes to its terms and conditions.
---
Facebook 'colonialism' row stokes distrust
[Thu, 11 Feb 2016 08:26:30 GMT]
Comments by a Facebook board member could put Mark Zuckerberg's global plans on the back foot.
---
Lego children's prosthetic wins award
[Thu, 11 Feb 2016 14:59:31 GMT]
A prosthetic arm that allows children to design their own Lego accessories wins an innovation award in Paris.
---
Gay-themed emojis irk Indonesia
[Thu, 11 Feb 2016 15:38:51 GMT]
Messaging apps should respect local values, information ministry says.
---
Google extends 'right to be forgotten'
[Thu, 11 Feb 2016 09:36:04 GMT]
Tech giant Google says it will hide content removed under the "right to be forgotten" from all versions of the search engine when viewed from countries where removal was approved.
---
Paul McCartney creates Skype emojis
[Thu, 11 Feb 2016 16:26:32 GMT]
Sir Paul McCartney has composed music for a series of 'audio emojis' on Skype
---
Vatican promotes Lent on Telegram
[Thu, 11 Feb 2016 17:01:32 GMT]
The Vatican is using the controversial instant messaging app Telegram to promote Lent
---
Gadget battery shipments face scrutiny
[Thu, 11 Feb 2016 12:30:53 GMT]
The US National Transportation Safety Board says shipments of lithium-ion batteries on planes should be restricted because of safety fears.
---
Twitter hit by faltering user growth
[Wed, 10 Feb 2016 23:26:08 GMT]
Shares of Twitter fall in after-hours trading as the companies earnings announcement shows growth faltering.
---
Spy law 'needs significant changes'
[Thu, 11 Feb 2016 14:56:51 GMT]
Theresa May's internet monitoring and spying bill needs "significant work" before becoming law, the committee scrutinising it says.
---
Science
Gravitational waves: Numbers don't do them justice
[Fri, 12 Feb 2016 00:41:47 GMT]
Jonathan Amos reflects on the significance of Thursday's announcement – and the mind-boggling scale of the black hole merger itself.
---
'Health risk' legacy from Neanderthals
[Fri, 12 Feb 2016 09:56:16 GMT]
Scientists find a wide range of ailments are strongly influenced by our Neanderthal heritage.
---
'Ripples' from black holes detected
[Thu, 11 Feb 2016 15:32:21 GMT]
For the first time, scientists detect tiny, rhythmic distortions in space and time - gravitational waves - predicted by Einstein 100 years ago.
---
Record year for river fish releases
[Fri, 12 Feb 2016 00:37:52 GMT]
Almost two million captive-bred fish and larvae were released in 2015 to boost populations in England's rivers, says the Environment Agency.
---
Toxic chemicals found in beached whales
[Thu, 11 Feb 2016 13:00:24 GMT]
A pod of whales stranded in Fife in 2012 are found to have had high concentrations of toxic chemicals in their bodies, scientists find.
---
Court halts Obama's key climate plan
[Wed, 10 Feb 2016 09:16:06 GMT]
President Obama's plans to regulate emissions of carbon dioxide from US power plants are stalled by the Supreme Court.
---
Climate change 'to make flights longer'
[Wed, 10 Feb 2016 00:29:53 GMT]
Flights from the UK to the US could take longer due to the changes in the climate, according to a new study.
---
Horses recognise human emotions
[Wed, 10 Feb 2016 02:14:57 GMT]
Horses discriminate between happy and angry human facial expressions, according to research.
---
Legal breakthrough for Google car
[Wed, 10 Feb 2016 08:11:18 GMT]
Google's self-driving technology should be considered a legal driver, the US highways authority says.
---
Bacteria 'see' like tiny eyeballs
[Tue, 09 Feb 2016 05:59:56 GMT]
Biologists discover how bacteria sense light and move towards it: the entire single-cell organism focuses light like a tiny eyeball.
---