Welcome to Argalax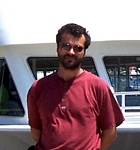 Hi, my name is Alexander and this is my website.
I live in Toronto, Canada, and work as a Senior IT Professional.
In spare time I enjoy writing some code, developing web applications, working on my robot, reading sci-fi, finance and technical books, visiting my cabin in the wilderness and travel when I can.
---
Here are some technical news to read...
Technology
Huawei delays launch of folding smartphone
[Fri, 14 Jun 2019 14:02:32 GMT]
The Chinese tech giant says it's being "cautious" about the device, which was supposed to launch this summer.
---
Tech Tent: Facebook's deepfake dilemma
[Fri, 14 Jun 2019 16:05:04 GMT]
Facebook was confronted this week with a fake video of its own founder Mark Zuckerberg.
---
Google's AR animals entertain Android users
[Fri, 14 Jun 2019 11:24:22 GMT]
Augmented Reality animals are appearing as an option on some Android devices as Google rolls out a new feature.
---
Twitter removes Iranian-backed accounts
[Fri, 14 Jun 2019 10:46:59 GMT]
The deleted accounts sent millions of messages trying to influence opinions about Iran, says Twitter.
---
Amazon sued over Alexa child recordings in US
[Thu, 13 Jun 2019 14:30:04 GMT]
Two complaints claim the firm lacks the required consent to build and store youngsters' voice profiles.
---
Selena Gomez: Instagram 'would make me depressed'
[Thu, 13 Jun 2019 15:01:59 GMT]
The singer says she had to delete social media from her phone as it made her feel bad about herself.
---
Pokemon Sword and Shield: Hands-on with Dynamax power
[Wed, 12 Jun 2019 18:07:22 GMT]
Chris Fox tests how the new Dynamax power to make the pet monsters huge affects gameplay.
---
Next-gen games may not need new console
[Wed, 12 Jun 2019 10:46:49 GMT]
How internet-streamed video games could benefit players and disrupt the industry.
---
E3: Nintendo's Legend of Zelda sequel confirmed
[Tue, 11 Jun 2019 18:25:52 GMT]
A follow-up to Breath of the Wild has been announced at the E3 gaming show in Los Angeles.
---
E3: Xbox One successor Project Scarlett to launch in 2020
[Sun, 09 Jun 2019 22:28:25 GMT]
The next-generation console will have a new Halo game among its first titles.
---
Science
Largest world stock of animal-killing virus destroyed by UK lab
[Fri, 14 Jun 2019 17:14:18 GMT]
Scientists destroy final UK laboratory samples of rinderpest, the disease that wiped out most of the cattle in Sub-Saharan Africa.
---
Chinese tombs yield earliest evidence of cannabis use
[Thu, 13 Jun 2019 12:17:13 GMT]
Researchers uncover the earliest known evidence of cannabis use, from tombs in western China.
---
Pope warns oil bosses of climate threat
[Fri, 14 Jun 2019 15:10:56 GMT]
Oil company bosses have been rapped by the Pope for seeking more of the fossil fuels that are damaging the climate.
---
Bermuda land snail: An animal 'back from the dead'
[Thu, 13 Jun 2019 00:53:34 GMT]
A remarkable story of how a snail was rescued from the edge of extinction and returned to the wild.
---
Greenland map captures changing Arctic in fine detail
[Thu, 13 Jun 2019 11:17:14 GMT]
The British Antarctic Survey produces an exquisite new printed sheet map of Greenland and the European Arctic.
---
Scotland's crannogs are older than Stonehenge
[Thu, 13 Jun 2019 13:50:17 GMT]
Used for building homes on lochs, the artificial islands were previously thought to date from the Iron Age.
---
Hidden Figures: Nasa renames street after black female mathematicians
[Thu, 13 Jun 2019 00:40:20 GMT]
Hidden Figures Way is named after the African-American women featured in the Oscar-nominated film.
---
Greenpeace rig protest brought to an end
[Thu, 13 Jun 2019 21:03:32 GMT]
Police said nine people in total had been arrested in connection with the demonstration in the Cromarty Firth.
---
Climate change: UK government to commit to 2050 target
[Wed, 12 Jun 2019 10:20:35 GMT]
The UK will set a new legally binding target to reach net zero greenhouse gas emissions by 2050.
---
Chandrayaan-2: India unveils spacecraft for second Moon mission
[Wed, 12 Jun 2019 07:06:42 GMT]
If successful Chandrayaan-2 will make India the fourth country to land a spacecraft on the Moon.
---