Welcome to Argalax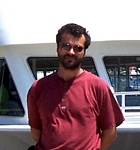 Hi, my name is Alexander and this is my website.
It describes my work, hobbies, various projects, intellectual pursuits, current interests, and whatever else seems important and/or interesting at the moment.
I live in Canada, just east of Toronto. Until recently, I worked as technical team leader in the IT industry. Now I am cruising tropics on a sailing yacht most of the year, spending few months at home.
In spare time I enjoy writing some code, developing web applications, working on my robot, and FreeBSD/Linux projects, reading sci-fi, finance and technical books, building my cabin in the wilderness, travel and sail when I can.
---
Here are some technical news to read...
Technology
Court expands FBI hacking powers
[Fri, 29 Apr 2016 10:12:53 GMT]
The US Supreme Court approves a rule change that could allow law enforcement to remotely search computers located anywhere in the US, and beyond.
---
Microsoft banishes Google from Cortana
[Fri, 29 Apr 2016 10:25:53 GMT]
Microsoft begins forcing people to use its Bing search engine with the Cortana digital assistant in Windows 10.
---
Hackers hit Minecraft community site
[Fri, 29 Apr 2016 11:02:11 GMT]
Hackers have stolen login data for more than 7 million members of the Lifeboat Minecraft site.
---
Carl Icahn dumps Apple shares on China
[Fri, 29 Apr 2016 00:29:00 GMT]
Billionaire investor Carl Icahn unloads his shares in Apple over the company's prospects in China.
---
Man jailed for failing to decrypt data
[Thu, 28 Apr 2016 13:47:12 GMT]
A man is held in prison for seven months after failing to decrypt two hard drives that investigators suspect contain indecent images of children.
---
Amazon rapped for illegal app charges
[Thu, 28 Apr 2016 17:08:33 GMT]
Amazon illegally charged parents for in-app purchases made by children, a US judge rules.
---
Computer viruses infect nuclear plant
[Thu, 28 Apr 2016 11:05:33 GMT]
A German nuclear power plant has been found to be infected by several different computer viruses.
---
Doom creators seek cash for game
[Thu, 28 Apr 2016 13:22:17 GMT]
Two gaming veterans who helped create iconic title Doom are seeking cash to make a "classic" first-person shooter.
---
Superfast broadband take-up 'slow'
[Thu, 28 Apr 2016 10:57:54 GMT]
Tests on 42 towns and cities across the UK suggest almost half have average broadband speeds below 24Mbps.
---
Instagram orders litter app to dump name
[Thu, 28 Apr 2016 11:59:10 GMT]
Facebook-owned photo sharing giant Instagram orders the owner of a British anti-litter app to change its name.
---
Science
Tim Peake drives remote robot on Earth
[Fri, 29 Apr 2016 16:18:24 GMT]
UK astronaut Tim Peake controls a robot vehicle on Earth from the space station, simulating how humans could one day remotely command vehicles on other worlds.
---
Lizards share sleep patterns with humans
[Fri, 29 Apr 2016 07:55:10 GMT]
Scientists say sleep patterns previously thought exclusive to mammals and birds are also found in lizards.
---
Weasel shuts down Large Hadron Collider
[Fri, 29 Apr 2016 17:09:15 GMT]
The Large Hadron Collider particle accelerator in Switzerland is offline after suffering a short circuit - caused by a weasel.
---
Kenyan call to stamp out ivory trade
[Fri, 29 Apr 2016 16:02:37 GMT]
President Kenyatta of Kenya urges action to end Africa's illegal trade in ivory as he prepares to host a summit on saving elephants from extinction.
---
'Sleepless slugs' on rise, say experts
[Fri, 29 Apr 2016 10:24:33 GMT]
Last year's wet summer, followed by one of the warmest winters on record, has helped to create a generation of sleepless slugs, wildlife experts have warned.
---
Japan to abandon space satellite forever
[Fri, 29 Apr 2016 04:40:11 GMT]
Japan's space agency says it will abandon efforts to restore a multimillion dollar satellite sent to explore black holes, after it spun out of control.
---
New EU radar satellite takes first image
[Thu, 28 Apr 2016 16:42:09 GMT]
The EU's newest Earth observation satellite, Sentinel-1b, has returned its first radar imagery - of Svalbard, the Norwegian archipelago.
---
Neonics 'not equally harmful' to bees
[Thu, 28 Apr 2016 16:04:42 GMT]
The largest field-study so far in to the group of pesticides called "neonicotinoids" has concluded that each acts differently on the brains of the bees.
---
Glaciers with a flotilla of 'ice sails'
[Thu, 28 Apr 2016 08:00:04 GMT]
Scientists describe the processes that drive "ice sails" - a rare and somewhat esoteric feature of debris covered glaciers.
---
Gene therapy reverses sight loss
[Thu, 28 Apr 2016 22:25:35 GMT]
A genetic therapy improves the vision of some patients who would otherwise have gone blind.
---