Welcome to Argalax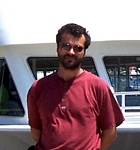 Hi, my name is Alexander and this is my website.
I live in Toronto, Canada, and work as a Senior IT Professional.
In spare time I enjoy writing some code, developing web applications, working on my robot, reading sci-fi, finance and technical books, visiting my cabin in the wilderness and travel when I can.
---
Here are some technical news to read...
Technology
WhatsApp changes: Signal messaging platform stops working as downloads surge
[Fri, 15 Jan 2021 22:27:17 GMT]
Signal has been downloaded millions of times since WhatsApp unveiled new privacy terms last week.
---
WhatsApp extends 'confusing' update deadline
[Fri, 15 Jan 2021 19:29:29 GMT]
The Facebook-owned platform still says its users must accept the update or stop using the service.
---
CES 2021: 'Wearable tech that's like using the Force'
[Sat, 16 Jan 2021 13:56:35 GMT]
Omar Mehtab tries a wristband that allows you to control your laptop and a smart fitness ring.
---
Biden Twitter account 'starts from zero' with no Trump followers
[Fri, 15 Jan 2021 12:52:02 GMT]
Joe Biden's presidential Twitter account launches with no followers transferred from President Trump.
---
Poland proposes social media 'free speech' law
[Fri, 15 Jan 2021 18:32:02 GMT]
The law would see social networks fined if they ban a Polish user who has not broken local laws.
---
Fortnite-maker Epic Games sues Apple and Google in UK
[Fri, 15 Jan 2021 15:21:55 GMT]
Epic Games escalates a row over the fees Apple and Google charge app developers.
---
Australia rebukes Google for blocking local content
[Fri, 15 Jan 2021 00:13:43 GMT]
The tech giants are fighting the Australian government over plans to make them pay for news content.
---
Samsung Galaxy S21 Ultra: Does stylus spell end of the Note?
[Thu, 14 Jan 2021 15:00:18 GMT]
The S21 Ultra's support for an S Pen will fuel speculation that the Note range's days are numbered.
---
TikTok level crossing stunt 'staggeringly stupid'
[Thu, 14 Jan 2021 21:27:08 GMT]
Police and rail bosses condemn a social media post featuring a car parked on a level crossing.
---
Trump blacklists smartphone giant Xiaomi
[Fri, 15 Jan 2021 02:59:30 GMT]
With just days left, the US president continues crackdown on Chinese firms with more sanctions and bans.
---
Science
SLS: Nasa's 'megarocket' engine test ends early
[Sun, 17 Jan 2021 03:02:58 GMT]
A critical engine test for Nasa's new "megarocket" - the Space Launch System (SLS) - ends early.
---
Climate change: 'Exceptionally hot' 2020 concludes warmest decade
[Thu, 14 Jan 2021 16:04:07 GMT]
The years between 2011 and 2020 were the hottest on record, and 2020 was among the warmest of all.
---
Electric eels work together to zap prey
[Thu, 14 Jan 2021 16:03:36 GMT]
The electric predators work in groups to herd and "zap" their prey in unison, scientists shocked to discover.
---
Government defends Cumbria coal mine green light
[Thu, 14 Jan 2021 17:10:06 GMT]
Climate change: Cumbria coal mine "risks making Britain a laughing stock"
---
Indonesia: Archaeologists find world's oldest animal cave painting
[Thu, 14 Jan 2021 07:33:32 GMT]
The life-sized picture of a wild pig found in a remote cave is thought to be 45,000 years old.
---
Honey detective work raises fears for bees
[Thu, 14 Jan 2021 12:38:56 GMT]
Pollinators risk running short of food as wildflowers disappear in a "green desert", experts warn.
---
Growing food: Call to give vegetable growers public cash
[Thu, 14 Jan 2021 06:48:21 GMT]
An alliance of food experts want more public funds to go towards Wales-grown produce.
---
Past Covid-19 infection may provide 'months of immunity'
[Thu, 14 Jan 2021 10:13:24 GMT]
But researchers warn there is still a risk of catching and passing the virus on to others again.
---
ÂŁ3bn UK climate finance to be spent on supporting nature
[Mon, 11 Jan 2021 15:58:05 GMT]
The PM says investment is needed to protect marine life, forests and sustainable food production.
---
Climate change: US emissions in 2020 in biggest fall since WWII
[Tue, 12 Jan 2021 11:12:54 GMT]
US greenhouse gas emissions tumbled below their 1990 level last year, because of Covid-19 shutdowns.
---