Welcome to Argalax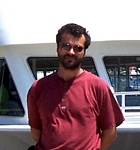 Hi, my name is Alexander and this is my website.
It describes my work, hobbies, various projects, intellectual pursuits, current interests, and whatever else seems important and/or interesting at the moment.
I live in Canada, just east of Toronto. Until recently, I worked as technical team leader in the IT industry. Now I am cruising tropics on a sailing yacht most of the year, spending few months at home.
In spare time I enjoy writing some code, developing web applications, working on my robot, and FreeBSD/Linux projects, reading sci-fi, finance and technical books, building my cabin in the wilderness, travel and sail when I can.
---
Here are some technical news to read...
Technology
Facebook overhauls Trending feature after bias claims
[Sat, 27 Aug 2016 16:41:58 GMT]
Social media giant Facebook makes its Trending feature more automated after criticism it was biased against conservative views.
---
Uber suspends services in Abu Dhabi
[Mon, 29 Aug 2016 00:55:46 GMT]
Taxi-hailing service Uber and rival Careem suspend their services in the capital of the United Arab Emirates, as drivers are reportedly arrested.
---
'First Apple computer' sells for $815,000
[Fri, 26 Aug 2016 16:10:09 GMT]
A prototype Apple 1, a holy-grail item in electronics memorabilia, has sold for $815,000 (£618,000) in an online auction.
---
Hundreds of Pokemon Go incidents logged by police
[Mon, 29 Aug 2016 06:37:43 GMT]
Pokemon Go players have been involved in hundreds of police incidents since the gaming app phenomenon launched, the BBC learns.
---
Russian MP's son convicted of hacking scheme
[Fri, 26 Aug 2016 09:55:58 GMT]
Russian Roman Seleznev has been found guilty in the US of running a hacking scheme that stole $169m (£131m).
---
US authorities investigate cyber-attack against Ghostbusters actress Leslie Jones
[Fri, 26 Aug 2016 05:23:30 GMT]
The Department of Homeland Security says it's looking into a cyber-attack on Leslie Jones' website and iCloud account.
---
WhatsApp users to receive adverts
[Thu, 25 Aug 2016 13:10:09 GMT]
WhatsApp changes its privacy policy so that businesses can send messages to people using the service.
---
HP laptop blocks over-shoulder snooping
[Thu, 25 Aug 2016 16:20:57 GMT]
Computer firm Hewlett-Packard has developed two new laptops that feature an optional privacy mode that obscures the screen unless viewed face-on.
---
Lawnmower prompts Northern Lights alert
[Thu, 25 Aug 2016 10:23:41 GMT]
A lawnmower has been blamed for wrongly triggering sensors that predict when the Northern Lights will be visible in the UK.
---
McDonald's fitness bands recalled after skin-burn complaints
[Thu, 25 Aug 2016 17:22:34 GMT]
McDonald's is recalling millions of fitness wristbands that it bundled with Happy Meals after customers complained of skin irritation and burns.
---
Science
Wood fuel plan to cut plane CO2 branded as 'pipe dream'
[Mon, 29 Aug 2016 00:24:55 GMT]
Proponents say new, greener jet fuels made from waste wood could significantly reduce airline CO2 emissions but environmentalists say it's a "pipe dream".
---
EU's Sentinel satellites dissect Italian quake
[Sun, 28 Aug 2016 18:06:34 GMT]
Europe's Sentinel radar satellites map Italy's Apennine mountains, revealing the scale of ground movement in Wednesday's big earthquake.
---
North Atlantic 'weather bomb' tremor measured in Japan
[Fri, 26 Aug 2016 10:14:46 GMT]
Researchers track a particular type of tiny vibration for the first time, as it wobbles through the Earth from the Atlantic to Japan.
---
Nasa ends year-long Mars simulation on Hawaii
[Mon, 29 Aug 2016 05:14:01 GMT]
A team of six people complete a Nasa-funded Mars simulation in Hawaii, after living in a dome in near isolation for a year.
---
Juno probe makes close pass of Jupiter
[Sat, 27 Aug 2016 16:31:00 GMT]
The US space agency's Juno probe makes its first close approach to Jupiter since going into orbit in July.
---
Extinct 'lion' named after Attenborough
[Thu, 25 Aug 2016 16:40:42 GMT]
A tiny marsupial lion, extinct for at least 18 million years, is named after Sir David Attenborough after fossilised remains are found in remote Australia.
---
Surface water shifting around the Earth
[Thu, 25 Aug 2016 14:24:59 GMT]
Scientists have used satellite images to study how the water on the Earth's surface has changed over the last 30 years.
---
World's largest marine reserve created off Hawaii
[Sat, 27 Aug 2016 06:28:17 GMT]
US President Barack Obama expands a national monument off Hawaii, creating the world's largest marine reserve.
---
Pneumatic octopus is first soft, solo robot
[Thu, 25 Aug 2016 00:27:50 GMT]
Engineers in the US have built the first self-contained, entirely soft robot - in the shape of a 7cm octopus.
---
Rare dodo skeleton to be auctioned in West Sussex
[Thu, 25 Aug 2016 11:00:52 GMT]
The first almost complete skeleton of a dodo to come up for sale in nearly 100 years is expected to fetch a six-figure sum at auction.
---