Welcome to Argalax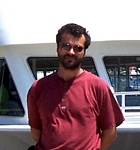 Hi, my name is Alexander and this is my website.
I live in Toronto, Canada, and work as a Senior IT Professional.
In spare time I enjoy writing some code, developing web applications, working on my robot, reading sci-fi, finance and technical books, visiting my cabin in the wilderness and travel when I can.
---
Here are some technical news to read...
Technology
Apple boss Tim Cook joins the billionaires club
[Tue, 11 Aug 2020 02:57:18 GMT]
The company's share price has soared, helping to boost the personal wealth of its chief executive.
---
The headphones that even a DJ can't break?
[Mon, 10 Aug 2020 23:01:52 GMT]
A new way to produce tiny speakers promises more robust headphones with high quality sound.
---
Toshiba shuts the lid on laptops after 35 years
[Mon, 10 Aug 2020 11:33:52 GMT]
Toshiba has sold its remaining shares in its former personal computing division.
---
TSB customers' anger at online banking issues
[Mon, 10 Aug 2020 18:18:32 GMT]
Some customers have reported problems with their online banking on computers and the app.
---
Twitter 'looking' at a possible TikTok tie-up
[Mon, 10 Aug 2020 04:00:12 GMT]
The messaging platform has approached under-fire TikTok about a possible deal, according to reports.
---
Social media trolling affects almost a third of elite British sportswomen, BBC Sport survey finds
[Sun, 09 Aug 2020 23:01:04 GMT]
Elite British sportswomen speak out about "horrific abuse" on social media, telling a BBC Sport survey about constant comments they receive.
---
What is Tencent?
[Fri, 07 Aug 2020 17:50:17 GMT]
The Chinese firm's investments include Fortnite, Tesla and Universal Music - but it's under fire in the US.
---
Is the US about to split the internet?
[Thu, 06 Aug 2020 23:13:15 GMT]
US Secretary of State Mike Pompeo says he wants a "clean" internet free of "untrusted" Chinese apps.
---
Facebook removes QAnon conspiracy group with 200,000 members
[Fri, 07 Aug 2020 12:42:27 GMT]
Facebook has joined Twitter and TikTok in taking action against QAnon conspiracy-theory content.
---
Apple defends Xbox streaming block on iPhones
[Fri, 07 Aug 2020 10:43:57 GMT]
Apple is denying consumers cloud gaming, says Microsoft, as streaming service is blocked on iPhones.
---
Science
Climate change: Warming world will be 'devastating' for frozen peatlands
[Mon, 10 Aug 2020 19:10:02 GMT]
Huge stocks of greenhouse gases tied up in peatlands could be released as the world warms.
---
Climate change: Satellites record history of Antarctic melting
[Mon, 10 Aug 2020 15:37:15 GMT]
European spacecraft track in fine detail the thinning that's occurred at the continent's edge.
---
Mauritius oil spill: Locals scramble to contain environmental damage
[Sun, 09 Aug 2020 14:31:12 GMT]
The MV Wakashio, which ran aground on a coral reef on 25 July, is now leaking oil off the island.
---
Coronavirus: Is the world winning the pandemic fight?
[Sun, 09 Aug 2020 23:33:04 GMT]
Covid-19 has changed the world - are we winning or is the virus still taking hold, and when will it end?
---
Whale migration: 'Super rare' whale encounter on the Great Barrier Reef
[Sun, 09 Aug 2020 23:02:43 GMT]
A dive instructor has recorded his 'special moment' with a humpback whale.
---
Coronavirus severely restricts Antarctic science
[Fri, 07 Aug 2020 22:53:19 GMT]
Keeping Covid out of Antarctica means little research will be done on the continent in 2020-2021.
---
Detectorist 'shaking with happiness' after Bronze Age find
[Mon, 10 Aug 2020 00:06:14 GMT]
A metal detectorist discovers a rare hoard of Bronze Age artefacts during an expedition near Peebles.
---
Lockdown: Label showing plants safe for bees and butterflies
[Sat, 08 Aug 2020 15:07:19 GMT]
People enhancing their gardens during lockdown may not realise some plants have insecticides.
---
Climate change: Lockdown has 'negligible' effect on temperatures
[Fri, 07 Aug 2020 09:00:10 GMT]
New research says that the lockdown, by itself, will make little difference to climate change.
---
Climate change: UK peat emissions could cancel forest benefits
[Fri, 07 Aug 2020 01:08:16 GMT]
UK peatland emissions could cancel out all carbon reductions from new and existing forests.
---