Welcome to Argalax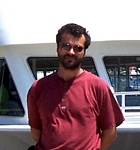 Hi, my name is Alexander and this is my website.
It describes my work, hobbies, various projects, intellectual pursuits, current interests, and whatever else seems important and/or interesting at the moment.
I live in Canada, just east of Toronto, and work as technical team leader in the IT industry.
In spare time I enjoy writing some code, developing web applications, working on my robot, and FreeBSD/Linux projects, reading sci-fi, finance and technical books, building my cabin in the wilderness, travel and sail when I can.
---
Here are some technical news to read...
Technology
Zuckerberg's Chinese gets mixed reviews
[Thu, 23 Oct 2014 12:06:28 GMT]
Mark Zuckerberg has conducted a chat to Chinese students in Mandarin, leading to mixed reviews about his accent and pronunciation.
---
Job centres to get digital makeover
[Thu, 23 Oct 2014 23:12:33 GMT]
Computer workstations, electronic signature pads and free wi-fi are rolling out across UK job centres.
---
'Anti-Facebook' investors dig deep
[Thu, 23 Oct 2014 13:00:08 GMT]
A social network promising never to sell user data or incorporate advertising secures multi-million dollar backing.
---
Online abuse 'hits 40% of adults'
[Thu, 23 Oct 2014 16:03:22 GMT]
Online harassment, from name-calling to stalking, is a common experience online, a new study finds.
---
US 'probes hackable' medical devices
[Thu, 23 Oct 2014 12:52:35 GMT]
US government investigators are looking into about two dozen cases of medical kit suspected to be vulnerable to life-threatening hacks.
---
Piracy police to be given more money
[Thu, 23 Oct 2014 12:16:02 GMT]
The City of London Police get more funding to fight piracy, while two people are arrested for allegedly selling hard drives full of music and videos.
---
Google offers new email app, Inbox
[Thu, 23 Oct 2014 11:02:21 GMT]
Google revamps email with a mobile app that categorises messages and allows users to add their own reminders.
---
Microsoft smartphones to drop Nokia
[Wed, 22 Oct 2014 12:44:18 GMT]
Microsoft is ditching the Nokia brand name from new smartphones, less than a year after acquiring the Finnish firm's mobile devices unit.
---
Madeley rape threats complaint filed
[Thu, 23 Oct 2014 12:37:16 GMT]
A formal police complaint has been made by Richard Madeley and Judy Finnigan after online rape threats were made against their daughter, the TV presenters say.
---
Nasa shares free sounds from space
[Wed, 22 Oct 2014 12:23:13 GMT]
The US space agency uploads a free library of audio files, including astronaut voices.
---
Science
Science chief warns on acid oceans
[Fri, 24 Oct 2014 05:18:50 GMT]
The UK's chief scientist says the oceans face a serious and growing risk from man-made carbon emissions.
---
EU leaders agree CO2 emissions cut
[Fri, 24 Oct 2014 08:59:54 GMT]
The EU agrees what it calls "the world's most ambitious" deal to cut greenhouse gas emissions by 40% by 2030, overcoming deep divisions among members.
---
North America experiences eclipse
[Fri, 24 Oct 2014 08:09:55 GMT]
Skywatchers in North America are treated to the final eclipse of the year.
---
Turtles tracked on swimming frenzy
[Thu, 23 Oct 2014 17:26:38 GMT]
Small tags stuck to the undersides of baby loggerhead turtles are used to follow the animals' frenetic first hours.
---
Monster shark 'kept whales in check'
[Thu, 23 Oct 2014 15:23:19 GMT]
The extinction of the biggest shark known to science may have triggered whales to grow to their current hefty sizes, a study suggests.
---
Farmland birds show rapid decline
[Thu, 23 Oct 2014 14:39:14 GMT]
Farmland birds are at their lowest levels since records began, according to government figures.
---
DNA yields secrets of human pioneer
[Wed, 22 Oct 2014 17:06:04 GMT]
DNA analysis of a 45,000-year-old human has helped scientists pinpoint when our ancestors interbred with Neanderthals.
---
Significant Bronze Age pottery find
[Thu, 23 Oct 2014 08:55:25 GMT]
A significant Bronze Age pottery find is made during an archaeological dig on the east side of Lewis, in Scotland.
---
Slumbering lions win top photo prize
[Wed, 22 Oct 2014 00:24:49 GMT]
A black and white image of lions resting on a rock outcrop in the Serengeti has won the 2014 Wildlife Photographer of the Year award.
---
Wind farms outstrip nuclear power
[Tue, 21 Oct 2014 23:07:59 GMT]
The UK's wind farms generated more power than its nuclear power stations on Tuesday, the National Grid says.
---
App Development
IT Earnings Way Up at Job Site Elance
[]
Google App Engine, HTML5, search engine optimization and social media marketing are among the fastest movers on Elance's list of hot job opportunities available online.
---
Say What? The Week's Top Five IT Quotes
[]
Google Wave crashes, fighting to keep mainframe skills alive, beware the Outernet and more.
---
GPL Enforcement Notches Another Victory
[]
The license at the heart of many open source projects is amassing a winning record when it comes to successfully pursuing enforcement lawsuits.
---
Microsoft Prepping New Visual Studio Tool
[]
Dubbed "LightSwitch," the new tool will offer developers of varying skill levels ready-made templates to create business applications for different computing environments.
---
Illumos Looks to Reopen Oracle's OpenSolaris
[]
Amid concern throughout the OpenSolaris community about Oracle's plans for the open source operating system, the Illumos project is providing an alternative set of OpenSolaris technologies.
---