Welcome to Argalax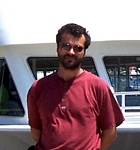 Hi, my name is Alexander and this is my website.
It describes my work, hobbies, various projects, intellectual pursuits, current interests, and whatever else seems important and/or interesting at the moment.
I live in Canada, just east of Toronto, and work as technical team leader in the IT industry.
In spare time I enjoy writing some code, developing web applications, working on my robot, and FreeBSD/Linux projects, reading sci-fi, finance and technical books, building my cabin in the wilderness, travel and sail when I can.
---
Here are some technical news to read...
Technology
Russian site lists breached webcams
[Fri, 21 Nov 2014 00:21:37 GMT]
Data privacy watchdogs are warning the public about a Russian website that provides links to breached webcams, baby monitors and CCTV feeds.
---
'Poorest of poor' test talking tech
[Thu, 20 Nov 2014 17:22:18 GMT]
A charity is to give away 2,000 Talking Book audio computers to some of Ghana's poorest communities after securing funds from Unicef and ARM.
---
Amnesty releases anti-spying program
[Thu, 20 Nov 2014 00:28:14 GMT]
Amnesty International has released a program that can spot spying software used by governments to monitor activists and political opponents.
---
Google and Rockstar end patent suit
[Thu, 20 Nov 2014 18:58:03 GMT]
Google and patent consortium Rockstar - which includes Apple as an investor - agree to settle a patent litigation suit.
---
Iran frees 'Blogfather' Derakhshan
[Thu, 20 Nov 2014 18:10:11 GMT]
Iran's Supreme Leader has pardoned the pioneering Iranian-Canadian blogger Hossein Derakhshan after six years in prison, Iranian media report.
---
Feminist Hacker Barbie
[Thu, 20 Nov 2014 17:25:22 GMT]
Internet users create a web app to edit the pages of a controversial Barbie book.
---
Yahoo to take over search on Firefox
[Thu, 20 Nov 2014 05:10:48 GMT]
Tech giant Yahoo will now replace market leader Google as the default search engine on Firefox's internet browsers in the US.
---
Apple to push Beats to all iPhones
[Thu, 20 Nov 2014 15:45:06 GMT]
Apple plans to push the Beats music streaming service to every iPhone in the new year, according to a report in the Financial Times newspaper.
---
Android 5.0 update causes problems
[Wed, 19 Nov 2014 15:33:44 GMT]
Early adopters of Android Lollipop are experiencing a range of issues, causing some users to complain their devices have become "unusable".
---
Microsoft faults knock sites offline
[Wed, 19 Nov 2014 12:29:16 GMT]
Faults with Microsoft's cloud computing platform Azure knock many third-party sites offline and restrict access to its own apps.
---
Science
Climate fund receives $9.3bn pledge
[Thu, 20 Nov 2014 12:39:16 GMT]
Thirty nations meeting in Berlin have pledged $9.3bn (£6bn) for a fund to help developing countries cut emissions and prepare for climate change.
---
Geckos inspire 'Spider-Man' gloves
[Wed, 19 Nov 2014 16:39:24 GMT]
The way geckos climb has inspired a device that allowed a 70kg man to scale a glass wall like Spider-Man.
---
UK 'to lead moon landing in 10 years'
[Wed, 19 Nov 2014 02:17:50 GMT]
A British-led consortium outlines its plans to land a robotic probe, paid for by public donations, on the Moon in 10 years' time.
---
Court puts more heat on diesels
[Wed, 19 Nov 2014 15:28:56 GMT]
UK government comes under renewed pressure to cut pollution from diesel vehicles following the latest ruling in a battle over clean air.
---
Planning law change 'catastrophic'
[Wed, 19 Nov 2014 17:55:04 GMT]
Proposed changes to planning policy would be "catastrophic" for rural areas, rural housing and planning authorities warn.
---
Sun boosts UK lightning strikes
[Wed, 19 Nov 2014 02:22:04 GMT]
The number of lightning strikes across the UK has been significantly affected by solar activity, according to new research.
---
Organic molecules detected on comet
[Tue, 18 Nov 2014 16:48:06 GMT]
The Philae lander has detected organic molecules on the surface of its comet, scientists have confirmed.
---
Russia tests 'satellite catcher'
[Thu, 20 Nov 2014 13:59:04 GMT]
Russia may be testing a satellite capable of chasing down and inspecting other orbiting spacecraft, experts say.
---
Europe signs on to Orion venture
[Tue, 18 Nov 2014 13:08:25 GMT]
The European Space Agency and Airbus sign a contract that will see the aerospace giant build the "back end" of America's new manned spaceship.
---
Wildlife crime wanted list released
[Mon, 17 Nov 2014 20:55:08 GMT]
The public are being asked to provide information on the locations of nine fugitives suspected of serious environmental crimes.
---
App Development
IT Earnings Way Up at Job Site Elance
[]
Google App Engine, HTML5, search engine optimization and social media marketing are among the fastest movers on Elance's list of hot job opportunities available online.
---
Say What? The Week's Top Five IT Quotes
[]
Google Wave crashes, fighting to keep mainframe skills alive, beware the Outernet and more.
---
GPL Enforcement Notches Another Victory
[]
The license at the heart of many open source projects is amassing a winning record when it comes to successfully pursuing enforcement lawsuits.
---
Microsoft Prepping New Visual Studio Tool
[]
Dubbed "LightSwitch," the new tool will offer developers of varying skill levels ready-made templates to create business applications for different computing environments.
---
Illumos Looks to Reopen Oracle's OpenSolaris
[]
Amid concern throughout the OpenSolaris community about Oracle's plans for the open source operating system, the Illumos project is providing an alternative set of OpenSolaris technologies.
---