Welcome to Argalax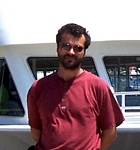 Hi, my name is Alexander and this is my website.
It describes my work, hobbies, various projects, intellectual pursuits, current interests, and whatever else seems important and/or interesting at the moment.
I live in Canada, just east of Toronto. Until recently, I worked as technical team leader in the IT industry. Now I am cruising tropics on a sailing yacht most of the year, spending few months at home.
In spare time I enjoy writing some code, developing web applications, working on my robot, and FreeBSD/Linux projects, reading sci-fi, finance and technical books, building my cabin in the wilderness, travel and sail when I can.
---
Here are some technical news to read...
Technology
UK firms develop drone-freezing ray
[Thu, 08 Oct 2015 14:43:19 GMT]
Three British companies have created a device to deter drones from entering sensitive areas by freezing them mid-flight.
---
Games voice actors approve strike
[Thu, 08 Oct 2015 09:48:23 GMT]
The US actors who voice video games have voted to strike over pay and conditions unless agreement with publishers can be reached soon.
---
Whose fault is a driverless car crash?
[Thu, 08 Oct 2015 14:21:51 GMT]
Volvo says it will be 'one of the first' firms to take full responsibility for accidents involving driverless cars.
---
Webcam hacker spied on sex acts
[Thu, 08 Oct 2015 14:38:28 GMT]
A Leeds-based hacker used a notorious piece of malware called BlackShades to spy on people engaged in sex acts.
---
BBC to screen live e-sports tournament
[Thu, 08 Oct 2015 16:57:12 GMT]
The BBC is to stream live coverage of an e-gaming contest for the first time
---
Cyber-thieves hit YouTube Fifa gamers
[Wed, 07 Oct 2015 23:57:51 GMT]
Six of the most successful Fifa video gamers to feature on YouTube have been targeted by cyber-thieves.
---
US journalist 'helped hackers'
[Thu, 08 Oct 2015 01:05:13 GMT]
An American journalist is found guilty of helping hacktivist group Anonymous deface the website of the Los Angeles Times.
---
Samsung payment data 'safe' after hack
[Thu, 08 Oct 2015 05:18:34 GMT]
Samsung Electronics says its mobile payment system and user data is safe after a hacking attack against its US-based subsidiary LoopPay.
---
Firms backed by China tech giants merge
[Thu, 08 Oct 2015 08:02:25 GMT]
Two firms backed by Chinese internet rivals Alibaba and Tencent are merging to create a new company that will offer a wide range of online services.
---
IS shifts propaganda to Telegram app
[Wed, 07 Oct 2015 15:16:59 GMT]
So-called Islamic State group (IS) has shifted its propaganda distribution to the secure mobile messaging app Telegram from Twitter.
---
Science
DNA reveals 'into Africa' migration
[Thu, 08 Oct 2015 22:50:11 GMT]
A 4,500-year-old African genome reveals how our ancient ancestors moved back and forth between continents.
---
Probe captures Pluto's 'blue sky'
[Thu, 08 Oct 2015 16:35:01 GMT]
The New Horizons mission returns its first colour image of Pluto's atmospheric hazes and shows them to have a blue tinge.
---
EU assesses insects-as-food risks
[Thu, 08 Oct 2015 15:48:06 GMT]
The European Food Safety Authority publishes its initial risk assessment of using insects as a source of protein for human consumption and animal feed.
---
Ancient recording of core's birth
[Thu, 08 Oct 2015 10:41:04 GMT]
A reassessment of ancient rocks leads scientists to estimate that Earth's inner core started to form earlier than was previously thought, around 1.3 billion years ago.
---
Shackleton medals fetch £585,000
[Thu, 08 Oct 2015 19:21:20 GMT]
A number of medals awarded to Antarctic explorer Sir Ernest Shackleton raise £585,000 at a London auction.
---
Physics probe sent to spaceport
[Thu, 08 Oct 2015 12:18:42 GMT]
Europe's fundamental physics space mission, Lisa Pathfinder, arrives in French Guiana to prepare for its December Launch.
---
Ancient horse-like foetus discovered
[Thu, 08 Oct 2015 13:41:06 GMT]
The 48-million-year-old fossilised remains of a horse foetus have been described by scientists.
---
World's corals threatened by bleaching
[Thu, 08 Oct 2015 09:16:25 GMT]
Corals worldwide are at risk from a major episode of bleaching caused by natural currents and man-made climate change, scientists warm.
---
DNA repair wins chemistry Nobel
[Wed, 07 Oct 2015 09:51:50 GMT]
The 2015 Nobel Prize in Chemistry is awarded for discoveries in DNA repair.
---
Fuel crisis threatens Nepal's forests
[Wed, 07 Oct 2015 21:38:57 GMT]
Nepal's world-renowned community forests are threatened by a sudden rise in demand for firewood following a fuel crisis, officials say.
---