Welcome to Argalax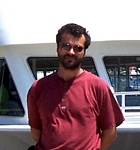 Hi, my name is Alexander and this is my website.
It describes my work, hobbies, various projects, intellectual pursuits, current interests, and whatever else seems important and/or interesting at the moment.
I live in Canada, just east of Toronto, and work as technical team leader in the IT industry.
In spare time I enjoy writing some code, developing web applications, working on my robot, and FreeBSD/Linux projects, reading sci-fi, finance and technical books, building my cabin in the wilderness, travel and sail when I can.
---
Here are some technical news to read...
Technology
Google apologises for racist blunder
[Wed, 01 Jul 2015 14:02:08 GMT]
Google says it is "appalled" that its Photos app mislabelled several photos of a black American couple as showing gorillas.
---
Man crushed to death by robot
[Thu, 02 Jul 2015 06:17:05 GMT]
A 22-year-old worker is grabbed and killed by a robot at a VW car factory in Germany.
---
Non-stick mayo jars being developed
[Wed, 01 Jul 2015 17:43:43 GMT]
Norwegian mayonnaise maker Orkla signs a deal to use a non-stick coating in its food products.
---
Man comes forward over drone injury
[Wed, 01 Jul 2015 13:00:54 GMT]
A man contacts police after piloting a drone that knocked a woman unconscious when it hit her in the head.
---
Health firm reacts to Facebook row
[Wed, 01 Jul 2015 11:23:53 GMT]
The health insurer Vitality promises to be "clearer" about the fact an app it promotes is owned by Facebook, following complaints by privacy groups.
---
China passes sweeping security law
[Wed, 01 Jul 2015 08:42:21 GMT]
China passes a wide-ranging and controversial new national security law, tightening control of areas including cyber space among other areas.
---
Dixons Carphone in deal with Sprint
[Thu, 02 Jul 2015 08:42:13 GMT]
Dixons Carphone has signed a deal with US telecoms firm Sprint that will see it open and manage Sprint-branded stores in the US.
---
Court rejects Facebook privacy case
[Wed, 01 Jul 2015 15:05:29 GMT]
A court in Vienna declines to hear a legal case involving allegations that Facebook has broken EU data privacy laws.
---
Data roaming charges to end in EU
[Tue, 30 Jun 2015 11:43:58 GMT]
After its watered down plans were attacked in March, the EU reaches a deal to end mobile data roaming charges and define net neutrality rules.
---
IT system for GP records criticised
[Thu, 02 Jul 2015 01:55:37 GMT]
A new GP IT system designed to improve quality and planning in the NHS in England is criticised for running over budget and behind schedule, by a finance watchdog.
---
Science
Solar Impulse breaks solo record
[Thu, 02 Jul 2015 09:15:10 GMT]
Swiss adventurer Andre Borschberg breaks the record for the longest ever non-stop solo-flight without refuelling, as his solar-powered plane continues to reach across the Pacific.
---
New test pins down 'time of death'
[Wed, 01 Jul 2015 23:12:19 GMT]
Forensic researchers develop a new method for establishing an accurate time of death after as much as 10 days.
---
Rosetta spies cometary sinkholes
[Wed, 01 Jul 2015 17:04:18 GMT]
The comet being studied by Europe's Rosetta probe is riddled with pits that formed much like sinkholes here on Earth, say scientists.
---
Probe refines Pluto flyby path
[Wed, 01 Jul 2015 12:50:01 GMT]
The American New Horizons spacecraft makes its last planned targeting manoeuvre as it bears down on Pluto.
---
Seventh shark attack in N Carolina
[Wed, 01 Jul 2015 20:57:10 GMT]
A 68-year-old man is badly injured by a shark in North Carolina in the seventh attack off the state's coast in less than three weeks.
---
Oranges bug 'hacks insect behaviour'
[Wed, 01 Jul 2015 11:37:42 GMT]
A deadly disease of citrus plants spreads by manipulating its insect host, research suggests.
---
Light crystals clinch physics medal
[Wed, 01 Jul 2015 00:08:47 GMT]
US physicist Eli Yablonovitch, who first created "photonic crystals" to repel, trap and steer light, will receive the Newton Medal from the UK's Institute of Physics.
---
New director general takes Esa reins
[Wed, 01 Jul 2015 10:18:26 GMT]
Johann-Dietrich Woerner moves from the German space agency to head up the European Space Agency.
---
China climate change plan unveiled
[Tue, 30 Jun 2015 13:19:02 GMT]
China - the world's largest emitter of greenhouse gases - has announced details of its climate action plan.
---
Climate change 'action needed'
[Tue, 30 Jun 2015 10:35:31 GMT]
The UK must take urgent action to prepare for the impacts of climate change in the UK, according to a report submitted to the government.
---
App Development
IT Earnings Way Up at Job Site Elance
[]
Google App Engine, HTML5, search engine optimization and social media marketing are among the fastest movers on Elance's list of hot job opportunities available online.
---
Say What? The Week's Top Five IT Quotes
[]
Google Wave crashes, fighting to keep mainframe skills alive, beware the Outernet and more.
---
GPL Enforcement Notches Another Victory
[]
The license at the heart of many open source projects is amassing a winning record when it comes to successfully pursuing enforcement lawsuits.
---
Microsoft Prepping New Visual Studio Tool
[]
Dubbed "LightSwitch," the new tool will offer developers of varying skill levels ready-made templates to create business applications for different computing environments.
---
Illumos Looks to Reopen Oracle's OpenSolaris
[]
Amid concern throughout the OpenSolaris community about Oracle's plans for the open source operating system, the Illumos project is providing an alternative set of OpenSolaris technologies.
---