Welcome to Argalax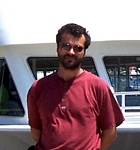 Hi, my name is Alexander and this is my website.
It describes my work, hobbies, various projects, intellectual pursuits, current interests, and whatever else seems important and/or interesting at the moment.
I live in Canada, just east of Toronto, and work as technical team leader in the IT industry.
In spare time I enjoy writing some code, developing web applications, working on my robot, and FreeBSD/Linux projects, reading sci-fi, finance and technical books, building my cabin in the wilderness, travel and sail when I can.
---
Here are some technical news to read...
Technology
Microsoft buys Minecraft for $2.5bn
[Mon, 15 Sep 2014 13:10:51 GMT]
Mojang, the Swedish firm behind the popular video game Minecraft, is bought by Microsoft for $2.5bn (£1.5bn).
---
Apple releases U2 album removal tool
[Mon, 15 Sep 2014 18:32:30 GMT]
Apple releases a tool to remove U2's new album from its customers' iTunes accounts in response to complaints six days after giving away the music for free.
---
Tech firms want 'digital ministers'
[Mon, 15 Sep 2014 23:00:10 GMT]
An influential group of major technology firms is calling on the UK to appoint "digital ministers" in every government department.
---
First Android One smartphones launch
[Mon, 15 Sep 2014 08:16:26 GMT]
The first Android One handsets go on sale in India, offering 'Äúhigh quality'ÄĚ features and downloads at a relatively low price.
---
Canon printer hacked to run Doom
[Mon, 15 Sep 2014 11:19:57 GMT]
A wireless Canon Pixma printer has been hacked by a security researcher to run classic video game Doom.
---
Drag queens in Facebook name row
[Fri, 12 Sep 2014 16:44:19 GMT]
A group of drag queens have called on Facebook to allow them to use their stage names rather than real names on the social network.
---
Contactless payments arrive for Tube
[Mon, 15 Sep 2014 17:05:05 GMT]
Contactless bank cards are being introduced on London's Tube, DLR and Overground trains from Tuesday.
---
Twitch malware spends users' money
[Fri, 12 Sep 2014 17:18:57 GMT]
Malicious links posted on the chat forums of video games streaming site Twitch can spend money without users' authorisation, it has emerged.
---
US spies 'can access German telecoms'
[Sun, 14 Sep 2014 10:21:33 GMT]
US and British intelligence services can secretly access information from German telecoms operators, including Deutsche Telekom, Der Speigel says.
---
Samsung accuses LG of damaging goods
[Sun, 14 Sep 2014 14:00:54 GMT]
A bizarre spat has broken out between South Korean manufacturing giants Samsung and LG, with Samsung accusing its rival of damaging goods in German stores.
---
Science
Red card for 'greenest' government
[Tue, 16 Sep 2014 01:44:59 GMT]
The government is failing to reduce air pollution, protect biodiversity and prevent flooding, a cross-party body of MPs says.
---
US gas leaks not caused by fracking
[Mon, 15 Sep 2014 13:16:30 GMT]
A new study suggests that the contamination of drinking water by shale gas is due to faulty wells and not hydraulic fracturing.
---
Rosetta comet landing site chosen
[Mon, 15 Sep 2014 09:14:30 GMT]
Europe's Rosetta mission, which aims to land on a 4km-wide comet later this year, identifies what it thinks is the safest place to touch down.
---
Ancient China fish 'nearly extinct'
[Mon, 15 Sep 2014 06:28:47 GMT]
The Chinese sturgeon, thought to have existed for more than 140 million years, is now on the brink of extinction, say local media.
---
Brazil builds giant Amazon tower
[Sun, 14 Sep 2014 21:51:04 GMT]
Construction has begun on a giant observation tower in the heart of the Amazon basin in Brazil to monitor climate change.
---
Ban on shark trade comes into force
[Sun, 14 Sep 2014 02:52:44 GMT]
In a significant step forward for shark conservation, all trade in five named species is to be regulated from today.
---
Progress for giant laser instrument
[Fri, 12 Sep 2014 10:07:53 GMT]
The Advanced Ligo instrument, a laser "ruler" built to measure the traces of gravitational waves, is progressing at amazing speed, scientists say.
---
Robot could load up dishwasher
[Thu, 11 Sep 2014 23:38:26 GMT]
A robot unveiled today at the British Science Festival will be loading dishwashers next year, its developers claim.
---
'Giant swimming dinosaur' unearthed
[Thu, 11 Sep 2014 18:08:10 GMT]
A giant fossil, unearthed in the Sahara desert, has given scientists an unprecedented look at Spinosaurus - the largest-known carnivorous dinosaur.
---
Brain 'still active during sleep'
[Fri, 12 Sep 2014 00:31:35 GMT]
The brain is still active while we sleep, say scientists, who found people were able to classify words according to their meaning during their slumber.
---
App Development
IT Earnings Way Up at Job Site Elance
[]
Google App Engine, HTML5, search engine optimization and social media marketing are among the fastest movers on Elance's list of hot job opportunities available online.
---
Say What? The Week's Top Five IT Quotes
[]
Google Wave crashes, fighting to keep mainframe skills alive, beware the Outernet and more.
---
GPL Enforcement Notches Another Victory
[]
The license at the heart of many open source projects is amassing a winning record when it comes to successfully pursuing enforcement lawsuits.
---
Microsoft Prepping New Visual Studio Tool
[]
Dubbed "LightSwitch," the new tool will offer developers of varying skill levels ready-made templates to create business applications for different computing environments.
---
Illumos Looks to Reopen Oracle's OpenSolaris
[]
Amid concern throughout the OpenSolaris community about Oracle's plans for the open source operating system, the Illumos project is providing an alternative set of OpenSolaris technologies.
---