Welcome to Argalax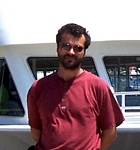 Hi, my name is Alexander and this is my website.
It describes my work, hobbies, various projects, intellectual pursuits, current interests, and whatever else seems important and/or interesting at the moment.
I live in Canada, just east of Toronto, and work as technical team leader in the IT industry.
In spare time I enjoy writing some code, developing web applications, working on my robot, and FreeBSD/Linux projects, reading sci-fi, finance and technical books, building my cabin in the wilderness, travel and sail when I can.
---
Here are some technical news to read...
Technology
German media boss criticises Google
[Thu, 17 Apr 2014 13:20:24 GMT]
In an open letter to Google's Eric Schmidt the boss of German publishing firm Axel Springer says it is afraid of the search giant.
---
Lavabit loses contempt appeal
[Thu, 17 Apr 2014 10:37:07 GMT]
A US appeals court upholds a contempt of court ruling against the secure email service provider Lavabit used by whistleblower Edward Snowden.
---
Kim Dotcom wins back cars and cash
[Thu, 17 Apr 2014 12:11:17 GMT]
Kim Dotcom, the multimillionaire founder of closed file-sharing site Megaupload, has won back cars, cash and property seized in a January 2012 raid.
---
Cyborg glasses express fake emotions
[Wed, 16 Apr 2014 23:00:27 GMT]
A Japanese researcher creates glasses that show computer-generated eyes that express emotions so that the wearer does not need to bother.
---
First Heartbleed 'hacker' arrested
[Wed, 16 Apr 2014 20:56:43 GMT]
A 19-year-old Canadian citizen is charged with hacking into the Canada Revenue Agency's website, becoming the first arrest in relation to the Heartbleed security breach.
---
Google shares fall on ad concerns
[Thu, 17 Apr 2014 07:01:25 GMT]
Shares in Google fall 5% despite reporting first-quarter profit of $3.45bn in response to worries over future income from advertising.
---
BBC and Sky experience fault on iOS
[Thu, 17 Apr 2014 21:35:38 GMT]
The BBC and Sky's video-on-demand apps simultaneously experience a fault on iPhones and iPads that prevents TV shows from streaming.
---
Galaxy S5 fingerprint sensor hacked
[Wed, 16 Apr 2014 13:08:54 GMT]
German security researchers say that a spoof fingerprint can be used to unlock Samsung's new handset and steal money.
---
Tencent brings Candy Crush to China
[Thu, 17 Apr 2014 02:21:59 GMT]
China's internet giant Tencent will launch the popular Candy Crush game on the mainland in partnership with the game's creator King Digital Entertainment.
---
Virgin apologises for email glitch
[Thu, 17 Apr 2014 14:07:45 GMT]
Virgin Media apologises after some of its customers received hundreds of unwanted emails because of a distribution list error.
---
Science
Female cave insects have 'penises'
[Fri, 18 Apr 2014 04:51:03 GMT]
Female insects with 'penises' have been discovered in Brazil - the first example of an animal with sex-reversed genitalia.
---
Ancient life 'frozen' by impacts
[Fri, 18 Apr 2014 01:54:53 GMT]
Ancient grasses from the Pampas of Argentina were preserved when asteroids struck the area, scientists report.
---
SpaceX launches station cargo flight
[Fri, 18 Apr 2014 22:06:02 GMT]
US company SpaceX launches its latest re-supply mission to the International Space Station, sending up a Dragon freighter to rendezvous with the orbiting platform on Sunday.
---
'Most Earth-like planet yet' found
[Thu, 17 Apr 2014 18:04:42 GMT]
A planet that is close in size to the Earth and that could hold water on its surface has been identified by the Kepler telescope.
---
EU green light for UK carbon project
[Thu, 17 Apr 2014 16:12:16 GMT]
A British project to capture CO2 and bury it under the North Sea looks set to receive a 300m-euro boost from the EU.
---
Birth of 'new Saturn moon' witnessed
[Wed, 16 Apr 2014 16:44:31 GMT]
Scientists say they have discovered what could be the birth of a new moon in the rings of Saturn.
---
EU Sentinel returns first images
[Wed, 16 Apr 2014 14:23:05 GMT]
The first images come back from the radar satellite launched as part of the European Union's new flagship Earth-observation project.
---
Artists have unique brain structure
[Thu, 17 Apr 2014 09:35:53 GMT]
Artists' brains are structurally different to non-artists in areas relating to fine motor movements and visual imagery, a study finds.
---
Beard trend 'guided by evolution'
[Wed, 16 Apr 2014 09:56:03 GMT]
The boom and bust of men's beard fashions may mirror Darwinian selection, scientists say.
---
Early air points to cold, dry Mars
[Tue, 15 Apr 2014 16:23:21 GMT]
Scientists use impact craters to work out the characteristics of the air on Mars 3.6 billion years ago.
---
App Development
IT Earnings Way Up at Job Site Elance
[]
Google App Engine, HTML5, search engine optimization and social media marketing are among the fastest movers on Elance's list of hot job opportunities available online.
---
Say What? The Week's Top Five IT Quotes
[]
Google Wave crashes, fighting to keep mainframe skills alive, beware the Outernet and more.
---
GPL Enforcement Notches Another Victory
[]
The license at the heart of many open source projects is amassing a winning record when it comes to successfully pursuing enforcement lawsuits.
---
Microsoft Prepping New Visual Studio Tool
[]
Dubbed "LightSwitch," the new tool will offer developers of varying skill levels ready-made templates to create business applications for different computing environments.
---
Illumos Looks to Reopen Oracle's OpenSolaris
[]
Amid concern throughout the OpenSolaris community about Oracle's plans for the open source operating system, the Illumos project is providing an alternative set of OpenSolaris technologies.
---