Welcome to Argalax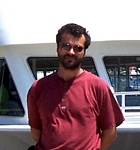 Hi, my name is Alexander and this is my website.
I live in Toronto, Canada, and work as a Senior IT Professional.
In spare time I enjoy writing some code, developing web applications, working on my robot, reading sci-fi, finance and technical books, visiting my cabin in the wilderness and travel when I can.
---
Here are some technical news to read...
Technology
Payments giants abandon Facebook's Libra cryptocurrency
[Fri, 11 Oct 2019 22:51:04 GMT]
Mastercard, Visa, eBay and Stripe join PayPal in no longer supporting Facebook's effort to launch a currency.
---
Blizzard bosses reduce gamer's ban and release prize money
[Sat, 12 Oct 2019 11:10:25 GMT]
A player who staged an anti-government protest on a live broadcast will now receive his prize money.
---
Few convinced by Apple's case for Hong Kong app removal
[Fri, 11 Oct 2019 02:06:16 GMT]
Apple's removal of an app used to track Hong Kong police leads to claims it was bowing to Beijing pressure.
---
Teenagers arrested over hacks to Met Police website
[Fri, 11 Oct 2019 09:53:25 GMT]
The 18 and 19-year-old are accused of posting messages and sending out fake tweets.
---
Sex workers' clients exposed by Dutch hack attack
[Fri, 11 Oct 2019 11:19:07 GMT]
The names of people who visited sex workers as well as of the workers themselves have been stolen.
---
Cyber-criminals are threat to society, warns forensics boss
[Fri, 11 Oct 2019 12:20:21 GMT]
The UK must "ready itself" for further attacks, warns boss of forensics firm hit earlier this year.
---
Germany shooting: 2,200 people watched on Twitch
[Thu, 10 Oct 2019 09:56:00 GMT]
Twitch says a gunman's video was watched by more than 2,200 people before it was removed.
---
Google pulls Hong Kong protestor game from store
[Fri, 11 Oct 2019 08:22:05 GMT]
Another company faces a boycott for banning an esports player who supported the protestors.
---
Blizzard gamers complain they cannot boycott firm over China
[Thu, 10 Oct 2019 14:06:31 GMT]
Players say they are not able to delete their accounts to show solidarity for a punished gamer.
---
Dyson has scrapped its electric car project
[Fri, 11 Oct 2019 00:38:39 GMT]
The technology firm, which has already built the first cars, says the project is not commercially viable.
---
Science
Microplastics: Seeking the 'plastic score' of the food on our plates
[Sat, 12 Oct 2019 23:19:41 GMT]
Microplastics are everywhere, but how worried should we be? Scientists are on a mission to find out more.
---
Climate change: Big lifestyle changes are the only answer
[Fri, 11 Oct 2019 17:03:52 GMT]
The experts tell us that small, easy changes alone will not be enough to combat climate change.
---
Alexei Leonov: First person to walk in space dies aged 85
[Fri, 11 Oct 2019 16:41:45 GMT]
Soviet cosmonaut Alexei Leonov floated above the Earth for 12 minutes in 1965.
---
Badger culls have varying impacts on cattle TB
[Fri, 11 Oct 2019 12:11:17 GMT]
The UK government policy sees cattle TB incidence fall in two badger cull areas but rise in a third.
---
Norfolk RSPCA centre saves 50th seal with injuries from rubbish
[Fri, 11 Oct 2019 16:06:00 GMT]
The "necklace" injuries, many caused by discarded plastic waste, are becoming more common, says the RSPCA.
---
Europe eyes improved 'space weather' resilience
[Thu, 10 Oct 2019 16:48:04 GMT]
The Sun's outbursts can disrupt technology on Earth, and Europe needs better protection.
---
Plastic pollution: How Ibiza is tackling its problem with waste
[Fri, 11 Oct 2019 14:00:37 GMT]
Hundreds of thousands of Brits travel to Ibiza each summer, but what happens to their waste when they leave?
---
Natural 'bumblebee medicine' found in heather
[Thu, 10 Oct 2019 15:01:03 GMT]
Preserving heather in the natural landscape could have benefits for wild bees, say scientists.
---
'Molar Berg' does a quick Antarctic pirouette
[Thu, 10 Oct 2019 11:21:54 GMT]
Satellite spies the White Continent's newest giant iceberg as it spins around.
---
Nobel chemistry prize: Lithium-ion battery scientists honoured
[Wed, 09 Oct 2019 09:50:09 GMT]
Three scientists have been awarded the 2019 Nobel Prize in Chemistry for the development of lithium-ion batteries.
---