Welcome to Argalax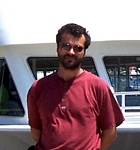 Hi, my name is Alexander and this is my website.
It describes my work, hobbies, various projects, intellectual pursuits, current interests, and whatever else seems important and/or interesting at the moment.
I live in Canada, just east of Toronto, and work as technical team leader in the IT industry.
In spare time I enjoy writing some code, developing web applications, working on my robot, and FreeBSD/Linux projects, reading sci-fi, finance and technical books, building my cabin in the wilderness, travel and sail when I can.
---
Here are some technical news to read...
Technology
Apple 'failing to protect workers'
[Thu, 18 Dec 2014 18:27:07 GMT]
Poor treatment of workers in the Chinese factories which make Apple products is discovered by an undercover BBC Panorama investigation.
---
Snapchat boss tearful at Sony hack
[Thu, 18 Dec 2014 11:59:37 GMT]
Snapchat founder Evan Spiegel left "devastated" as plans for his messaging app are leaked as part of the Sony Pictures hack.
---
Net overseers hit by phishing attack
[Thu, 18 Dec 2014 16:47:20 GMT]
Hackers have managed to penetrate the internal network used by the organisation that oversees the net's addressing system.
---
Windows browser choice system ends
[Thu, 18 Dec 2014 13:09:28 GMT]
A requirement for Microsoft to offer new Windows users in Europe a choice of web browsers has ended after five years
---
Valve limits sales of Russian games
[Thu, 18 Dec 2014 13:21:35 GMT]
The plunging value of the Russian rouble has led game maker Valve to impose limits on its online store.
---
New Blackberry 'back to its roots'
[Wed, 17 Dec 2014 18:09:39 GMT]
Blackberry launches what it calls a "no-nonsense" smartphone in a bid to win back business customers.
---
Google considers data risk warnings
[Wed, 17 Dec 2014 12:01:16 GMT]
Google is proposing to warn people their data is at risk every time they visit websites that do not use the "HTTPS" system.
---
Mobile deal to reduce 'not-spots'
[Thu, 18 Dec 2014 08:47:15 GMT]
Agreement is reached between the government and the country's biggest mobile networks to improve coverage across the UK.
---
Jeans made to block wireless signals
[Wed, 17 Dec 2014 13:13:48 GMT]
Jeans that block wireless RFID signals, prevent hackers accessing card details, are to go on sale.
---
Apple halts Russian online sales
[Wed, 17 Dec 2014 12:27:36 GMT]
Technology giant Apple says it cannot currently sell products online in Russia because the rouble's value is too volatile for it to set prices.
---
Science
Birds 'fled day before US tornadoes'
[Fri, 19 Dec 2014 02:21:28 GMT]
Tracking data reveals that golden-winged warblers fled one day before the April 2014 US tornado outbreak, probably because they "heard it coming".
---
Carbon mission returns global maps
[Thu, 18 Dec 2014 22:36:20 GMT]
Nasa's Orbiting Carbon Observatory produces its first global maps of carbon dioxide in Earth's atmosphere.
---
New record depth for deepest fish
[Fri, 19 Dec 2014 01:01:55 GMT]
Fish are filmed more than 8,000m down in the Mariana Trench - the deepest place on Earth.
---
Shrink ship bubbles 'for climate fix'
[Fri, 19 Dec 2014 00:26:21 GMT]
Shrinking the bubbles generated by ships could counteract the impact of climate change, a study suggests.
---
7ft marine reptile fossil beach find
[Fri, 19 Dec 2014 09:27:21 GMT]
An amateur fossil hunter has unearthed a 7ft skeleton of a carnivorous marine reptile on a beach in south Wales.
---
Badger cull fails to meet target
[Thu, 18 Dec 2014 15:33:26 GMT]
Fewer than half the target number of badgers were killed in this year's cull in Gloucestershire, Defra announces.
---
Bats 'showing signs of recovery'
[Thu, 18 Dec 2014 15:24:30 GMT]
Populations of most of Britain's bat species are stable or increasing following previous years of decline, report says.
---
Philae comet landing 'all a blur'
[Wed, 17 Dec 2014 18:06:50 GMT]
An image has been released that shows the hairy moment that the Philae comet lander bounced back into space.
---
'Vast store' of world's oldest water
[Thu, 18 Dec 2014 01:25:59 GMT]
The world's oldest water, which is locked deep within the Earth's crust, is present at a far greater volume than was thought, scientists report.
---
Sentinel tracks continued Napa slip
[Wed, 17 Dec 2014 12:25:11 GMT]
The creeping movement of the ground in California's Napa Valley, following its August earthquake, has been observed from space.
---
App Development
IT Earnings Way Up at Job Site Elance
[]
Google App Engine, HTML5, search engine optimization and social media marketing are among the fastest movers on Elance's list of hot job opportunities available online.
---
Say What? The Week's Top Five IT Quotes
[]
Google Wave crashes, fighting to keep mainframe skills alive, beware the Outernet and more.
---
GPL Enforcement Notches Another Victory
[]
The license at the heart of many open source projects is amassing a winning record when it comes to successfully pursuing enforcement lawsuits.
---
Microsoft Prepping New Visual Studio Tool
[]
Dubbed "LightSwitch," the new tool will offer developers of varying skill levels ready-made templates to create business applications for different computing environments.
---
Illumos Looks to Reopen Oracle's OpenSolaris
[]
Amid concern throughout the OpenSolaris community about Oracle's plans for the open source operating system, the Illumos project is providing an alternative set of OpenSolaris technologies.
---