Welcome to Argalax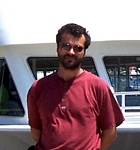 Hi, my name is Alexander and this is my website.
I live in Toronto, Canada, and work as a Senior IT Professional.
In spare time I enjoy writing some code, developing web applications, working on my robot, reading sci-fi, finance and technical books, visiting my cabin in the wilderness and travel when I can.
---
Here are some technical news to read...
Technology
Tomorrow's Cities: Will the bike become an urban must-have?
[Sun, 17 Jun 2018 00:24:28 GMT]
Urban spaces are congested and polluted, so do we all need to get on our bikes?
---
Google diversity figures show little change
[Fri, 15 Jun 2018 11:33:57 GMT]
The tech giant's new reports reveals that fewer than 30% of its global staff are women.
---
Kaspersky Lab halts European cybercrime work
[Fri, 15 Jun 2018 16:59:58 GMT]
The security firm halted the work after questions were asked in the European Parliament about its software.
---
Protests greet Brussels copyright reform plan
[Fri, 15 Jun 2018 11:29:46 GMT]
Critics say changes to copyright laws could "break" the net and stifle online life and creativity.
---
AI gives silenced radio journalist his voice back
[Thu, 14 Jun 2018 23:09:31 GMT]
Neural networks have given political radio journalist Jamie Dupree the ability to speak once more.
---
iPhone security loophole used by police closed by Apple
[Thu, 14 Jun 2018 06:43:47 GMT]
The move will make it more difficult for hackers, and police, to unlock handsets without authorisation.
---
How Assassin's Creed Odyssey is 'creating equal opportunities'
[Fri, 15 Jun 2018 08:35:12 GMT]
The narrative director of Assassin's Creed Odyssey, Mel MacCoubrey, explains how the new game's interactive features give people choice over how they play.
---
China's ride-hailing giant Didi to launch in Australia
[Fri, 15 Jun 2018 05:07:27 GMT]
China's Didi Chuxing will compete with India's Ola and Uber when it launches in Melbourne on 25 June.
---
Sony faces growing Fortnite backlash at E3
[Thu, 14 Jun 2018 02:31:09 GMT]
Firm is under pressure to explain why Switch owners cannot use PS4-linked Fortnite accounts.
---
Fewer people 'using Facebook for news'
[Wed, 13 Jun 2018 23:08:24 GMT]
Fear of fake news and the toxic nature of debates are turning people away from news on social media, a study says.
---
Science
Stars turn out for Stephen Hawking memorial at Westminster Abbey
[Fri, 15 Jun 2018 13:51:17 GMT]
All corners of society attend a London service to pay tribute to the great Cambridge physicist.
---
Work starts to upgrade Large Hadron Collider
[Fri, 15 Jun 2018 12:26:07 GMT]
Improvements to the world's biggest particle smasher are designed to uncover new physics.
---
Prehistoric frogs in amber surface after 99 million years
[Thu, 14 Jun 2018 14:58:09 GMT]
Frogs trapped in amber for 99 million years give clues to lost world. The four fossils were found in Myanmar.
---
Gene therapy reverses rat's paralysis
[Thu, 14 Jun 2018 17:08:28 GMT]
Experts say the findings could be life-changing for millions of patients.
---
Mars Opportunity: Rover 'should ride out storm'
[Thu, 14 Jun 2018 04:34:15 GMT]
Nasa says it is concerned but hopeful that a veteran robot rover can survive a big dust storm.
---
Antarctica loses three trillion tonnes of ice in 25 years
[Wed, 13 Jun 2018 17:01:55 GMT]
Satellites observing the White Continent detect a jump in the rate of ice being lost to the ocean.
---
Stephen Hawking's words will be beamed into space
[Thu, 14 Jun 2018 13:20:33 GMT]
The words of the renowned physicist have been set to music by composer Vangelis.
---
Einstein's travel diaries reveal racist stereotypes
[Thu, 14 Jun 2018 01:09:50 GMT]
Xenophobic comments are found in private journals from the physicist's 1920s tour of Asia.
---
UK rebuffed over Galileo sat-nav procurement
[Wed, 13 Jun 2018 16:36:06 GMT]
Delegations to the European Space Agency vote to procure another batch of spacecraft, despite British calls to delay.
---
One in five British mammals at risk of extinction
[Tue, 12 Jun 2018 23:09:16 GMT]
The red squirrel, the wildcat, and the grey long-eared bat face severe threats, a study says.
---