Welcome to Argalax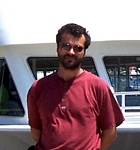 Hi, my name is Alexander and this is my website.
It describes my work, hobbies, various projects, intellectual pursuits, current interests, and whatever else seems important and/or interesting at the moment.
I live in Canada, just east of Toronto, and work as technical team leader in the IT industry.
In spare time I enjoy writing some code, developing web applications, working on my robot, and FreeBSD/Linux projects, reading sci-fi, finance and technical books, building my cabin in the wilderness, travel and sail when I can.
---
Here are some technical news to read...
Technology
Android app age ratings grow up
[Wed, 27 May 2015 03:05:28 GMT]
Later this week Google will hand over control of its Play store's Android app ratings to a third-party.
---
SpaceX cleared for military launches
[Tue, 26 May 2015 23:56:07 GMT]
The US Air Force clears billionaire Elon Musk's SpaceX to launch military and spy satellites.
---
Hyundai offers Google Android in cars
[Wed, 27 May 2015 04:00:17 GMT]
South Korea's Hyundai becomes the first carmaker to offer Google's Android Auto system in its Sonata model.
---
Periscope arrives on Android
[Tue, 26 May 2015 13:14:14 GMT]
Twitter's live video streaming app Periscope is being launched on Google's Android platform, exactly two months after its debut in the Apple store.
---
Apple design guru Jony Ive promoted
[Tue, 26 May 2015 07:58:31 GMT]
Apple promotes British designer Jony Ive to chief design officer, according to reports.
---
Internet used by 3.2 billion in 2015
[Tue, 26 May 2015 11:09:19 GMT]
Nearly half of the global population will be using the internet by the end of this year, according to a new report.
---
Meet YouTube's 8-bit movie makers
[Mon, 25 May 2015 16:49:35 GMT]
A team which recreates popular films as 8-bit video games is attracting millions of views on YouTube.
---
Victims of ID theft 'up by a third'
[Tue, 26 May 2015 19:20:35 GMT]
The number of people falling victim to identity theft in the UK rises by almost a third in the first three months of 2015, figures from fraud prevention agency Cifas show.
---
Poster family warns over stock images
[Mon, 25 May 2015 11:55:59 GMT]
A family whose image was used in a poster campaign by the group opposing gay marriage in the Republic of Ireland say they were "naive" about stock photography websites.
---
Amazon changes sales reporting
[Tue, 26 May 2015 08:26:47 GMT]
Amazon, the global online retailer, is changing the way it records European sales in a move that could see it paying more tax.
---
Science
Crowd size estimated with phone data
[Wed, 27 May 2015 00:10:09 GMT]
A study tests the idea that large crowds can be counted using data from mobile phone usage and Twitter.
---
Nepal seeks expert advice on tourism
[Wed, 27 May 2015 00:45:23 GMT]
Tourism operators in earthquake-hit Nepal seek guidance from international experts on which areas can be declared safe for trekking and mountaineering.
---
How Arctic ozone hole was avoided
[Tue, 26 May 2015 15:58:23 GMT]
The Antarctic ozone hole would have been 40% bigger and a hole over the Arctic would have opened up if ozone-depleting chemicals had not been phased out, according to research.
---
Volcano erupts on Galapagos island
[Tue, 26 May 2015 10:14:42 GMT]
A volcanic eruption on one of the Galapagos Islands potentially puts Charles Darwin's evolution ecosystem at risk.
---
'Loud wakeup call' over rare dolphin
[Tue, 26 May 2015 02:52:10 GMT]
The smallest and rarest marine dolphin in the world could be extinct within 15 years if protection is not stepped up, according to research.
---
Coastal farm sold to National Trust
[Tue, 26 May 2015 05:38:12 GMT]
Parts of the iconic Great Orme headland in north Wales are safeguarded for the future after being bought by the National Trust.
---
Solar Impulse awaits 'moment of truth'
[Mon, 25 May 2015 08:44:46 GMT]
In what will be its greatest challenge yet, the zero-fuel aeroplane Solar Impulse will soon try to fly non-stop from China to Hawaii - a journey of more than 8,000km across the Pacific Ocean.
---
IS threat to rare bird near Palmyra
[Mon, 25 May 2015 15:18:56 GMT]
Islamic State's capture of Palmyra in Syria threatens the last surviving colony of the northern bald ibis in the Middle East, experts says.
---
'Beautiful Mind' mathematician killed
[Sun, 24 May 2015 21:48:13 GMT]
Renowned mathematician John Nash, subject of the film A Beautiful Mind, dies in a New Jersey taxi crash with his wife.
---
Trust backs beaver reintroduction
[Mon, 25 May 2015 11:39:01 GMT]
Beavers should be resident in Scotland says the National Trust as it announces its support for reintroduction projects.
---
App Development
IT Earnings Way Up at Job Site Elance
[]
Google App Engine, HTML5, search engine optimization and social media marketing are among the fastest movers on Elance's list of hot job opportunities available online.
---
Say What? The Week's Top Five IT Quotes
[]
Google Wave crashes, fighting to keep mainframe skills alive, beware the Outernet and more.
---
GPL Enforcement Notches Another Victory
[]
The license at the heart of many open source projects is amassing a winning record when it comes to successfully pursuing enforcement lawsuits.
---
Microsoft Prepping New Visual Studio Tool
[]
Dubbed "LightSwitch," the new tool will offer developers of varying skill levels ready-made templates to create business applications for different computing environments.
---
Illumos Looks to Reopen Oracle's OpenSolaris
[]
Amid concern throughout the OpenSolaris community about Oracle's plans for the open source operating system, the Illumos project is providing an alternative set of OpenSolaris technologies.
---