Welcome to Argalax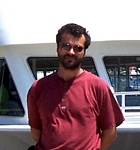 Hi, my name is Alexander and this is my website.
I live in Toronto, Canada, and work as a Senior IT Professional.
In spare time I enjoy writing some code, developing web applications, working on my robot, reading sci-fi, finance and technical books, visiting my cabin in the wilderness and travel when I can.
---
Here are some technical news to read...
Technology
Anger at Google image search 'peace deal'
[Fri, 16 Feb 2018 11:36:26 GMT]
The search giant will remove features from its image search to appease Getty Images.
---
Facebook told to stop tracking in Belgium
[Fri, 16 Feb 2018 16:55:47 GMT]
Facebook is ordered to stop tracking people without consent, by a court in Belgium.
---
Hot on Instagram - but is it art?
[Fri, 16 Feb 2018 00:05:48 GMT]
Should social media-friendly experiences designed to make striking photos be considered art?
---
Russia-Trump inquiry: Russians charged over US 2016 election tampering
[Sat, 17 Feb 2018 02:54:02 GMT]
The named Russians are indicted along with three Russian companies by special counsel Robert Mueller.
---
Call for women-only Uber Pools for London
[Fri, 16 Feb 2018 12:17:22 GMT]
Customers should be allowed to "choose who they share vehicles with", says Transport for London.
---
Instagram submits to Russia censor's demands
[Thu, 15 Feb 2018 19:06:47 GMT]
Service blocks access to corruption claim-related posts despite YouTube failing to meet similar demand.
---
Google Chrome launches default ad-blocker
[Thu, 15 Feb 2018 13:13:20 GMT]
The latest versions of the web browser will block "annoying intrusive" ads from today.
---
Snapchat petition attracts one million signatures
[Thu, 15 Feb 2018 08:10:12 GMT]
Snapchat's changes have sparked a backlash as users complain that it is more difficult to use.
---
'Anti-Clinton' Wikileaks chat leaked
[Thu, 15 Feb 2018 12:18:18 GMT]
Leaked copies of a private chat suggest Wikileaks wanted a Republican candidate to become president.
---
UK and US blame Russia for 'malicious' NotPetya cyber-attack
[Thu, 15 Feb 2018 22:12:56 GMT]
Britain and the US say the Russian military was behind the NotPetya attack which hit firms worldwide.
---
Science
Consumer products' air quality impact 'underestimated'
[Fri, 16 Feb 2018 09:39:08 GMT]
Chemicals from household products rival vehicles as a key source of urban air pollution.
---
Pollution blights UK seagrass meadows
[Fri, 16 Feb 2018 20:48:36 GMT]
Excessive nitrogen from sewage and livestock waste is damaging the health of marine flowering plants.
---
'100,000 orangutans' killed in 16 years
[Fri, 16 Feb 2018 04:54:33 GMT]
Borneo has lost a "shocking" number of its great apes, according to a new survey of the island.
---
Probe provides rapid lung investigation
[Thu, 15 Feb 2018 19:02:11 GMT]
Scientists develop technology that goes inside the lung to make fast diagnoses of infection.
---
Quantum computers 'one step closer'
[Wed, 14 Feb 2018 19:25:43 GMT]
Quantum computing has taken a step forward with the recent development of a silicon-based programmable quantum processor.
---
Musk's Tesla to stay in space for millions of years
[Thu, 15 Feb 2018 00:17:14 GMT]
A car launched by Elon Musk could stay in space for millions of years before hitting Earth or Venus.
---
Crypto-currency craze 'hinders search for alien life'
[Wed, 14 Feb 2018 11:43:27 GMT]
A scientist says the search for alien intelligence has been hit by a shortage of computer hardware.
---
UK air pollutants continue decline
[Thu, 15 Feb 2018 12:11:00 GMT]
Nitrogen pollutants from motor vehicles fell 12% from 2012 to 2016, according to official statistics.
---
Genes remain active after death
[Tue, 13 Feb 2018 17:56:13 GMT]
Cells continue to function even after an individual dies, a discovery that could be developed into a forensic tool.
---
AI does grunt work on China's pig farms
[Wed, 14 Feb 2018 17:19:35 GMT]
Alibaba rolls out a system that analyses pig squeals and coughs to improve pork production.
---