Welcome to Argalax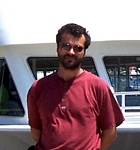 Hi, my name is Alexander and this is my website.
It describes my work, hobbies, various projects, intellectual pursuits, current interests, and whatever else seems important and/or interesting at the moment.
I live in Canada, just east of Toronto, and work as technical team leader in the IT industry.
In spare time I enjoy writing some code, developing web applications, working on my robot, and FreeBSD/Linux projects, reading sci-fi, finance and technical books, building my cabin in the wilderness, travel and sail when I can.
---
Here are some technical news to read...
Technology
Mt Gox wins US bankruptcy protection
[Tue, 11 Mar 2014 00:57:05 GMT]
Mt Gox, the troubled Japanese bitcoin exchange, wins bankruptcy protection to temporarily halt US legal action alleging fraud.
---
eBay cuts chief exec's pay in half
[Mon, 10 Mar 2014 23:02:05 GMT]
E-commerce giant eBay cuts the total compensation of its chief executive, John Donahoe, by more than half.
---
Snowden warns of web's 'dark arts'
[Mon, 10 Mar 2014 18:41:10 GMT]
US intelligence leaker Edward Snowden portrays a bleak future for the internet as he speaks via video link to the SXSW festival in Austin, Texas.
---
Google: Android for wearables coming
[Mon, 10 Mar 2014 16:37:14 GMT]
Google will release a software development kit later this month for developers to create smart wearable devices using its Android operating system.
---
Hackers steal data from MtGox boss
[Mon, 10 Mar 2014 11:16:25 GMT]
Hackers have taken over the web accounts of the boss of troubled Bitcoin exchange MtGox and published data they found.
---
Trust in the internet 'now missing'
[Mon, 10 Mar 2014 11:58:18 GMT]
European Commission vice-president Neelie Kroes says that for billions of people around the world trust in the internet is "now missing".
---
Facebook's WhatsApp purchase opposed
[Fri, 07 Mar 2014 14:48:36 GMT]
Facebook's purchase of WhatsApp - one of the biggest ever tech acquisitions - runs into trouble over privacy concerns.
---
New mobile payment plan gathers pace
[Mon, 10 Mar 2014 10:44:23 GMT]
The banking industry's new mobile phone payments system will be launched later this year, says the Payments Council.
---
Samsung launches free music streaming
[Fri, 07 Mar 2014 21:25:14 GMT]
The world's biggest smartphone maker, Samsung, launches a free music streaming service called Milk Music.
---
'Bitcoin creator' denies involvement
[Fri, 07 Mar 2014 11:45:05 GMT]
The man singled out by a magazine as being behind the virtual currency denies any involvement.
---
Science
Transatlantic great white 'pregnant'
[Mon, 10 Mar 2014 19:37:08 GMT]
The first great white shark seen to cross the Atlantic may be pregnant, the head of the expedition tracking it says.
---
Elephants recognise human voices
[Mon, 10 Mar 2014 23:40:14 GMT]
Elephants are able to work out ethnicity, gender and age from the sound of a human voice, according to a study.
---
UK joins 'super-microscope' project
[Tue, 11 Mar 2014 01:00:24 GMT]
The UK government is to allocate up to ÂŁ185m on three international science projects.
---
Lochhead to make Dounreay statement
[Tue, 11 Mar 2014 01:55:35 GMT]
The Scottish environment secretary is to make a statement to MSPs about a radiation problem at a nuclear test reactor in the Highlands.
---
Skull fragments reveal new crocodile
[Tue, 11 Mar 2014 08:13:42 GMT]
Two fossilised fragments from a crocodile skull found on the Isle of Wight indicate the discovery of a new species, researchers say.
---
'Withdraw' major stem cell findings
[Mon, 10 Mar 2014 17:40:51 GMT]
A Japanese scientist behind a seemingly groundbreaking stem cell study says the findings should be withdrawn amid doubts over its quality.
---
New threat to ozone layer identified
[Sun, 09 Mar 2014 18:09:01 GMT]
Scientists identify four new man-made gases that are contributing to the depletion of the ozone layer.
---
App set to map the oceans' plankton
[Mon, 10 Mar 2014 07:51:26 GMT]
A study calls on the world's sailors and seafarers to help map the oceans' phytoplankton, microscopic plants that form the bedrock of marine food chains.
---
Great Walls 'could stop tornadoes'
[Sat, 08 Mar 2014 03:27:49 GMT]
Building gigantic walls across the US could protect Tornado Alley "forever", a physicist says, though critics say the idea is unworkable.
---
Tree storm damage 'worst since 1987'
[Fri, 07 Mar 2014 09:52:48 GMT]
This winter's extreme winds caused the biggest loss of trees in in more than 20 years, according to the National Trust.
---
App Development
IT Earnings Way Up at Job Site Elance
[]
Google App Engine, HTML5, search engine optimization and social media marketing are among the fastest movers on Elance's list of hot job opportunities available online.
---
Say What? The Week's Top Five IT Quotes
[]
Google Wave crashes, fighting to keep mainframe skills alive, beware the Outernet and more.
---
GPL Enforcement Notches Another Victory
[]
The license at the heart of many open source projects is amassing a winning record when it comes to successfully pursuing enforcement lawsuits.
---
Microsoft Prepping New Visual Studio Tool
[]
Dubbed "LightSwitch," the new tool will offer developers of varying skill levels ready-made templates to create business applications for different computing environments.
---
Illumos Looks to Reopen Oracle's OpenSolaris
[]
Amid concern throughout the OpenSolaris community about Oracle's plans for the open source operating system, the Illumos project is providing an alternative set of OpenSolaris technologies.
---