Welcome to Argalax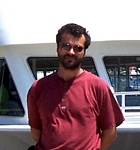 Hi, my name is Alexander and this is my website.
It describes my work, hobbies, various projects, intellectual pursuits, current interests, and whatever else seems important and/or interesting at the moment.
I live in Canada, just east of Toronto, and work as technical team leader in the IT industry.
In spare time I enjoy writing some code, developing web applications, working on my robot, and FreeBSD/Linux projects, reading sci-fi, finance and technical books, building my cabin in the wilderness and travel when I can.
---
Here are some technical news to read...
Technology
Ex-Nokia team makes rival smartphone
[Mon, 20 May 2013 16:08:18 GMT]
A smartphone created by former Nokia employees is unveiled ahead of its release later this year.
---
Tumblr 'will boost Yahoo revenue'
[Mon, 20 May 2013 20:21:50 GMT]
Yahoo says its $1.1bn (£723m) purchase of blogging platform Tumblr will boost its revenue as soon as 2014.
---
Ant abilities could aid robot design
[Tue, 21 May 2013 06:49:23 GMT]
A study showing how ants tunnel their way through confined spaces could aid the design of search and rescue robots, say scientists.
---
China 'state hackers renew attacks'
[Mon, 20 May 2013 10:13:08 GMT]
State-sponsored hackers are renewing their attacks on the US after a three-month hiatus, according to the New York Times.
---
Apple 'among US's big tax avoiders'
[Tue, 21 May 2013 05:11:11 GMT]
Apple is accused of being "among America's largest tax avoiders" by a Senate committee, who says the company avoided paying billions of dollars in US taxes.
---
Vodafone sales hit by European slump
[Tue, 21 May 2013 07:27:14 GMT]
Vodafone's full-year sales slip for the first time in eight years as tough economic conditions in Europe take their toll on customers.
---
Millions hit in Yahoo Japan hack
[Mon, 20 May 2013 09:13:25 GMT]
Up to 22 million login names may have been stolen during a hack attack on Yahoo Japan, the web firm warns.
---
US questions Google on Glass privacy
[Fri, 17 May 2013 11:47:36 GMT]
US politicians are seeking reassurances from Google that its smart spectacles will respect personal privacy.
---
Single-pixel camera makes 3D image
[Thu, 16 May 2013 23:13:04 GMT]
Scientists in Glasgow have discovered a low-cost way to create 3D images, capable of sensing frequencies beyond visible light.
---
Pupils 'need early porn warnings'
[Mon, 20 May 2013 10:27:00 GMT]
Young children should hear about the dangers of pornography as soon as they have access to the internet, UK teachers say.
---
Science
Ant abilities could aid robot design
[Tue, 21 May 2013 06:49:23 GMT]
A study showing how ants tunnel their way through confined spaces could aid the design of search and rescue robots, say scientists.
---
Vaccine developed for farm disease
[Mon, 20 May 2013 23:08:26 GMT]
A vaccine to protect sheep and cattle from a livestock virus spread by midges has been approved by government vets.
---
Flightless penguin puzzle 'solved'
[Tue, 21 May 2013 05:25:54 GMT]
The underwater prowess of the penguin may have cost the bird its ability to fly, scientists believe.
---
Irish potato famine pest identified
[Tue, 21 May 2013 03:05:28 GMT]
Scientists have used plant samples collected in the 19th Century to identify the pathogen that caused the Irish potato famine.
---
UK astronaut given station date
[Mon, 20 May 2013 08:26:51 GMT]
UK astronaut Tim Peake is to fly to the International Space Station, launching on a Soyuz rocket in November or December 2015.
---
Tree health policy to 'stop spread'
[Mon, 20 May 2013 12:20:23 GMT]
Strengthening biosecurity at UK borders and a plant health risk register would help protect the nation's trees from pests and diseases, a report concludes.
---
Warming extremes 'not as likely'
[Sun, 19 May 2013 17:31:29 GMT]
Global temperature rises will be slower in the coming decades say researchers but the long term picture is consistent.
---
Deep sea 'gold rush' moves closer
[Sat, 18 May 2013 01:27:03 GMT]
The prospect of a deep sea "gold rush" opening a controversial new frontier for mining on the ocean floor has moved a step closer.
---
GPS 'improves early tsunami alerts'
[Fri, 17 May 2013 13:51:29 GMT]
GPS data could provide faster and more accurate early warning systems for tsunamis, a German team of scientists suggest.
---
Expert issues UK tree threat warning
[Fri, 17 May 2013 15:41:59 GMT]
A tree expert says the biggest threat facing UK trees is likely to come from a disease currently unknown to science.
---
App Development
IT Earnings Way Up at Job Site Elance
[]
Google App Engine, HTML5, search engine optimization and social media marketing are among the fastest movers on Elance's list of hot job opportunities available online.
---
Say What? The Week's Top Five IT Quotes
[]
Google Wave crashes, fighting to keep mainframe skills alive, beware the Outernet and more.
---
GPL Enforcement Notches Another Victory
[]
The license at the heart of many open source projects is amassing a winning record when it comes to successfully pursuing enforcement lawsuits.
---
Microsoft Prepping New Visual Studio Tool
[]
Dubbed "LightSwitch," the new tool will offer developers of varying skill levels ready-made templates to create business applications for different computing environments.
---
Illumos Looks to Reopen Oracle's OpenSolaris
[]
Amid concern throughout the OpenSolaris community about Oracle's plans for the open source operating system, the Illumos project is providing an alternative set of OpenSolaris technologies.
---