Welcome to Argalax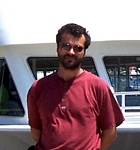 Hi, my name is Alexander and this is my website.
It describes my work, hobbies, various projects, intellectual pursuits, current interests, and whatever else seems important and/or interesting at the moment.
I live in Canada, just east of Toronto, and work as technical team leader in the IT industry.
In spare time I enjoy writing some code, developing web applications, working on my robot, and FreeBSD/Linux projects, reading sci-fi, finance and technical books, building my cabin in the wilderness, travel and sail when I can.
---
Here are some technical news to read...
Technology
Nokia name row with London start-up
[Fri, 30 Jan 2015 16:59:13 GMT]
Nokia has threatened legal action against a UK start-up over the use of the word "HERE".
---
Google agrees privacy policy changes
[Fri, 30 Jan 2015 13:39:09 GMT]
The firm will roll out a single, rewritten privacy policy across Europe after coming under fire across the continent.
---
Office puts chips under staff's skin
[Thu, 29 Jan 2015 17:01:30 GMT]
Rory Cellan-Jones visits a building where microchipped workers gain entry and use photocopiers by holding up their hands - and trials the tech himself.
---
BT attacked on rural broadband costs
[Fri, 30 Jan 2015 16:11:41 GMT]
At least £90m will be reinvested in rural broadband services after an underspend by BT, the BBC learns.
---
Bill Gates insists AI is a threat
[Thu, 29 Jan 2015 18:05:38 GMT]
Microsoft's founder says we should worry that AI escape our control, despite claims to the contrary by a Microsoft Research chief.
---
Uber sued over India rape allegation
[Fri, 30 Jan 2015 06:03:17 GMT]
An Indian woman who says she was raped by a Delhi driver of web-based taxi firm Uber files a lawsuit against the service in a US court.
---
Amazon posts modest holiday profits
[Thu, 29 Jan 2015 22:43:21 GMT]
The online retail giant Amazon reports weaker profits for the busy Christmas period, but a 15% rise in sales cheers investors.
---
Google profits up nearly 30%
[Thu, 29 Jan 2015 22:09:46 GMT]
Internet giant Google reports fourth-quarter profits of $4.76bn, up nearly 30% from the same period a year before, but revenue misses Wall Street expectations.
---
US firms object to source code rules
[Thu, 29 Jan 2015 14:35:28 GMT]
Business groups have written to the Chinese government, asking it to rethink rules that would force them to hand over source code and create backdoors for officials in Beijing.
---
First-class fliers get virtual reality
[Thu, 29 Jan 2015 11:43:01 GMT]
Qantas becomes first airline to offer passengers in-flight entertainment via a virtual reality headset.
---
Science
Controllers banking on Philae wake-up
[Fri, 30 Jan 2015 14:28:09 GMT]
The European Space Agency says it will conduct no more dedicated searches for its lost comet lander, and will now wait for the probe itself to call home.
---
Study fells cosmic inflation claim
[Fri, 30 Jan 2015 20:54:50 GMT]
Scientists who claimed to have found evidence for a cosmic super-expansion at the Big Bang made no such discovery, a soon-to-be published study will say.
---
'Cold plasma' kills off norovirus
[Fri, 30 Jan 2015 14:03:08 GMT]
Norovirus, the most common cause of gastroenteritis in the world, can be killed with "cold plasma", scientists report.
---
Scars reveal ageing whales' secrets
[Fri, 30 Jan 2015 02:28:04 GMT]
Scientists studying one of the most mysterious whale species find they form long-term alliances, sometimes lasting many years.
---
Chicks place low numbers on the left
[Thu, 29 Jan 2015 19:03:14 GMT]
Scientists in Italy find that baby chickens associate low and high numbers with left and right, respectively - suggesting they may count using a "mental number line" like humans do.
---
Climate concern 'linked to floods'
[Thu, 29 Jan 2015 12:23:22 GMT]
Belief in the reality of climate change has risen among the British public, partly because of the 2013 winter floods, according to a report.
---
Icebergs 'have sound signature'
[Thu, 29 Jan 2015 08:55:04 GMT]
Listening to icebergs could help to assess the extent of glacier melt, a study suggests.
---
Skull clue to exodus from Africa
[Wed, 28 Jan 2015 19:43:49 GMT]
An ancient skull discovered in Israel could shed light on the migration of modern humans out of Africa some 60,000 years ago.
---
Ebola virus mutating, scientists say
[Thu, 29 Jan 2015 05:55:38 GMT]
Scientists at the Institut Pasteur in France who are tracking the Ebola outbreak in Guinea say the virus has mutated.
---
Shell revives Arctic drilling plans
[Thu, 29 Jan 2015 14:36:04 GMT]
Royal Dutch Shell revives Arctic drilling plans, despite announcing a $15bn cut in global spending and profit figures that disappointed investors.
---
App Development
IT Earnings Way Up at Job Site Elance
[]
Google App Engine, HTML5, search engine optimization and social media marketing are among the fastest movers on Elance's list of hot job opportunities available online.
---
Say What? The Week's Top Five IT Quotes
[]
Google Wave crashes, fighting to keep mainframe skills alive, beware the Outernet and more.
---
GPL Enforcement Notches Another Victory
[]
The license at the heart of many open source projects is amassing a winning record when it comes to successfully pursuing enforcement lawsuits.
---
Microsoft Prepping New Visual Studio Tool
[]
Dubbed "LightSwitch," the new tool will offer developers of varying skill levels ready-made templates to create business applications for different computing environments.
---
Illumos Looks to Reopen Oracle's OpenSolaris
[]
Amid concern throughout the OpenSolaris community about Oracle's plans for the open source operating system, the Illumos project is providing an alternative set of OpenSolaris technologies.
---