Welcome to Argalax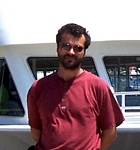 Hi, my name is Alexander and this is my website.
I live in Toronto, Canada, and work as a Senior IT Professional.
In spare time I enjoy writing some code, developing web applications, working on my robot, reading sci-fi, finance and technical books, visiting my cabin in the wilderness and travel when I can.
---
Here are some technical news to read...
Technology
Afterpay: Jack Dorsey's Square in Australia's biggest buyout
[Mon, 02 Aug 2021 02:04:04 GMT]
The $29bn deal for Afterpay will create an instalments payment giant in a hugely growing sector.
---
Zoom settles US class action privacy lawsuit for $86m
[Sun, 01 Aug 2021 22:34:26 GMT]
The video conferencing firm denies wrongdoing, but has agreed to boost security measures.
---
Elon Musk: 'I don't want to be CEO of anything'
[Sat, 31 Jul 2021 00:39:20 GMT]
Elon Musk reiterated on Friday that he doesn't want to be Space X or Tesla boss. What's going on?
---
Facebook, Google expect jabs for office return
[Fri, 30 Jul 2021 14:29:08 GMT]
The tech companies will require vaccination for returning in-office employees as Covid-19 cases rise in US
---
A US company has turned a former coal plant into a gas-fired Bitcoin mine
[Thu, 29 Jul 2021 23:00:53 GMT]
Environmentalists have criticised the gas-fired mine but the company says it offsets its emissions.
---
Didi: Chinese ride-hailing giant denies plans to go private
[Fri, 30 Jul 2021 03:40:50 GMT]
Didi shares surged by almost 50% in pre-market trade after a report that it planned to go private.
---
Amazon predicts slower sales growth as Covid boost eases
[Thu, 29 Jul 2021 21:41:36 GMT]
The tech giant says third quarter sales growth will be slower as customers return to physical shops.
---
Rick Astley rolls into a billion YouTube views
[Thu, 29 Jul 2021 17:28:12 GMT]
Rickroll meme helps Never Gonna Give You Up reach new heights.
---
Older Kindles may lose internet connection, Amazon warns
[Thu, 29 Jul 2021 12:27:45 GMT]
Amazon tells customers older Kindles might lose their ability to connect online.
---
NHS Covid-19 app pings rise by over 70,000 to new record
[Thu, 29 Jul 2021 13:26:56 GMT]
The number of coronavirus alerts hits a new record, with nearly 690,000 sent in England and Wales.
---
Science
The fungus and bacteria tackling plastic waste
[Thu, 29 Jul 2021 23:04:41 GMT]
Bacteria, fungus and enzymes can all digest plastic, but can they work at a useful commercial scale?
---
UK military opens first space command centre
[Fri, 30 Jul 2021 15:06:03 GMT]
The new operations centre will help the UK maintain a "battle-winning advantage", ministers say.
---
UK already undergoing disruptive climate change
[Thu, 29 Jul 2021 07:13:32 GMT]
Last year was the third warmest, fifth wettest and eighth sunniest on record in the UK, scientists warn.
---
Russian module mishap destabilises International Space Station
[Fri, 30 Jul 2021 04:06:53 GMT]
The ISS was pushed out of position after engines on a new Russian module unexpectedly fired up.
---
Electric car charging prices 'must be fair' say MPs
[Wed, 28 Jul 2021 00:23:39 GMT]
Consumers should not have to pay excessive prices to use public car charging, MPs say.
---
COP26 climate summit president says progress made, but not enough
[Mon, 26 Jul 2021 18:29:54 GMT]
The first in-person climate meeting in 18 months sees some tentative progress, but no breakthroughs.
---
'Most powerful' tidal turbine starts generating electricity off Orkney
[Wed, 28 Jul 2021 06:44:23 GMT]
The Orbital O2, which is anchored off Orkney, has the capacity to meet the annual power demand of 2,000 homes.
---
Then and now: The burning issue of wildfires
[Sun, 01 Aug 2021 23:21:45 GMT]
Scientists are increasingly concerned climate change is making fires more frequent and more intense.
---
Climate change: Researchers begin discussions on vital report
[Sun, 25 Jul 2021 23:31:41 GMT]
A two-week virtual negotiation begins on the most critical climate change report since 2013.
---
Extreme weather: What causes flash flooding?
[Mon, 26 Jul 2021 16:24:51 GMT]
Cities across the world are at risk of extreme rainfall overwhelming their streets
---