Welcome to Argalax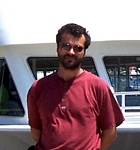 Hi, my name is Alexander and this is my website.
It describes my work, hobbies, various projects, intellectual pursuits, current interests, and whatever else seems important and/or interesting at the moment.
I live in Canada, just east of Toronto, and work as technical team leader in the IT industry.
In spare time I enjoy writing some code, developing web applications, working on my robot, and FreeBSD/Linux projects, reading sci-fi, finance and technical books, building my cabin in the wilderness, travel and sail when I can.
---
Here are some technical news to read...
Technology
A new kind of tech bubble
[Wed, 23 Apr 2014 15:21:07 GMT]
Scientists at Bristol University are bringing bubbles and technology together in unexpected - and potentially profitable - ways.
---
Apple profits beat expectations
[Wed, 23 Apr 2014 22:23:41 GMT]
Technology giant Apple plans a share buyback after it reports profits of $10.2bn, selling a more than 43 million iPhones in the second quarter of 2014.
---
Facebook earnings surge on mobile ads
[Thu, 24 Apr 2014 05:07:53 GMT]
Social networking giant Facebook reports better than expected profits, as a surge in mobile advertising helps boost its revenues.
---
NYPD Twitter campaign 'backfires'
[Wed, 23 Apr 2014 11:28:34 GMT]
Twitter users bombard the New York Police department with images depicting police aggression in the latest social media campaign to go awry.
---
Qualcomm shares dip on weak outlook
[Thu, 24 Apr 2014 01:35:01 GMT]
Shares in Qualcomm, one of the world's biggest mobile phone chipmakers, fall 5% in after-hours trading as it issues a weaker than expected growth outlook.
---
Robot portable printer secures cash
[Wed, 23 Apr 2014 13:28:48 GMT]
An Israeli start-up secures enough funds to put a pocket-sized robot printer into production.
---
Game-maker Zynga in widening loss
[Wed, 23 Apr 2014 21:29:03 GMT]
Troubled online game-maker Zynga reports a loss of $61m, as founder Mark Pincus steps down as chief product officer.
---
Future of the net debated in Brazil
[Wed, 23 Apr 2014 09:20:02 GMT]
Tensions emerge ahead of a meeting being held in Sao Paulo, Brazil, to discuss changes to the way the internet is governed.
---
Amazon and HBO sign streaming deal
[Wed, 23 Apr 2014 14:56:10 GMT]
US customers of streaming service Amazon Prime will be able to stream such TV shows as The Sopranos and The Wire thanks to a new deal with subscription channel HBO.
---
Google refunding buyers of fake app
[Tue, 22 Apr 2014 17:09:06 GMT]
Google is refunding people who bought a fake anti-virus app through its Google Play store.
---
Science
Asteroid impact risks 'underplayed'
[Tue, 22 Apr 2014 18:18:33 GMT]
A visualisation showing where sizeable asteroids have hit the Earth in recent years has been released by the B612 Foundation.
---
Mystery of 'ocean quacks' solved
[Wed, 23 Apr 2014 00:01:55 GMT]
The mystery of a bizarre quacking sound often heard in the Southern Ocean has finally been solved, scientists report.
---
Graphene 'made with kitchen blender'
[Tue, 22 Apr 2014 13:03:27 GMT]
Scientists have outlined how they managed to make the wonder material graphene using a kitchen blender.
---
Flood defence assessment completed
[Mon, 21 Apr 2014 09:25:16 GMT]
For the first time in its history, the Environment Agency assesses the state of all flood defences in England following 'unprecedented' winter storms.
---
Malta criticised for mass bird shoot
[Tue, 22 Apr 2014 10:51:59 GMT]
A leading British naturalist accuses Malta of failing to prevent large-scale illegal shooting of migratory birds by hunters.
---
SpaceX launches station cargo flight
[Fri, 18 Apr 2014 22:06:02 GMT]
US company SpaceX launches its latest re-supply mission to the International Space Station, sending up a Dragon freighter to rendezvous with the orbiting platform on Sunday.
---
Female cave insects have 'penises'
[Fri, 18 Apr 2014 04:51:03 GMT]
Female insects with 'penises' have been discovered in Brazil - the first example of an animal with sex-reversed genitalia.
---
US 'delays' Keystone XL decision
[Fri, 18 Apr 2014 20:20:31 GMT]
The US state department gives federal agencies more time to review the Keystone XL oil pipeline before determining whether to issue a permit.
---
'Most Earth-like planet yet' found
[Thu, 17 Apr 2014 18:04:42 GMT]
A planet that is close in size to the Earth and that could hold water on its surface has been identified by the Kepler telescope.
---
EU green light for UK carbon project
[Thu, 17 Apr 2014 16:12:16 GMT]
A British project to capture CO2 and bury it under the North Sea looks set to receive a 300m-euro boost from the EU.
---
App Development
IT Earnings Way Up at Job Site Elance
[]
Google App Engine, HTML5, search engine optimization and social media marketing are among the fastest movers on Elance's list of hot job opportunities available online.
---
Say What? The Week's Top Five IT Quotes
[]
Google Wave crashes, fighting to keep mainframe skills alive, beware the Outernet and more.
---
GPL Enforcement Notches Another Victory
[]
The license at the heart of many open source projects is amassing a winning record when it comes to successfully pursuing enforcement lawsuits.
---
Microsoft Prepping New Visual Studio Tool
[]
Dubbed "LightSwitch," the new tool will offer developers of varying skill levels ready-made templates to create business applications for different computing environments.
---
Illumos Looks to Reopen Oracle's OpenSolaris
[]
Amid concern throughout the OpenSolaris community about Oracle's plans for the open source operating system, the Illumos project is providing an alternative set of OpenSolaris technologies.
---