Welcome to Argalax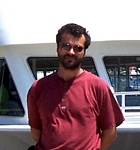 Hi, my name is Alexander and this is my website.
I live in Toronto, Canada, and work as a Senior IT Professional.
In spare time I enjoy writing some code, developing web applications, working on my robot, reading sci-fi, finance and technical books, visiting my cabin in the wilderness and travel when I can.
---
Here are some technical news to read...
Technology
YouTube publishes deleted videos report
[Mon, 23 Apr 2018 23:27:18 GMT]
The video-sharing website details the reasons why millions of videos have been removed.
---
Spotify tests filter to block swearing in songs
[Mon, 23 Apr 2018 18:34:14 GMT]
The trial feature skips explicit tracks but only works on Apple devices and lacks a parental lock.
---
Police 'visit funeral home to unlock dead man's phone'
[Mon, 23 Apr 2018 17:00:56 GMT]
Police in Florida are criticised for allegedly entering a funeral home to use a dead man's finger to unlock his smartphone.
---
Robot helps Jack McLinden, 14, to be Everton mascot
[Mon, 23 Apr 2018 19:53:37 GMT]
A robot carried on to the pitch feeds panoramic live images and sound back to Jack McLinden's tablet.
---
'Nazi pug' video-maker has no regrets
[Mon, 23 Apr 2018 13:23:05 GMT]
Mark Meechan was fined £800 after teaching a dog to give a Nazi salute.
---
Russia Telegram ban hits Google and Amazon services
[Mon, 23 Apr 2018 13:05:16 GMT]
Google and Amazon have been caught up in Russian attempts to block the Telegram messaging app.
---
Iran's banks banned from dealing in crypto-currencies
[Mon, 23 Apr 2018 11:31:58 GMT]
Iran bans its banks from using Bitcoin, amid money-laundering concerns.
---
Apple's Shazam deal faces European probe
[Mon, 23 Apr 2018 17:33:43 GMT]
Seven countries asked the European Commission to review the purchase of the music identification app.
---
UK threatens social media with new laws
[Sun, 22 Apr 2018 13:35:07 GMT]
The health secretary wants action from the sites on underage use, bullying and screen-time limits.
---
Google's SMS replacement ready to launch
[Fri, 20 Apr 2018 10:34:43 GMT]
Android phones are beginning to receive Google's feature-rich new service called Chat.
---
Science
Environment prize goes to Flint water activist
[Mon, 23 Apr 2018 06:57:37 GMT]
An activist who helped expose a water crisis in a US town has been awarded a prestigious environment prize.
---
Rotten egg gas around planet Uranus
[Mon, 23 Apr 2018 17:05:06 GMT]
The planet Uranus has clouds made up of hydrogen sulphide, the gas that gives rotten eggs their unpleasant smell.
---
Climate change: Michael Bloomberg pledges $4.5m for Paris deal
[Mon, 23 Apr 2018 06:27:19 GMT]
New York City's ex-mayor pledges $4.5m to help cover the lapsed US contribution to the Paris accord.
---
Hemsby: Clifftop home destroyed erosion spanning 40 years
[Sun, 22 Apr 2018 23:15:08 GMT]
Erosion of the cliff at Hemsby, Norfolk, has left 18 homes uninhabitable over the past five years.
---
Rare brown bear dies in Italy capture operation
[Sat, 21 Apr 2018 08:13:05 GMT]
The endangered animal died in Italy during an attempt to fit him with a collar to track movements.
---
National Trust needs to be 'radical'
[Fri, 20 Apr 2018 09:27:58 GMT]
The new director-general of the National Trust says the charity needs to reach out to people in urban areas.
---
Closing gender gap in physics 'will take generations'
[Fri, 20 Apr 2018 00:40:07 GMT]
The gender gap in science subjects like physics is likely to persist for hundreds of years, study suggests.
---
Bajau people 'evolved bigger spleens' for free-diving
[Thu, 19 Apr 2018 18:49:14 GMT]
In an example of human natural selection, Asia's Bajau people have evolved bigger spleens for diving.
---
Oxford Dodo was shot in head, scans find
[Fri, 20 Apr 2018 00:52:38 GMT]
The world-famous specimen is the world's best-preserved example of the extinct bird.
---
Scientists discover mechanism behind motor neurone disease
[Fri, 20 Apr 2018 12:48:30 GMT]
An international team found that a protein causes brain cells to die when it is stuck in the jelly phase.
---