Welcome to Argalax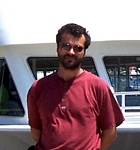 Hi, my name is Alexander and this is my website.
I live in Toronto, Canada, and work as a Senior IT Professional.
In spare time I enjoy writing some code, developing web applications, working on my robot, reading sci-fi, finance and technical books, visiting my cabin in the wilderness and travel when I can.
---
Here are some technical news to read...
Technology
Facebook Files: 5 things leaked documents reveal
[Fri, 24 Sep 2021 15:03:40 GMT]
Leaked documents appear to present a new problem for Facebook - employee discontent.
---
China declares all crypto-currency transactions illegal
[Fri, 24 Sep 2021 11:30:03 GMT]
Trading Bitcoin and other crypto-currenices is a criminal activity, China's central bank says.
---
EU rules to force USB-C chargers for all phones
[Thu, 23 Sep 2021 11:57:47 GMT]
Manufacturers could be forced to change devices to a uniform charging system.
---
Chris Pratt, Jack Black to star in new Super Mario Bros movie
[Fri, 24 Sep 2021 08:51:16 GMT]
Chris Pratt will be playing Mario with Charlie Day as his sibling Luigi.
---
Apple bans Fortnite from App Store during Epic Games legal battle
[Thu, 23 Sep 2021 15:37:35 GMT]
The game won't be available on iPhones or other Apple devices until its legal battle with Epic Games ends.
---
Apple threatened Facebook ban over slavery posts on Instagram
[Thu, 23 Sep 2021 11:26:22 GMT]
The media giant warned it would take Facebook products out of its App Store.
---
AI cannot be the inventor of a patent, appeals court rules
[Thu, 23 Sep 2021 14:47:41 GMT]
"Only a person can have rights. A machine cannot," one of the judges wrote.
---
Extremists using video-game chats to spread hate
[Wed, 22 Sep 2021 23:02:04 GMT]
Campaigners say including extremist narratives among everyday conversations can be a pathway to radicalisation.
---
'Side-eyeing Chloe' Clem to sell iconic meme as NFT
[Thu, 23 Sep 2021 10:30:16 GMT]
The image of Chloe Clem could fetch her tens of thousands of dollars at auction.
---
Lithuania urges people to throw away Chinese phones
[Wed, 22 Sep 2021 15:41:58 GMT]
The country's National Cyber Security Centre found security risks in both Xiaomi and Huawei models.
---
Science
Climate change: Whisper it cautiously... there's been progress in run up to COP26
[Fri, 24 Sep 2021 23:55:47 GMT]
Pledges made at the UN have lifted hopes for the Glasgow summit, but some major questions remain.
---
Can green energy power Africa's future?
[Sat, 25 Sep 2021 00:06:53 GMT]
Energy access is a big issue for businesses in Africa, but can the continent go green as well?
---
Footprints in New Mexico are oldest evidence of humans in the Americas
[Thu, 23 Sep 2021 18:00:47 GMT]
Scientists have found evidence that humans reached the Americas earlier than previously thought.
---
Climate change: Construction companies told to stop knocking down buildings
[Fri, 24 Sep 2021 00:05:11 GMT]
Britain's top engineers are urging the government to stop buildings being demolished.
---
Covid: Immune therapy from llamas shows promise
[Wed, 22 Sep 2021 09:00:32 GMT]
An immune therapy derived from llama blood shows "exciting potential" in early coronavirus trials.
---
Boris Johnson: Humanity is reaching a turning point on climate change
[Thu, 23 Sep 2021 13:14:46 GMT]
World leaders must make major changes in four areas - "coal, cars, cash and trees", Boris Johnson says.
---
Air pollution: Even worse than we thought - WHO
[Wed, 22 Sep 2021 17:08:47 GMT]
The WHO is slashing recommended maximum limits of key pollutants as evidence of danger mounts.
---
President Biden urges unity in first UN speech amid tensions with allies
[Tue, 21 Sep 2021 17:49:13 GMT]
Joe Biden called for cooperation in his first speech as US president to the UN General Assembly.
---
China pledges to stop building new coal energy plants abroad
[Wed, 22 Sep 2021 04:23:58 GMT]
The announcement is the country's latest climate pledge and a major step forward to address emissions.
---
PPE hospital masks find new life stopping plastic waste
[Tue, 21 Sep 2021 23:06:29 GMT]
All schools and colleges in Cornwall will be given litter pickers made from old hospital masks.
---