Welcome to Argalax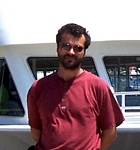 Hi, my name is Alexander and this is my website.
It describes my work, hobbies, various projects, intellectual pursuits, current interests, and whatever else seems important and/or interesting at the moment.
I live in Canada, just east of Toronto. Until recently, I worked as technical team leader in the IT industry. Now I am cruising tropics on a sailing yacht most of the year, spending few months at home.
In spare time I enjoy writing some code, developing web applications, working on my robot, and FreeBSD/Linux projects, reading sci-fi, finance and technical books, building my cabin in the wilderness, travel and sail when I can.
---
Here are some technical news to read...
Technology
Children's toy maker Vtech hacked
[Fri, 27 Nov 2015 21:44:29 GMT]
Vtech, a company which specialises in electronic toys and educational material for children, confirmed that it has been hacked.
---
'Li-fi 100 times faster than wi-fi'
[Fri, 27 Nov 2015 13:04:53 GMT]
Li-fi, a faster way to deliver internet access, has been tested in a real-life, working office in Tallinn, Estonia.
---
Formula E plans robot races
[Fri, 27 Nov 2015 17:40:55 GMT]
Driverless racing cars will compete in major cities around the world from next year, announces Formula E organisers.
---
DJI launches crop-spraying drone
[Fri, 27 Nov 2015 13:30:52 GMT]
Billion dollar drone company DJI is explanding from consumer and camera drones into agriculture
---
Pirate makes film to avoid being sued
[Fri, 27 Nov 2015 11:20:19 GMT]
A convicted Czech software pirate agreed to make an anti-piracy film in order to avoid being sued by the firms whose software he pirated.
---
Cyber-thieves 'target Black Friday'
[Thu, 26 Nov 2015 00:16:31 GMT]
Cyber-thieves are preparing malware and spam campaigns in a bid to catch out retailers and shoppers during the run-up to Christmas, say experts.
---
The truth about Facebook quizzes
[Thu, 26 Nov 2015 13:42:58 GMT]
Much press attention has been devoted to a Facebook quiz which asked for large swathes of data in return for a word cloud of your most used words, but do we really need to worry?
---
Zano drone makers detail spending
[Thu, 26 Nov 2015 08:39:00 GMT]
The company behind failed mini-drone Zano has provided some details of how more than £2m in funding was allocated.
---
Shrinking to Zero: The Raspberry Pi gets smaller
[Thu, 26 Nov 2015 08:24:15 GMT]
Launched in 2012, the Raspberry Pi has become Britain's most successful homegrown computer. Now it's getting smaller and cheaper.
---
Nest Cam camera is 'always on'
[Wed, 25 Nov 2015 15:21:54 GMT]
Researchers have discovered the camera in the Nest Cam security device is always operating - even when turned off by the user.
---
Science
Tarantulas 'turned blue eight times'
[Sat, 28 Nov 2015 00:17:43 GMT]
A study finds that tarantulas evolved almost exactly the same shade of vibrant blue at least eight separate times.
---
Catholic call to join climate marches
[Sat, 28 Nov 2015 00:19:15 GMT]
The Pope's senior adviser on global warming has urged Catholics all over the world to join global climate marches planned for Sunday.
---
Japan to resume whaling in Antarctic
[Sat, 28 Nov 2015 09:32:48 GMT]
Japan decides to resume hunting whales in the Antarctic after a break of more than a year despite a ruling by the International Court of Justice.
---
Support for climate deal 'declines'
[Fri, 27 Nov 2015 00:35:12 GMT]
A public opinion survey suggests that support for strong action on climate change has declined since 2009.
---
'Dangerous' lakes in Everest glacier
[Fri, 27 Nov 2015 04:53:38 GMT]
Lakes that have been forming near Mount Everest could threaten settlements downstream if they overflow.
---
Space rocket debris found off Scilly
[Fri, 27 Nov 2015 19:49:17 GMT]
A large chunk of what is believed to have been an unmanned American space rocket is found in the sea off the Isles of Scilly.
---
Minister to make fracking decision
[Fri, 27 Nov 2015 07:13:59 GMT]
The decision to allow shale gas drilling - or fracking - in Lancashire will be made directly by the government, it has emerged.
---
Ultrasound scans brain in micro 3D
[Thu, 26 Nov 2015 16:37:15 GMT]
Scientists use ultrasound to scan the blood vessels of an entire rat brain in microscopic 3D detail, pioneering a technique they say will improve cancer and stroke diagnosis.
---
Lead poisons '100,000 birds annually'
[Thu, 26 Nov 2015 06:11:14 GMT]
About 100,000 wetland birds are killed every year from poisoning by discarded lead ammunition, say scientists.
---
Europe's Mars missions are go - finally
[Wed, 25 Nov 2015 22:54:38 GMT]
Ten years after being formally approved, Europe's ExoMars project is at last ready to send some hardware - a satellite - to the Red Planet.
---