Welcome to Argalax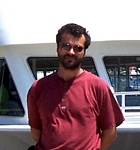 Hi, my name is Alexander and this is my website.
It describes my work, hobbies, various projects, intellectual pursuits, current interests, and whatever else seems important and/or interesting at the moment.
I live in Canada, just east of Toronto, and work as technical team leader in the IT industry.
In spare time I enjoy writing some code, developing web applications, working on my robot, and FreeBSD/Linux projects, reading sci-fi, finance and technical books, building my cabin in the wilderness, travel and sail when I can.
---
Here are some technical news to read...
Technology
Uber banned across Germany by court
[Tue, 02 Sep 2014 08:04:53 GMT]
A Frankfurt court tells car pick-up service Uber to stop taking passengers or face a fine because it lacks permits to operate in Germany.
---
FBI probes 'Cloud' celebrity leaks
[Tue, 02 Sep 2014 09:09:12 GMT]
The FBI looks into allegations that the online accounts of celebrities have been hacked, leading to intimate pictures being posted online.
---
Google 'discourages' old browser use
[Mon, 01 Sep 2014 14:28:47 GMT]
Google has started showing old versions of its search page to people using out-of-date versions of web browsers.
---
Samsung phones to get Nokia maps
[Mon, 01 Sep 2014 10:23:00 GMT]
Samsung has signed a deal with Nokia to use its Here mapping service on its smartphones and the Gear S smartwatch.
---
Iran clerics 'must accept internet'
[Mon, 01 Sep 2014 15:02:46 GMT]
Iranian President Hassan Rouhani urges Iran's clerics to be more tolerant of the internet and new technologies after recent criticism from hardliners.
---
BBC begins push to help kids code
[Mon, 01 Sep 2014 09:02:25 GMT]
The BBC unveils plans to support England's computer coding curriculum with a new section of its Bitesize learning site and tech-themed TV shows.
---
Pupils begin 'tough' new curriculum
[Mon, 01 Sep 2014 08:14:03 GMT]
Teaching of a "tough" new national curriculum including computer coding classes begins in England.
---
MSN Messenger to end after 15 years
[Fri, 29 Aug 2014 17:48:01 GMT]
Microsoft's MSN Messenger will be switched off in China in October, bringing a final end to the 15-year-old service.
---
2.6m historical pictures put online
[Fri, 29 Aug 2014 08:18:35 GMT]
An academic is posting millions of historical photos and illustrations to Flickr where they can be searched and copied without charge.
---
Google trials drone deliveries
[Thu, 28 Aug 2014 22:00:23 GMT]
Google reveals it has built and tested its own drones as part of a plan to make automated deliveries to remote homes as well as disaster-hit zones.
---
Science
Cave yields Neanderthal 'artwork'
[Mon, 01 Sep 2014 20:41:59 GMT]
An engraving found at a cave in Gibraltar may be the most compelling evidence yet for Neanderthal art.
---
How corals stir up their world
[Tue, 02 Sep 2014 00:57:27 GMT]
Corals stir up the water, creating vortices that draw in nutrients and drive away waste, research reveals.
---
African food security on the menu
[Mon, 01 Sep 2014 15:55:35 GMT]
African ministers and business leaders gather in Ethiopia to consider ways to trigger a green revolution and improve the continent's food security.
---
Russian sex geckos die in orbit
[Tue, 02 Sep 2014 08:51:57 GMT]
Five gecko lizards sent into orbit on a Russian space satellite as part of a sex experiment have all died, the Russian space agency says.
---
Xenon and argon banned for athletes
[Sun, 31 Aug 2014 23:53:44 GMT]
Doping experts have yet to find an effective test to uncover athletes using the gases xenon and argon to boost performance, as a ban is introduced.
---
Antarctic waters 'rising faster'
[Mon, 01 Sep 2014 10:16:15 GMT]
Melting ice is fuelling sea-level rise around the coast of Antarctica, a new report finds.
---
Greenhouse gas fear over meat eating
[Mon, 01 Sep 2014 03:56:06 GMT]
New research estimates greenhouse gases from food production will go up 80% if meat and dairy consumption continues to rise at its current rate.
---
Iceland issues new volcano alert
[Sun, 31 Aug 2014 16:17:46 GMT]
Iceland issues an aviation alert after a fresh lava eruption from a fissure near the Bardarbunga volcano, but the warning is later lowered.
---
Legal challenge to badger cull fails
[Fri, 29 Aug 2014 10:29:47 GMT]
A High Court bid to halt this year's badger culling, which will take place without independent monitoring, fails.
---
DNA tells story of Arctic peopling
[Thu, 28 Aug 2014 18:52:20 GMT]
A study of genetic sequences sheds light on the settling of the North American Arctic, from ancient "Paleo-Eskimos" to the modern-day Inuit.
---
App Development
IT Earnings Way Up at Job Site Elance
[]
Google App Engine, HTML5, search engine optimization and social media marketing are among the fastest movers on Elance's list of hot job opportunities available online.
---
Say What? The Week's Top Five IT Quotes
[]
Google Wave crashes, fighting to keep mainframe skills alive, beware the Outernet and more.
---
GPL Enforcement Notches Another Victory
[]
The license at the heart of many open source projects is amassing a winning record when it comes to successfully pursuing enforcement lawsuits.
---
Microsoft Prepping New Visual Studio Tool
[]
Dubbed "LightSwitch," the new tool will offer developers of varying skill levels ready-made templates to create business applications for different computing environments.
---
Illumos Looks to Reopen Oracle's OpenSolaris
[]
Amid concern throughout the OpenSolaris community about Oracle's plans for the open source operating system, the Illumos project is providing an alternative set of OpenSolaris technologies.
---