Welcome to Argalax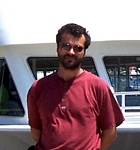 Hi, my name is Alexander and this is my website.
It describes my work, hobbies, various projects, intellectual pursuits, current interests, and whatever else seems important and/or interesting at the moment.
I live in Canada, just east of Toronto. Until recently, I worked as technical team leader in the IT industry. Now I am cruising tropics on a sailing yacht most of the year, spending few months at home.
In spare time I enjoy writing some code, developing web applications, working on my robot, and FreeBSD/Linux projects, reading sci-fi, finance and technical books, building my cabin in the wilderness, travel and sail when I can.
---
Here are some technical news to read...
Technology
Amazon to test drone deliveries in UK
[Mon, 25 Jul 2016 23:02:06 GMT]
The UK government's getting together with the retail giant Amazon, to start testing flying drones that can deliver parcels to your door.
---
O2 customer data sold on dark net
[Mon, 25 Jul 2016 23:00:03 GMT]
O2 customer data is being sold by criminals on the dark net, the BBC's Victoria Derbyshire programme has learned.
---
Ransomware advice service to tackle extortion gangs
[Mon, 25 Jul 2016 10:32:30 GMT]
European police agency Europol teams up with cybersecurity companies in an initiative aimed at slowing an "exponential" rise in ransomware.
---
Piracy site owner settles $50m lawsuit
[Mon, 25 Jul 2016 11:09:30 GMT]
The owner of piracy site Isohunt agrees to settle a lawsuit with Music Canada for $50m (£38m).
---
Flipkart's Myntra to buy online shopping rival Jabong
[Tue, 26 Jul 2016 06:23:54 GMT]
Indian online shopping giant Flipkart buys rival fashion shopping site Jabong in an e-commerce sector marked by increasing competition.
---
1.6m Clash of Kings forum accounts 'stolen'
[Mon, 25 Jul 2016 10:20:59 GMT]
Details about 1.6 million users on the Clash of Kings online forum are hacked, a breach notification site claims.
---
Nintendo shares plunge on Pokemon profit fears
[Mon, 25 Jul 2016 08:29:27 GMT]
Shares in Japanese gaming giant Nintendo fall sharply as the firm says the success of Pokemon Go will only have a limited impact on its earnings.
---
The legacy of TV's Robot Wars
[Sat, 23 Jul 2016 23:21:52 GMT]
Robot Wars judge Noel Sharkey shares his memories of the programme.
---
Huawei sees revenues surge in the first half of 2016
[Mon, 25 Jul 2016 07:21:07 GMT]
Chinese technology and smartphone giant Huawei reports a 40% surge in revenue for the first half of the year.
---
US copyright law faces legal challenge
[Fri, 22 Jul 2016 14:08:02 GMT]
Digital rights group the Electronic Frontier Foundation (EFF) attempts to overturn parts of US copyright law which, it says, are unconstitutional.
---
Science
Solar Impulse completes historic round-the-world trip
[Tue, 26 Jul 2016 02:46:06 GMT]
The Solar Impulse becomes the first aircraft to circle the globe powered by the sun after landing in Abu Dhabi on the last leg of its journey.
---
Dutch men confirmed as world's tallest
[Mon, 25 Jul 2016 23:39:03 GMT]
When it comes to height, Dutch men and Latvian women tower over all other nationalities, a new study reveals.
---
Scans reveal how teenage brain develops
[Mon, 25 Jul 2016 19:00:49 GMT]
The areas of the brain involved in complex thought are the ones that change the most during the teenage years, research shows.
---
Sri Lanka prime minister: Mangroves curb climate threat
[Tue, 26 Jul 2016 04:09:26 GMT]
On World Mangrove Day, Sri Lanka's prime minister says mangroves' ability to swiftly absorb carbon make them vital in the fight to curb climate change.
---
Rare bog butterfly flutters back from brink
[Sat, 23 Jul 2016 00:37:50 GMT]
A small bog in Lancashire is once again home to a rare species of butterfly, for the first time in 100 years.
---
Drought 'shuts down Amazon carbon sink'
[Fri, 22 Jul 2016 03:56:43 GMT]
A recent drought shut down the Amazon Basin's carbon sink by killing trees and slowing trees' growth rates, a first-of-its-kind study shows.
---
Tigers maul two women at Beijing wildlife park
[Sun, 24 Jul 2016 10:56:21 GMT]
Tigers at a wildlife park in Beijing have killed one woman and injured another after the pair left their vehicle, Chinese media reports say.
---
Super-hard metal 'four times tougher than titanium'
[Fri, 22 Jul 2016 03:59:13 GMT]
A super-hard metal is made in the laboratory by melting together titanium and gold.
---
Wild birds 'come when called' to help hunt honey
[Thu, 21 Jul 2016 18:12:15 GMT]
Honey hunters in Mozambique rely on the help of honeyguide birds - and a new study reveals their two-way communication.
---
Sunburned dolphin spotted in Moray Firth
[Fri, 22 Jul 2016 10:17:38 GMT]
A dolphin that was sunburned while stranded out of water on mudflats for 24 hours in May appears to be recovering from its injuries.
---