Welcome to Argalax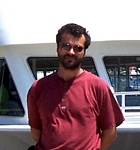 Hi, my name is Alexander and this is my website.
I live in Toronto, Canada, and work as a Senior IT Professional.
In spare time I enjoy writing some code, developing web applications, working on my robot, reading sci-fi, finance and technical books, visiting my cabin in the wilderness and travel when I can.
---
Here are some technical news to read...
Technology
YouTube advertises big brands alongside fake cancer cure videos
[Thu, 12 Sep 2019 23:02:39 GMT]
The video site's algorithm promotes medical misinformation in a number of languages, the BBC finds.
---
Saudi Arabia oil facilities ablaze after drone strikes
[Sat, 14 Sep 2019 14:19:20 GMT]
The fires are under control, state media say, as Yemen's Houthi group says it deployed the drones.
---
Instagram fact-check: Can a new flagging tool stop fake news?
[Fri, 13 Sep 2019 23:21:41 GMT]
Users can now flag false Instagram content to fact-checkers but experts believe there is more to do to fight disinformation.
---
Russian activist saves data from police with drone
[Fri, 13 Sep 2019 14:22:57 GMT]
An activist in Siberia flew his hard disks to a friend by drone when police came knocking at his door.
---
Instagram apologises after censoring London fishmonger
[Fri, 13 Sep 2019 10:32:17 GMT]
A video of the shop display, showing dead fish, was flagged as containing offensive material.
---
Google to remind staff they can complain about work
[Fri, 13 Sep 2019 11:26:23 GMT]
Workers at the search giant are being reminded about their rights to complain and protest about conditions.
---
'Ban kids from loot box gambling in games'
[Wed, 11 Sep 2019 23:37:38 GMT]
In-game spending should be regulated by gambling laws and loot boxes banned for children, they say.
---
Huawei chief offers to share 5G know-how for a fee
[Thu, 12 Sep 2019 13:38:31 GMT]
Ren Zhengfei offers to share its 5G know-how with a Western firm in return for a one-off fee.
---
Google Maps shows sunken car where missing man's body was found
[Thu, 12 Sep 2019 20:40:40 GMT]
William Moldt went missing in mysterious circumstances 22 years ago after a night out in Florida.
---
Phone subscription firm Veoo fined ÂŁ600,000
[Thu, 12 Sep 2019 12:43:08 GMT]
It misled an inquiry and enabled consumer harm, said watchdog Phone-paid Services Authority.
---
Science
Wasps: If you can't love them, at least admire them
[Sat, 14 Sep 2019 23:13:41 GMT]
They get a bad press compared with bees and beetles, but wasps are truly remarkable creatures.
---
Climate change: Electrical industry's 'dirty secret' boosts warming
[Fri, 13 Sep 2019 15:58:46 GMT]
It's the most powerful greenhouse gas you've never heard of, and levels in the atmosphere are soaring.
---
'Cocktail of pollutants' found in dolphins in English Channel
[Fri, 13 Sep 2019 06:18:09 GMT]
One of Europe's largest dolphin populations needs special protection from marine pollution, say scientists.
---
Has another interstellar visitor been found?
[Thu, 12 Sep 2019 14:14:46 GMT]
An amateur astronomer has discovered a comet that could have come from a distant star.
---
Research on postmen's testicle warmth wins Ig Nobel
[Fri, 13 Sep 2019 10:25:16 GMT]
Fertility experts find that the left testicle is warmer, but only when a man has his clothes on.
---
World 'losing battle against deforestation'
[Thu, 12 Sep 2019 14:44:05 GMT]
A historic global agreement aimed at halting deforestation and curbing dangerous carbon dioxide emissions has failed, according to a report.
---
Big Butterfly Count: Fine weather boosts species in UK
[Fri, 13 Sep 2019 07:40:54 GMT]
Survey finds many common species of butterfly enjoyed a good summer this year.
---
Heathrow drone protest: Five arrested over planned disruption
[Thu, 12 Sep 2019 18:19:23 GMT]
The co-founder of activist group Extinction Rebellion is among those held in "pre-emptive" raids.
---
Lovers of Modena skeletons holding hands were both men
[Thu, 12 Sep 2019 11:39:42 GMT]
The male skeletons, buried in Roman times, have been holding hands for around 1,500 years.
---
Water found for first time on 'potentially habitable' planet
[Thu, 12 Sep 2019 13:36:39 GMT]
Astronomers discover water in the atmosphere of a "habitable" planet orbiting a distant star.
---