Welcome to Argalax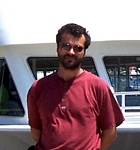 Hi, my name is Alexander and this is my website.
It describes my work, hobbies, various projects, intellectual pursuits, current interests, and whatever else seems important and/or interesting at the moment.
I live in Canada, just east of Toronto, and work as technical team leader in the IT industry.
In spare time I enjoy writing some code, developing web applications, working on my robot, and FreeBSD/Linux projects, reading sci-fi, finance and technical books, building my cabin in the wilderness, travel and sail when I can.
---
Here are some technical news to read...
Technology
Electronic Arts earnings surge 51%
[Wed, 23 Jul 2014 01:31:33 GMT]
US video game publisher Electronic Arts reports a 51% jump in profit for the April-to-June quarter, boosted by strong sales of titles like Titanfall and FIFA 2014.
---
YouTube star sued in copyright case
[Tue, 22 Jul 2014 12:58:38 GMT]
The entrepreneur is being taken to court for alleged copyright infringement by a record label whose own artist Kaskade has come forward to defend her.
---
Iraq conflict breeds cyber-civil war
[Tue, 22 Jul 2014 11:32:29 GMT]
A cyber-war is being waged alongside the conflict involving Isis in Iraq, suggests research by security firms.
---
Nvidia unveils Shield gaming tablet
[Tue, 22 Jul 2014 15:09:42 GMT]
Nvidia confirms the release of a tablet targeted at "serious gamers" that can run Android games natively or stream them from a PC.
---
Apple earnings up on iPhone sales
[Tue, 22 Jul 2014 21:16:34 GMT]
Apple reports quarterly profits of $7.75bn up 12%, helped by strong sales of its iPhone.
---
Microsoft profit falls on Nokia loss
[Tue, 22 Jul 2014 22:00:59 GMT]
Technology giant Microsoft reports a 7% fall in profits to $4.6bn in the second quarter, hit by a $692m loss at its newly-acquired Nokia handset division.
---
Browser 'fingerprints' track users
[Tue, 22 Jul 2014 16:16:01 GMT]
Web users are being warned about a novel tracking system that watches what they do online and frustrates tools designed to stop them being tracked.
---
Xiaomi shows off phone and wristband
[Tue, 22 Jul 2014 11:36:11 GMT]
China's fast-growing Xiaomi unveils a new flagship handset and $13 wristband - both of which are cheaper than similar models from other brands.
---
'Cock-up' over Irish genealogy site
[Tue, 22 Jul 2014 12:20:58 GMT]
Ireland's data protection watchdog criticises the government for a 'cock-up' over a genealogy site that leaked personal information
---
Chinese team wins $5m gaming prize
[Tue, 22 Jul 2014 01:21:19 GMT]
Chinese team NewBee takes home $5m in prize money after winning the world's most lucrative gaming contest.
---
Science
Row over 'bonkers' EU energy plan
[Wed, 23 Jul 2014 03:28:08 GMT]
EU commissioners meet today to agree an energy savings target for 2030 amid serious disagreement about how ambitious it should be.
---
Giant python gets a health check
[Wed, 23 Jul 2014 08:35:05 GMT]
Zoo team gives an enormous reticulated python its annual check-up, including using ultrasound to scan its heart.
---
Three person IVF plans 'progress'
[Tue, 22 Jul 2014 11:35:39 GMT]
A public review into the three person IVF technique has been broadly supportive, says the Department of Health.
---
Beef's greater environment burden
[Mon, 21 Jul 2014 19:08:53 GMT]
A new study says the production of beef is around 10 times more damaging to the environment than any other form of livestock.
---
Kepler sees world with distant orbit
[Tue, 22 Jul 2014 11:04:54 GMT]
The Kepler Space Telescope has spotted a distant world with the longest year of any planet in the mission's inventory.
---
Seals 'feed' at offshore wind farms
[Mon, 21 Jul 2014 16:07:25 GMT]
Some seals prefer to forage for food at offshore wind farms, UK study suggests.
---
Boom in satellite ship tracking
[Fri, 18 Jul 2014 16:21:21 GMT]
The demand for ship identification and tracking data acquired by satellites is growing rapidly.
---
EC 'confident' in brain project
[Fri, 18 Jul 2014 14:45:30 GMT]
The European Commission has responded to criticism of its billion-euro Human Brain Project, declaring confidence that objections will be satisfied.
---
'Shoved' sea eagle chick flies nest
[Fri, 18 Jul 2014 20:28:16 GMT]
A sea eagle chick, featured on BBC Springwatch, which was seen being pushed out of the nest by an intruder eagle successfully flies the nest.
---
Aids researchers on crashed plane
[Sat, 19 Jul 2014 10:10:53 GMT]
At least six passengers on the Malaysia Airlines plane were heading to a major international Aids conference in Australia.
---
App Development
IT Earnings Way Up at Job Site Elance
[]
Google App Engine, HTML5, search engine optimization and social media marketing are among the fastest movers on Elance's list of hot job opportunities available online.
---
Say What? The Week's Top Five IT Quotes
[]
Google Wave crashes, fighting to keep mainframe skills alive, beware the Outernet and more.
---
GPL Enforcement Notches Another Victory
[]
The license at the heart of many open source projects is amassing a winning record when it comes to successfully pursuing enforcement lawsuits.
---
Microsoft Prepping New Visual Studio Tool
[]
Dubbed "LightSwitch," the new tool will offer developers of varying skill levels ready-made templates to create business applications for different computing environments.
---
Illumos Looks to Reopen Oracle's OpenSolaris
[]
Amid concern throughout the OpenSolaris community about Oracle's plans for the open source operating system, the Illumos project is providing an alternative set of OpenSolaris technologies.
---