Welcome to Argalax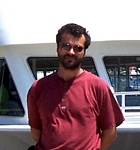 Hi, my name is Alexander and this is my website.
I live in Toronto, Canada, and work as a Senior IT Professional.
In spare time I enjoy writing some code, developing web applications, working on my robot, reading sci-fi, finance and technical books, visiting my cabin in the wilderness and travel when I can.
---
Here are some technical news to read...
Technology
HBO social accounts hacked in latest cyber security breach
[Thu, 17 Aug 2017 04:12:16 GMT]
Entertainment firm HBO is facing another cyber breach, as it social media accounts are compromised.
---
Nokia 8 smartphone takes 'bothie' videos
[Wed, 16 Aug 2017 18:45:05 GMT]
The phone streams video from its front and rear cameras at the same time to Facebook or YouTube .
---
Game of Thrones struck by fresh leak
[Wed, 16 Aug 2017 14:59:31 GMT]
HBO blames a contractor for posting an unreleased episode to its Spanish and Nordic platforms.
---
App iTrump wins trademark fight against Trump Organization
[Wed, 16 Aug 2017 12:36:47 GMT]
An app developer completes a series of trademark victories against the US president's company.
---
Amazon launches Instant Pickup service targeting students
[Wed, 16 Aug 2017 16:48:45 GMT]
Prime and Prime Student members can order daily "essentials" for collection within two minutes.
---
Uber agrees to 20 years of privacy audits to settle FTC charges
[Wed, 16 Aug 2017 12:23:32 GMT]
Uber was in trouble for not adequately securing both customer and driver data from hacking.
---
Web firm fights DoJ on Trump protesters
[Tue, 15 Aug 2017 10:19:47 GMT]
Department of Justice seeks 1.3 million IP addresses of visitors to an anti-Trump protest site.
---
Scottish Parliament targeted in 'brute force' cyber attack
[Tue, 15 Aug 2017 16:26:31 GMT]
The Scottish Parliament is targeted in a "brute force" cyber attack, Holyrood's chief executive confirms.
---
AI seeks fantasy football challengers
[Tue, 15 Aug 2017 16:12:06 GMT]
The University of Southampton is challenging fantasy football fans to beat its AI at Premier League predictions.
---
GoFundMe removes campaigns for Charlottesville suspect
[Tue, 15 Aug 2017 11:35:54 GMT]
GoFundMe removes campaigns for James Alex Fields Jr, arrested after a car ploughed into protesters.
---
Science
Freeze-dried dung gives clue to Asian elephant stress
[Wed, 16 Aug 2017 23:04:19 GMT]
Indian scientists say they can monitor the physiological health of elephants by analysing their dung.
---
Radioactive 'pooh sticks' trace carbon's ocean journey
[Wed, 16 Aug 2017 23:07:20 GMT]
Scientists trace nuclear waste from Sellafield over 15,000km to Bermuda to see how the ocean transports carbon.
---
'Frankenstein dinosaur' mystery solved
[Wed, 16 Aug 2017 00:26:26 GMT]
A dinosaur that seemed to be an evolutionary mishmash turns out to have a key place in history.
---
'Donald Trump forest' climate change project gains momentum
[Tue, 15 Aug 2017 10:57:59 GMT]
Campaigners plan to plant enough trees to counteract the climate impact of the US President.
---
Plants 'hijacked' to make polio vaccine
[Tue, 15 Aug 2017 09:14:05 GMT]
A breakthrough could lead to easier, faster and cheaper vaccines.
---
Scotland's largest solar farm gets green light
[Wed, 16 Aug 2017 09:57:06 GMT]
Elgin Energy is granted planning permission for a 20MW project near Urquhart in Moray
---
Record-sized data centre planned inside Arctic Circle
[Mon, 14 Aug 2017 23:08:13 GMT]
The facility in the north of Norway will take advantage of cheap energy and the cool air.
---
Cassini skims Saturn's atmosphere
[Mon, 14 Aug 2017 07:34:54 GMT]
Cassini is on its final five full orbits of Saturn, getting close enough to directly "taste" its gases.
---
Italy official defends killing rare bear after man mauled
[Mon, 14 Aug 2017 11:55:32 GMT]
A rare female brown bear had to be shot in the Italian Alps as it threatened humans, a governor says.
---
Fish sauced? Goldfish turn to alcohol to survive icy winters
[Fri, 11 Aug 2017 16:19:59 GMT]
Researchers uncover the evolved ability of goldfish to generate alcohol when deprived of oxygen.
---