Welcome to Argalax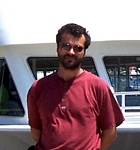 Hi, my name is Alexander and this is my website.
It describes my work, hobbies, various projects, intellectual pursuits, current interests, and whatever else seems important and/or interesting at the moment.
I live in Canada, just east of Toronto. Until recently, I worked as technical team leader in the IT industry. Now I am cruising tropics on a sailing yacht most of the year, spending few months at home.
In spare time I enjoy writing some code, developing web applications, working on my robot, and FreeBSD/Linux projects, reading sci-fi, finance and technical books, building my cabin in the wilderness, travel and sail when I can.
---
Here are some technical news to read...
Technology
Payout of $10,000 for Windows 10 update
[Mon, 27 Jun 2016 20:08:50 GMT]
Microsoft agrees to pay a California woman $10,000 (£7,500) after an automatic Windows 10 update leaves her computer unusable.
---
EU referendum petition hijacked by bots
[Mon, 27 Jun 2016 11:48:05 GMT]
An online petition calling for a second EU referendum has been hijacked by automated bots adding false signatures.
---
Snowden: Russian data collection plans 'dangerous'
[Mon, 27 Jun 2016 14:30:35 GMT]
US whistleblower Edward Snowden has criticised new anti-terrorism legislation approved by Russia's parliament.
---
Oculus lifts headset game restrictions
[Mon, 27 Jun 2016 10:25:15 GMT]
Virtual reality pioneer Oculus has removed software locks that stopped people playing games made for its headset on rival devices.
---
US Healthcare records offered for sale online
[Mon, 27 Jun 2016 14:30:47 GMT]
Three US healthcare organisations are reportedly being held to ransom by a hacker who stole data on hundreds of thousands of patients.
---
Privacy Shield: White House makes EU spying promise
[Fri, 24 Jun 2016 17:12:32 GMT]
The EU and US agree final changes to a new data protection agreement known as the EU-US Privacy Shield.
---
Brexit: 'Surge' in searches on Irish passports, says Google
[Fri, 24 Jun 2016 10:55:33 GMT]
Google says there was a large spike in searches for Irish passport applications as news of the UK's decision to leave the EU broke.
---
Brexit: UK tech sector reacts to Leave vote
[Fri, 24 Jun 2016 15:48:49 GMT]
Now the UK has decided to leave the European Union, technology firms are left to wonder what the future holds.
---
Uber to 'hide' surge pricing notifications
[Fri, 24 Jun 2016 11:57:02 GMT]
Uber is to hide surge pricing notifications for more users to make its app less "complicated".
---
Fans angry over 'missing' iPhone 7 headphone socket
[Thu, 23 Jun 2016 11:56:40 GMT]
The iPhone 7 is not due to be revealed until the autumn, but already fans are angry over rumours it may be missing a key feature.
---
Science
EU referendum: UK science wakes up to new future
[Fri, 24 Jun 2016 12:15:14 GMT]
UK science must fight to make sure it is not an after-thought as Britain renegotiates its relationship with the EU, say research leaders.
---
Solar Impulse completes Atlantic crossing with landing in Seville
[Thu, 23 Jun 2016 07:11:57 GMT]
The zero-fuel aeroplane, Solar Impulse, lands in the southern Spanish city of Seville to complete its historic Atlantic crossing.
---
Scientists hungry to deliver food system paradigm shift
[Thu, 23 Jun 2016 14:02:48 GMT]
Eight universities across northern England join forces to form a scientific powerhouse at the launch of a five-year, £16m global food research programme.
---
Buenos Aires to shut scandal-prone zoo
[Fri, 24 Jun 2016 00:34:47 GMT]
The mayor of Buenos Aires announces his administration has taken over the running of the city's zoo after a series of scandals.
---
Rise of border fences hampers wildlife movements
[Wed, 22 Jun 2016 23:50:06 GMT]
The growth of border fences in Central and Eastern Europe in recent years is a "major threat" to wildlife, according to a new study.
---
Diesels more polluting below 18C, research suggests
[Wed, 22 Jun 2016 04:00:07 GMT]
Pollution from many popular diesel cars is much worse when it is colder than 18C outside, new research suggests.
---
Warmer winters play important role in EU emissions drop
[Tue, 21 Jun 2016 23:58:16 GMT]
Milder winters have contributed to a significant drop in greenhouse gas emissions across the EU over the past quarter of a century.
---
Peake: 'I would return to space in a heartbeat'
[Tue, 21 Jun 2016 11:36:05 GMT]
Tim Peake says he would go back into space "in a heartbeat" after his six-month mission to the space station.
---
Iceland's fishing industry 'better off outside' EU
[Tue, 21 Jun 2016 11:04:15 GMT]
Iceland's fishing minister says the country would "never join the European Union" because the industry is thriving outside the bloc.
---
New crop varieties 'can't keep up with global warming'
[Tue, 21 Jun 2016 00:33:55 GMT]
Temperatures around the world are rising faster than scientists can develop varieties that can cope with a warmer world, according to a new study.
---